John Wesley Hardin
(John Wesley Hardin)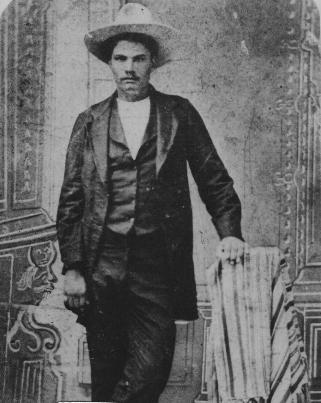 John Wesley Hardin
John Wesley Hardin, one of the bloodiest killers of the Old West, is murdered by an off-duty policeman in a saloon in El Paso, Texas.
Born in central Texas on May 26, 1853, Hardin killed his first man when he was only 15 during the violent period of post-Civil War reconstruction. During the next 10 years, he killed at least 20 more men, and some have suggested the total might have been as high as 40.
In 1878, Hardin was convicted of killing a Texas sheriff and sent to the Texas state prison in Huntsville. Prison life seems to have calmed Hardin–during his 14 years behind bars, he studied law. Released in 1892, he settled down in Gonzales where he worked as an attorney and tried, unsuccessfully, to win political office. Eventually, Hardin relocated to the violent town of El Paso, where, since the demands for his legal services were limited, he spent more time arguing in saloons than in court.
In 1895, the sheriff of El Paso tried to make the town a bit less deadly by outlawing the carrying of guns within city limits. In August of that year, Hardin's girlfriend ran was caught with a gun in the city and arrested by El Paso office, John Selman. Hardin, who had never learned completely to control his vicious temper, became angry. Bystanders overhead him threaten Selman for bothering his girl. Not long after, on this day in 1895, Selman went looking for Hardin. He found the famous gunman throwing dice at the bar of the Acme saloon. Without a word, Selman walked up behind Hardin and killed him with a shot in the head.
Whether Selman was acting out of anger, self-protection, or perhaps to burnish his own reputation as a gunslinger remains unclear. Regardless, an El Paso jury apparently felt that Selman had done the town a favor. The jurors acquitted him of any wrongdoing.
Born
May, 26, 1853
Bonham, Texas
Died
August, 19, 1895
El Paso, Texas
Cause of Death
Cemetery
Concordia Cemetery
El Paso, Texas
1234 profile views