John Quade
(John William Saunders)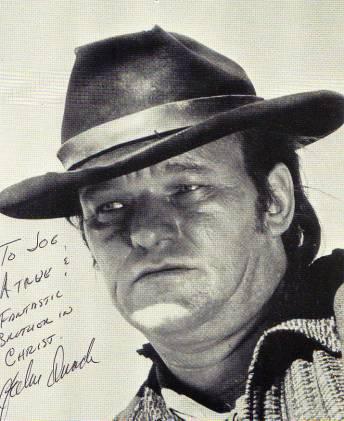 Born in Kansas City, Kansas, Quade attended Perry Rural High School in Perry, Kansas before transferring to Highland Park High School in Topeka on September 7, 1954. While at Highland Park, he was a football tackle and also participated in basketball and track. He was a member of the Stamp, Radio, and Chess/Checkers clubs. He graduated from Highland Park in May 1956.  Quade attended Washburn University in the fall semester of 1956. He worked for the Santa Fe Railway repair shop in Topeka and as an aerospace engineer before his movie debut in 1972. In the mid-1960s he formed a partnership with rock and roller Zane Ashton (aka Bill Aken) in the production company "Progressive Sounds Of America." Their partnership is closely documented in the biography of Bill Aken, (Carry Your Own Guitar) published by Xlibris Corporation in Jamuary of 2014. Most of their productions were done at Richie Podolor's American Recording including those with The Roosters, Fenwyck, Big Joe Long, and United Artist's country songstress Kathy Dee. Ashton was the adopted son of classical guitarist Francisco Mayorga and his actress wife Lupe, who initially helped open music business doors for the two partners. After a rapid rise from a one-room office in Maywood, California to a high rise suite of offices in Hollywood, they sold the company to the Pat Quinlan Agency in 1968, but the two remained friends for decades.
Quade starred in High Plains Drifter, The Outlaw Josey Wales, Every Which Way But Loose, and Any Which Way You Can with Clint Eastwood. He appeared in Papillon with Steve McQueen and Dustin Hoffman. He appeared in many television movies and mini-series including Roots and Dream West. Quade starred in two short-lived television series, Flatbush (1979) and Lucky Luke (1991).  He made many guest appearances on television shows ranging from Kojak, Bonanza, Gunsmoke, Starsky & Hutch, The Dukes Of Hazzard (in the episode "Hazzard Connection"), Knight Rider (in the pilot episode "Knight of the Phoenix"), Buck Rogers in the 25th Century (in the two-part episode "The Plot to Kill a City" as a telekinetic supervillain), Roots (TV miniseries), The A-Team (in the episodes "There's Always A Catch" and "Skins") to On the Air.
Quade was an outspoken opponent of the U.S. government and believed it had become drastically different from the founding fathers' intent. He gave numerous lectures on the New World Order of the current government. In short, he was opposed to Section 2 of the 14th Amendment to the Constitution, Social Security numbers, and driver's licenses. He was often referred to as an "actor, aerospace engineer, and Christian activist". He was a supporter of the Allodial Title belief in common law.  On August 9, 2009, Quade died at his home in Rosamond, California at the age of 71.
Born
April, 01, 1938
USA
Kansas City, Kansas
Died
August, 09, 2009
USA
Rosamond, California
Cemetery
Joshua Memorial Park
Los Angeles, California
USA
17843 profile views