JTeflon DonoTeflon DonhTeflon DonnTeflon Don Teflon DonGTeflon DonoTeflon DontTeflon DontTeflon DoniTeflon Don
(John Joseph Gotti)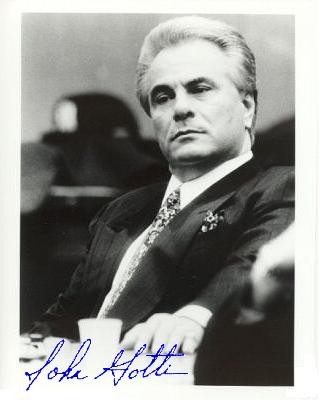 John Gotti
Gotti was born in the Bronx. He was the fifth of the thirteen children of John Joseph Gotti, Sr. and his wife Philomena. John was one of five brothers who would become made men in the Gambino crime family; Gene Gotti was initiated before John due to the latter's incarceration. Peter Gotti was initiated under John's leadership in 1988 and Richard Gotti was identified as a Capo in 2002. The fifth, Vincent Gotti, was not initiated until 2002.
Gotti grew up in poverty. His father worked irregularly as a day laborer and indulged in gambling, and as an adult Gotti came to resent him for being unable to provide for his family. In school Gotti had a history of truancy and bullying other students and ultimately dropped out, while attending Franklin K. Lane High School, at the age of 16. Gotti was involved in street gangs associated with New York mafiosi from the age of 12. When he was 14, he was attempting to steal a cement mixer from a construction site when it fell, crushing his toes. This injury left him with a permanent limp. After leaving school he devoted himself to working with the mafia-associated Fulton-Rockaway Boys gang, where he met and befriended fellow future Gambino mobsters Angelo Ruggiero and Wilfred Johnson.
Gotti met his future wife, Victoria DiGiorgio, in 1958. The couple had their first child, a daughter named Angel, in 1961, and were married in 1962. They had four more children, Victoria and three sons John A. "Junior" Gotti, Frank and Peter. Gotti attempted to work legitimately in 1962 as a presser in a coat factory and as an assistant truck driver. However, he could not stay crime free and by 1966 had been jailed twice. Now, he is allegely back into his father's criminal business.
On December 11, 1990, FBI agents and New York City detectives raided the Ravenite Social Club, arresting Gotti, Sammy Gravano and Frank Locascio. Gotti was charged, in this new racketeering case, with five murders, those of Paul Castellano and Thomas Bilotti, Robert DiBernardo, Liborio Milito and Louis DiBono, conspiracy to murder DeCavalcante crime family Capo Gaetano Vastola, loansharking, illegal gambling, obstruction of justice, bribery and tax evasion. Based on tapes from FBI bugs played at pretrial hearings the Gambino administration was denied bail and attorneys Bruce Cutler and Gerald Shargel were both disqualified from defending Gotti after determining they had worked as "in-house counsel" for the Gambino organization. Gotti subsequently hired Albert Krieger, a Miami attorney who had worked with Joseph "Bananas" Bonanno, to replace Cutler.
The tapes also created a rift between Gotti and Gravano, showing the Gambino boss describing his newly-appointed underboss as too greedy and attempting to frame Gravano as the main force behind the murders of DiBernardo, Milito and DiBono. Gotti's attempt at reconciliation failed, leaving Gravano disillusioned with the mob and doubtful on his chances of winning the newest case without Shargel, his former attorney. Gravano ultimately opted to turn state's evidence, formally agreeing to testify on November 13, 1991.
Gotti and Locascio's trial commenced with the prosecution's opening statements on February 12, 1992; prosecutors Andrew Maloney and John Gleeson began their case by playing tapes showing Gotti discussing Gambino family business, including murders he approved, and confirming the animosity between Gotti and Castellano to establish the former's motive to kill his boss. After calling an eyewitness of the Castellano hit who identified Gotti soldier John Carneglia as one of the men who shot Bilotti they then brought Gravano to testify on March 2.
On the stand Gravano confirmed Gotti's place in the structure of the Gambino crime family and described in detail the conspiracy to assassinate boss Paul Castellano and gave a full description of the hit and its aftermath. Krieger, and Locasio's attorney Anthony Cardinale, proved unable to shake Gravano during cross-examination. After additional testimony and tapes the government rested its case on March 24.
Five of Krieger and Cardinale's intended six witnesses were ruled irrelevant or extraneous, leaving only Gotti's tax attorney Murray Appleman to testify on his behalf. The defense also attempted unsuccessfully to have a mistrial declared based on Maloney's closing remarks. Gotti himself became increasingly hostile during the trial, and at one point Glasser threatened to remove him from the courtroom. Among other outbursts, Gotti called Gravano a junkie while his attorneys sought to discuss Gravano's past steroid use, and he equated the dismissal of a juror to the fixing of the 1919 World Series.
On April 2, 1992, after only 14 hours of deliberation, the jury found Gotti guilty on all charges of the indictment (Locasio was found guilty on all but one). James Fox, director of the New York City FBI, announced at a press conference, "The Teflon is gone. The don is covered with Velcro, and all the charges stuck". On June 23, 1992, Glasser sentenced both defendants to life imprisonment without the possibility of parole and a $250,000 fine.
Gotti was incarcerated at the United States Penitentiary at Marion, Illinois. He spent the majority of his sentence in effective solitary confinement, only allowed out of his cell for one hour a day. His final appeal was rejected by the U.S. Supreme Court in 1994.
While in prison, Gotti was assaulted and offered at least $40,000 to the Aryan Brotherhood to kill Walter Johnson, the black inmate who had assaulted him. The Aryan Brotherhood accepted Gotti's offer. Gotti is also believed to have hired the Brotherhood for another aborted hit on Frank Locascio after learning the disgruntled acting consigliere sought to kill him.
Despite his imprisonment, and pressure from the Commission to stand down, Gotti is believed to have held on to his position as Gambino crime boss with his brother Peter Gotti and his son John A. "Junior" Gotti relaying orders on his behalf. By 1998, when he was indicted on racketeering, Gotti, Jr. was believed to be the acting boss of the family. against his father's wishes, John Jr. pleaded guilty and was sentenced to six years and five months imprisonment in 1999. He maintains he has since left the Gambino family. Peter Gotti subsequently became acting boss, and is believed to have formally succeeded his brother as boss shortly after John Gotti's death.
John Jr.'s indictment brought further stress to John Gotti's marriage. Victoria DiGiorgio Gotti, up to that point unaware of her son's involvement in the mob, blamed her husband for ruining her son's life and threatened to leave him unless he allowed John A. "Junior" Gotti to leave the mob.
In 1998, Gotti was diagnosed with throat cancer and sent to the United States Medical Center for Federal Prisoners in Springfield, Missouri for surgery. While the tumor was removed, the cancer was discovered to have returned two years later and Gotti was transferred back to Springfield, where he would spend the remainder of his life. Gotti's condition rapidly declined, and he died on June 10, 2002, at the age of 61. One source claimed, "If you look on his death certificate he choked on his own vomit and blood. He paid for his sins". The Roman Catholic Diocese of Brooklyn announced that Gotti's family would not be permitted to have a Mass of Christian Burial but allowed it after the burial.
Gotti's funeral was held in a non-church facility. After the funeral, an estimated 300 onlookers followed the procession, which passed Gotti's Bergin Hunt and Fish Club, to the grave site. Gotti's body was interred in a crypt next to his son Frank Gotti. Gotti's brother Peter was unable to attend owing to his incarceration. In an apparent repudiation of Gotti's leadership and legacy, the other New York families sent no representatives to the funeral.
Born
October, 27, 1940
New York City, New York
Died
June, 10, 2002
Springfield, Missouri
Cause of Death
Cemetery
Saint John Cemetery
Middle Village, New York
19357 profile views