John Catron
(John Catron)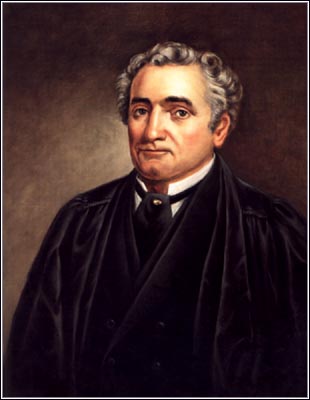 Little is known of Catron's early life, other than that all of his grandparents emigrated from Germany to Virginia, as part of the extensive emigration of Germans and Swiss from Hesse and the Palatinate due to wars, and economic and religious insecurity in the area. His father, Peter (Catron) Kettering, had immigrated as a child with his parents from Mittelbrun in the German Palatinate and settled in Montgomery County (later Wyeth County). His mother was Maria Elizabetha Houck, whose parents had settled in Virginia after emigrating from the Palatinate by way of Pennsylvania. His only sibling, Mary, later married Thomas Swift and moved to Missouri and, ultimately, Oregon. John Catron was a second cousin to Thomas Benton Catron, who later became one of the first senators to represent the state of New Mexico. Catron's father had served in Captain William Doack's militia company from Montgomery County during the Revolutionary War.
The family relocated to Kentucky in the first years of the 19th century. Catron served in the War of 1812 under Andrew Jackson. He read law and was admitted to the Tennessee bar in 1815. He married Mathilda Childress, sister of George C Childress who was one of the political leaders of the Texas Republic and chaired the committee that drafted the Constitution of the Republic of Texas. John and Mathilda Catron had no children.
Catron was in private practice at Sparta in the Cumberland Mountains of Tennessee from 1815 to 1818, while simultaneously serving as a prosecuting attorney of that city. He established a land law practice in Nashville in 1818, in which he continued until 1824.  From 1824-1834, Catron was appointed to the Tennessee Supreme Court of Errors and Appeals, being elevated to Chief Justice of that court in 1831. In 1834, the Tennessee state legislature abolished the chief justice position, and Catron retired and returned to private practice in Nashville. During the election of 1836, Catron directed Martin Van Buren's presidential campaign in Tennessee against native son Hugh Lawson White.
In 1836 Congress, by 5 Stat. 176, expanded the United States Supreme Court from seven to nine members. This allowed then-President Andrew Jackson an opportunity to name two new justices on March 3, 1837, his last full day in office. Catron was the only one of Jackson's nominees to accept. The newly seated Senate of the subsequent Congress confirmed Catron's appointment five days later. He took the judicial oath on May 1, 1837.  Catron served as an associate justice until his death in 1865 at age 79.  Catron supported slavery and sided with the majority in the Dred Scott v. Sandford case. But, he opposed secession and urged Tennessee to remain with the Union. For a brief time after Tennessee seceded from the Union but prior to Nashville being occupied by Federal troops, Catron left his residence in Nashville and temporarily lived in Louisville, Kentucky.
A slaveholder all his adult life, Catron had a relationship with Sally, a Tennessee slave in her 30s who had a laundry in Nashville and was held by the Thomas family. Catron fathered her third mixed-race son, whom she named James P. Thomas. In his lifetime, Catron gave Thomas 25 cents. James was born into slavery but when he was six, his mother effectively bought his freedom. She was unable to gain full manumission for him then, but he gained an education and successfully built a business as a barber in Nashville. Because of his achievements, in 1851 he gained manumission as well as permission from the Tennessee legislature to stay in the state. Later he owned property in St. Louis, Missouri valued at $250,000. Thomas was Catron's only known child.
Catron died in 1865 in Nashville, Tennessee. He is interred at Nashville's Mount Olivet Cemetery.  After Catron's death, Congress eliminated his seat under the Judicial Circuits Act from the Court as a way to prevent President Andrew Johnson, who barely escaped impeachment, from appointing any justices.
Born
January, 07, 1786
USA
Wythe County, Virginia
Died
May, 30, 1865
USA
Nashville, Tennessee
Cemetery
Mount Olivet Cemetery
Nashville, Tennessee
USA
15495 profile views