John Calvin Brown
(John Calvin Brown)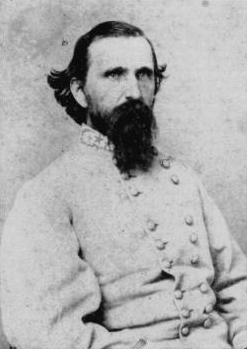 In May 1861, John Calvin Brown enlisted as a private in the Confederate infantry, and was elected Colonel of the 3rd Tennessee Infantry shortly afterward. He was later placed in charge of a brigade consisting of three Tennessee regiments. Following the surrender of Fort Donelson, he was held as a prisoner of war for six months in Fort Warren, Massachusetts, before being exchanged in August 1862. Soon afterwards, he was promoted to brigadier general by the Confederate War Department and assigned command of a new and larger brigade composed of troops from Florida and Mississippi. He took part in Braxton Bragg's campaigns in Kentucky and Tennessee in late 1862 through 1863. Brown was wounded in the battles of Perryville and Chickamauga while leading his brigade. His men were a part of the defensive line on Missionary Ridge in 1863. In 1864, Brown fought in the Atlanta Campaign, at various times temporarily commanding a division. In August, he was promoted to major general and formally assigned command of a division in Benjamin F. Cheatham's corps. He was again wounded at Battle of Franklin in 1864, where six of his fellow generals were killed. He was incapacitated for several months and did not rejoin the army until the end of the Carolinas Campaign in April 1865. John Calvin Brown surrendered with Joseph E. Johnston's forces at Bennett Place and was paroled a month later.
John Calvin Brown returned to Pulaski and resumed his law practice following the war. He was elected to the Tennessee General Assembly in 1869. In the following year, he was a delegate to the state constitutional convention, and was elected its president by his peers. This convention overhauled the state's 1834 constitution, essentially updating it to meet post-Civil War demands. The document most notably guaranteed the right to vote to all males of at least 21 years of age, regardless of race, but also instituted a poll tax. Although it has been amended a number of times, it remains Tennessee's current state constitution. Although he had been a Whig before the Civil War, Brown joined the Democratic Party after the war, and was nominated as the party's candidate for governor in 1870. Since the new constitution restored voting rights to ex-Confederates, Brown easily defeated his Republican opponent, William H. Wisener of Shelbyville, by a 78,979 to 41,500 vote. He was reelected by a narrower margin, 97,700 votes to 84,089, over Republican candidate Alfred A. Freeman in 1872. Brown's most pressing issue was the state's skyrocketing debt. In previous decades, Tennessee had accumulated $43 million in bonded debt, mostly to pay for internal improvements, such as turnpike construction and loans to railroads. Governor William Brownlow exacerbated the problem by issuing more bonds to pay the interest on outstanding bonds in the late 1860s. By the time Brown took office, the state was struggling to pay the interest on this debt. Brown managed to reduce the state's bonded debt to $20 million, and eliminated all of the state's floating debt. His efforts proved futile, however, and the state eventually defaulted following the Panic of 1873.
Brown's administration enacted the state's first truly effective public school legislation, which called for the establishment of county and city school superintendents, and the creation of the office of State Superintendent of Public Instruction. Brown also advocated a board of directors to govern local school districts, and the organization of separate schools for African-American and white children. To support these schools, Governor Brown called for the Legislature to institute a small state tax and give cities and counties the power to raise additional taxes. In 1875, along with several other former Confederate generals, John Calvin Brown competed for an open United States Senate seat, but lost on the 54th ballot in the state legislature to former President Andrew Johnson. Brown fell ill in the Summer of 1889, and traveled to Red Boiling Springs, a mineral springs resort in north-central Tennessee, in hopes of recovering. On August 17, 1889, however, he suffered a stomach hemorrhage and died. His body was returned to Pulaski and interred in the city's Maplewood Cemetery.
Born
January, 06, 1827
USA
Giles County, Tennessee
Died
August, 17, 1889
USA
Red Boiling Springs, Tennessee
Cause of Death
Cemetery
Maplewood Cemetery
Pulaski, Tennessee
USA
992 profile views