John Ashley
(John Atchley)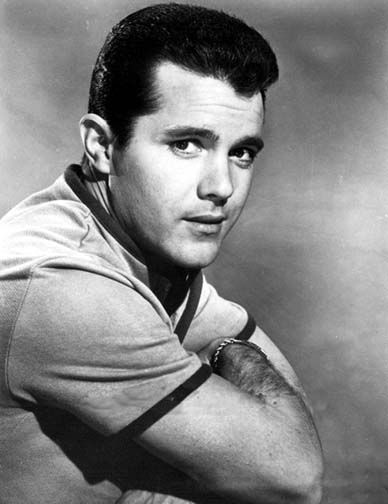 Born John Atchley, John Ashley was reared in Oklahoma and attended Will Rogers High School in Tulsa and Oklahoma State University in Stillwater, where he studied a BA in Economics. While a student, Ashley visited a friend in California and accompanied him to the set of The Conqueror (1956). He was seen by John Wayne who was impressed with the young man's good looks and guided him to a role on TV's Men of Annapolis. Ashley broke into films when he accompanied a girlfriend to an audition at American International Pictures for a part in Dragstrip Girl (1957). Lou Rusoff asked him if he wanted to audition as well and he ended up getting the part. AIP signed him to a four-picture non-exclusive contract expected to run for two years. Ashley was a particular favorite of the daughters of James H. Nicholson, one of the main figures at American International Pictures, who always hoped he would become a big star. Ashley unsuccessfully auditioned for the lead in I Was a Teenage Werewolf (1957) but appeared in several of AIP's other movies. His second role for the studio, Motorcycle Gang (1957), was almost identical to Dragstrip Girl. By this stage Ashley had been drafted and production was held up until he completed his basic training. AIP wanted Ashley to make a film called Hot Rod Girl. He was offered a part on the TV series Matinee Theatre and asked for the movie to be postponed so he could take it. However, Samuel Arkoff of AIP refused, and got an injunction preventing Ashley from appearing on TV. "I never really forgave him for that," said Ashley. Ashley was one of the only AIP lead actors who made the transition from juvenile delinquent movies to beach party films when he was cast as Frankie Avalon's best friend in a series of movies starting with Beach Party (1963) (which led to AIP signing him on another multi-picture contract).
He also had a semi-recurring role as one of Ellie May's suitors on The Beverly Hillbillies. and a strong part in Hud (1963), perhaps his most acclaimed film. In 1959, Ashley was cast in the episode "Elkton Lake Feud" of the syndicated western television series, Frontier Doctor, starring Rex Allen. In the story line, two families for years quarrel over the ownership of the lake, and only three individuals remain when a judge hands down the critical decision. From 1961 to 1962, Ashley was cast in a co-starring role with the late Brian Kelly on the ABC adventure series, Straightaway, set about an automobile mechanic shop and often focusing on the sport of drag racing. In addition to acting, Ashley also made a number of records in the late 1950s. In the late 1960s, Ashley received an offer to make a film in the Philippines. As his first marriage had just broken up, he was keen to get out of the country and accepted. He made Brides of Blood for producer Eddie Romero, then returned to Oklahoma where he ran some theaters. A distributor friend of Ashley's found success screening Brides of Blood and suggested that Ashley return to the Philippines to make additional similar movies. Ashley agreed and returned there to film The Mad Doctor of Blood Island and Beast of Blood as an actor and producer. This began a long-running association with the Philippines and producer Eddie Romero. Ashley eventually started financing these movies, as well as acting as Philippines liaison for movies like The Big Doll House and Apocalypse Now. He then returned to the US in order to concentrate on his theater interests and move into American production work.
Ashley went on to produce such series as The A-Team, NBC's The Quest, and CBS's Walker, Texas Ranger. His voice can be heard as the narrator in the opening title sequence of The A-Team during the show's first four seasons. Ashley married actress Deborah Walley in 1962. They had one son, Anthony Ashley, before they divorced. Ashley later married his second wife, Nancy Moore, and had a son, Cole Ashley. He later remarried to his third wife, Jan Ashley. The couple remained married until John's death. On October 3, 1997, Ashley died of a heart attack in New York City at the age of 63. He was on the set of the movie Scar City at the time of his death.
Born
December, 25, 1934
USA
Kansas City, Missouri
Died
October, 03, 1997
USA
New York, New York
Cause of Death
Cemetery
Forest Lawn Memorial Park (Hollywood Hills)
Los Angeles, California
USA
6622 profile views