John Abineri
(John Abineri)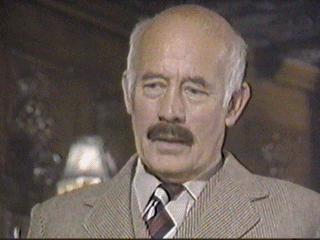 Born in London, he attended the Old Vic drama school and described himself as "Well educated from the age of five to eighteen". He spoke a number of languages (including German, Russian and French) fluently, which led to him being cast as a number of different nationalities.
His extensive television performances included a regular role in Survivors (as Hubert Goss) and four performances on Doctor Who – in Fury from the Deep, Death to the Daleks, The Power of Kroll, and, most notably, as the misguided General Carrington in The Ambassadors of Death. He also appeared in the Blake's 7 episode Hostage, taking over the role of Ushton after the sudden death of the actor Duncan Lamont, his co-star in the aforementioned Death to the Daleks.
He also appeared as Sir George Mortenhurze in the BBC's The Moon Stallion and Herne the Hunter in HTV's Robin of Sherwood.  He received an Emmy nomination for his performance as Chingachgook in the TV adaptation of Last Of The Mohicans (1971) and Hawkeye, The Pathfinder (1973). He also played the butler in the original Ferrero Rocher Ambassador's reception advert.  He was the father of actors Sebastian Abineri, Daniel Abineri and Jaz Abineri.
Born
May, 18, 1928
London, United Kingdom
Died
June, 29, 2000
Bath, United Kingdom
Other
16263 profile views