Joey Bishop
(Joseph Abraham Gottlieb)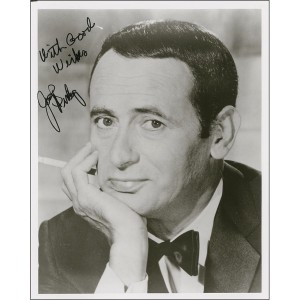 Joey Bishop
Bishop was the least flamboyant of the Rat Pack and no match for the others — Dean Martin, Peter Lawford, Sammy Davis Jr. and Sinatra himself — in their dedication to hell raising.
But he shared in their phenomenal success in the early 1960s, when they headlined music and comedy shows at the Sands in Las Vegas and made movies like "Ocean's Eleven" and "Sergeants 3." When John F. Kennedy, a friend of Sinatra's and a brother-in-law of Lawford's, was elected president in 1960, Mr. Bishop was master of ceremonies at the inaugural ball.
Mr. Bishop, a regular guest on television as a stand-up comedian, eventually had his own TV shows: a sitcom in which he played a talk-show host and later his own actual talk show, appearing on ABC in a short-lived challenge to Johnny Carson's "Tonight Show." His sidekick was a young Regis Philbin, now a host of his own syndicated morning talk show, "Live With Regis and Kelly."
In his vigorous years, when he was known as "the Frown Prince" and his income and fame were substantial, Mr. Bishop indulged himself with a Rolls-Royce and a speedboat. But he seemed happiest when he was playing golf with his fellow comedians Buddy Hackett, Phil Foster and Dick Shawn. And unlike the others in the Pack, he remained married to the same woman, the former Sylvia Ruzga, for 58 years, until her death in 1999.
They had a son, Larry, who became a comic actor and is now a director and producer. Mr. Bishop is also survived by two grandchildren and his companion, Nora Garabotti.
Mr. Bishop suggested at times that although he was grateful for all that Sinatra had done for his career, including seeing to it that he got roles in Rat Pack movies, he felt he was more the mascot of the Pack than a full-fledged member. A 2002 biography of him by Michael Seth Starr was titled "Mouse in the Rat Pack."
"But even the mascot gets to carry the ball, too," Mr. Bishop said, and many sources credit him with writing bright material for the rest of the Pack.
Mr. Bishop had a talent for ad-libbing, often using his catchphrase — "Son of a gun!" — as an all-purpose interjection. He refused to memorize jokes. "The kick is to think quickly," he told The Los Angeles Times in 1966. "It's a great kick."
That approach pleased Sinatra, who first saw Mr. Bishop perform in the early 1950s, at the Latin Quarter in Manhattan. Sinatra asked him to open for him at Bill Miller's Riviera, a club in Fort Lee, N.J. Soon he was regularly opening for Sinatra and known as "Sinatra's comic."
He also began getting jobs in first-rate clubs even when Sinatra was not on the bill. He got laughs when, in the middle of a performance at the Copacabana in Manhattan, Marilyn Monroe suddenly appeared, swathed in white ermine. Mr. Bishop was quick. "Marilyn, I told you to sit in the truck," he said.
Another time he told an audience how he had gotten a small role in the movie "The Naked and the Dead." He said he "played both parts."
Joey Bishop was born Joseph Abraham Gottlieb in the Bronx on Feb. 3, 1918, the fifth child and third son of Jacob Gottlieb and the former Anna Siegel, immigrants from Eastern Europe. When Joey was 3 months old, Jacob Gottlieb moved his family to Philadelphia, where he worked odd jobs and ran a bicycle shop.
Joey Gottlieb was interested in entertainment from an early age. In elementary school he did impersonations of Edward G. Robinson and Jimmy Durante. After dropping out of high school, he formed a music and comedy act with two friends. Calling themselves the Bishop Brothers, after an acquaintance who had let them use his car, they worked in Philadelphia, New York, Buffalo, Chicago, Cleveland and other cities, appearing in clubs with names like the Nut Club and El Dumpo.
The team broke up when the young men were drafted into military service in World War II. Mr. Bishop joined the Army, was based at Fort Sam Houston in Texas and rose to sergeant.
After the war he developed a solo act using the name Bishop. Performing in top clubs, he drew the attention of television producers and was soon appearing on "What's My Line?," a popular game show on CBS, and in television specials. He also became a substitute host on "The Tonight Show" after Jack Paar left the job and before NBC hired Carson.
Mr. Bishop's sitcom, "The Joey Bishop Show," about a talk-show host, had a rocky run: first broadcast on NBC in 1961, it was canceled in 1964, then taken over by CBS until that network also canceled it, in 1965.
ABC then asked him to create a real "The Joey Bishop Show" as a late-night response to Carson. The Bishop talk show had its debut in April 1967. Jack Gould, reviewing it for The New York Times, said the premiere was "awkward and parochial" and that as host, Mr. Bishop had to learn to interview.
But its initial ratings were respectable as a parade of celebrity guests came on to banter with the host. From some, Mr. Bishop elicited startling revelations. Hackett confessed that he had been addicted to marijuana for four years. The singer Gary Crosby and the actor George Raft both revealed that they had been alcoholics. And the comedian Redd Foxx cried while recounting the obstacles he faced as black man in show business.
But Bishop never seriously challenged Carson's supremacy, and when Merv Griffin joined the late-night talk competition in 1969, Mr. Bishop's ratings plummeted. ABC canceled the show that fall, and Mr. Bishop returned to nightclub work, guest appearances on TV variety shows and frequent work as a substitute host for Carson. He also had several movie roles, mostly in the '60s.
In 1981 Mr. Bishop returned to the spotlight to replace Mickey Rooney for four weeks in "Sugar Babies," a Broadway production. He could not sing well, as Mr. Rooney could, so he played the mandolin instead.
But Mr. Bishop never regained the popularity he had in the '60s. In his book Mr. Starr describes Mr. Bishop as "a man who knew what he wanted, worked for years to achieve it, and then let it go — much too quickly." The cancellation of his talk show in 1969, Mr. Starr wrote, "signaled the end of his career after a remarkable 10 years on top." At the time Mr. Bishop was 51.
Born
February, 03, 1918
Bronx, New York City
Died
October, 17, 2007
Newport Beach, California
Cause of Death
Cemetery
Other
Cremated, Ashes scattered at sea
16926 profile views