Joe Shuster
(Joseph Shuster)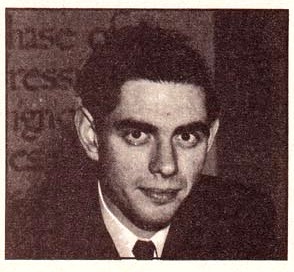 Siegel and Joe Shuster created a bald telepathic villain, bent on dominating the world, as the title character in the short story "The Reign of the Superman", published in Siegel's 1933 fanzine Science Fiction #3. The character was not successful, and Siegel eventually devised the more familiar version of the character. Shuster modeled the hero on Douglas Fairbanks Sr., and his bespectacled alter ego, Clark Kent, on a combination of Harold Lloyd and Shuster himself, with the name "Clark Kent" derived from movie stars Clark Gable and Kent Taylor. Lois Lane was modelled on Joanne Carter, who later became Siegel's wife. Siegel and Shuster then began a six-year quest to find a publisher. Titling it The Superman, Siegel and Shuster offered it to Consolidated Book Publishing, who had published a 48-page black-and-white comic book entitled Detective Dan: Secret Operative No. 48. Although the duo received an encouraging letter, Consolidated never again published comic books. Shuster took this to heart and, by varying accounts, either burned every page of the story, with the cover surviving only because Siegel saved it from the fire, or he tore the story to shreds, with only two cover sketches remaining. Siegel and Shuster each compared this character to Slam Bradley, an adventurer the pair had created for Detective Comics #1 (March 1937). In 1938, after that proposal had languished among others at More Fun Comics — published by National Allied Publications, the primary precursor of DC Comics — editor Vin Sullivan chose it as the cover feature for National's Action Comics #1 (June 1938). The following year, Siegel & Shuster initiated the syndicated Supermancomic strip.
As part of the deal which saw Superman published in Action Comics, Siegel and Joe Shuster sold the rights to the company in return for $130 and a contract to supply the publisher with material. Siegel and Shuster's status as children of Jewish immigrants is also thought to have influenced their work. Timothy Aaron Pevey has argued that they crafted "an immigrant figure whose desire was to fit into American culture as an American", something which Pevey feels taps into an important aspect of American identity. When Superman first appeared, Superman's alter ego Clark Kent worked for the Daily Star newspaper, named by Shuster after the Toronto Daily Star, his old employer in Toronto. Shuster said he modeled the cityscape of Superman's home city, Metropolis, on that of his old hometown. When the comic strip received international distribution, the company permanently changed the name to the Daily Planet.
In 1947, the team rejoined editor Sullivan, by then the founder and publisher of the comic-book company Magazine Enterprises where they created the short-lived comical crime-fighter Funnyman. Shuster continued to draw comics after the failure of Funnyman, although exactly what he drew is uncertain. Comic historian Ted White wrote that Shuster continued to draw horror stories into the 1950s. In 2009, comics historian Craig Yoe said Shuster was the anonymous illustrator for Nights of Horror, an underground sadomasochistic fetishpaperback book series. This was based on character similarities, and comparison of the artistic style between the illustrations and those of the cast of the Superman comics. In 1964, when Joe Shuster was living on Long Island with his elderly mother, he was reported to be earning his living as a freelance cartoonist; he was also "trying to paint pop art – serious comic strips – and hope[d] eventually to promote a one-man show in some chic Manhattan gallery". At one point, his worsening eyesight prevented him from drawing, and he worked as a deliveryman in order to earn a living. Jerry Robinson claimed Shuster had delivered a package to the DC building, embarrassing the employees. He was summoned to the CEO, given one hundred dollars, and told to buy a new coat and find another job. By 1976, Shuster was almost blind and living in a California nursing home. In 1967, when the Superman copyright came up for renewal, Siegel launched a second lawsuit, which also proved unsuccessful.
In 1975, Siegel launched a publicity campaign, in which Shuster participated, protesting DC Comics' treatment of him and Shuster. The Association of American Editorial Cartoonists president, Jerry Robinson was involved in the campaign along with comic-book artist Neal Adams. In the face of a great deal of negative publicity over their handling of the affair (and due to the upcoming Superman movie), DC's parent company Warner Communications reinstated the byline dropped more than thirty years earlier and granted the pair a lifetime pension of $20,000 a year, later increased to $30,000, plus health benefits. The first issue with the restored credit was Superman #302 (Aug. 1976). Although Joe Shuster was now supported by a lifetime stipend from DC Comics, he fell into debt – close to $20,000 by the time of his death. After he died, DC Comics agreed to pay off his unpaid debts in exchange for an agreement from his heirs to not challenge ownership over Superman. Joe Shuster died July 30, 1992 at his West Los Angeles home of congestive heart failure and hypertension. He was 78.
Born
July, 10, 1914
Canada
Toronto, Ontario
Died
July, 30, 1992
USA
Los Angeles, California
Cause of Death
Other
692 profile views