Joe Garagiola Sr
(Joseph Henry Garagiola Sr)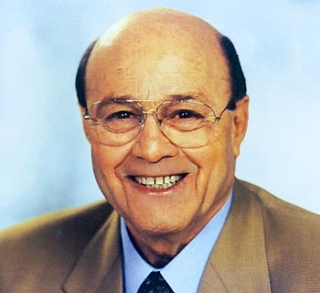 Joe Garagiola Sr
Joe Garagiola, who spent nine forgettable seasons in the major leagues as a weak-hitting catcher and then parlayed his witty tales of life as a baseball underachiever into a far more notable career as a folksy broadcaster and television personality, died on Wednesday in Scottsdale, Ariz. He was 90.
Major League Baseball announced his death.
Garagiola was propelled from the catcher's box into the broadcast booth largely by his crowd-pleasing appearance before a United States Senate subcommittee on monopoly practices in April 1954. At the time, he was playing for the Chicago Cubs.
The committee chairman, Senator Edwin Johnson of Colorado, had sponsored a bill to make corporate ownership of baseball teams illegal and was targeting one of Garagiola's former teams, the St. Louis Cardinals, who were owned by the Anheuser-Busch brewery.
Garagiola, who was near the end of his playing career, had been looking for a radio job in St. Louis. Because the advertising agency working on his behalf also represented the brewery, Johnson suggested that the Cardinals were guilty of "tampering" by improperly trying to lure him from the Cubs.
"Senator, how can you tamper with a .250 hitter?" Garagiola said.
His testimony, laced with the self-deprecation and irreverence that would become his trademarks, attracted enthusiastic press coverage and earned him a broadcasting job with the Cardinals.
He went on to be a colorful broadcaster for NBC, which also made him a host of the "Today" show and a game-show personality, always recognizable by his bald head and broad smile.
"The Baseball World of Joe Garagiola," an NBC pregame show, won a Peabody Award in 1973. Garagiola was cited for a segment titled "The Hill," in which "he returned to his old neighborhood in St. Louis for a warm portrait capturing with great fidelity a sense of time and place."
He was later a broadcaster for the Yankees and the Arizona Diamondbacks.
Garagiola was inducted into the broadcasters' wing of the Baseball Hall of Fame in 1991 as a recipient of the annual Ford C. Frick Award.
The longtime sportscaster Bob Wolff, who teamed with Garagiola on NBC, admired his style.
"He was a very erudite fellow," Curt Smith quoted Wolff as saying in "Voices of the Game" (1987), a history of baseball broadcasting. "He'd bring new words to the booth. Instead of saying, 'A runner almost slid into the shortstop,' Joe'd say, 'He almost stapled him to the bag.' "
During his playing days, Garagiola spoke at banquets and found he could make people laugh.
"I made a real effort to become a talk-for-pay guy," he recalled in "Baseball Is a Funny Game," his collection of anecdotes written in 1960 with Martin Quigley. "Every day I agitated Harry Caray, the St. Louis Cardinal broadcaster, about what a soft job he had. His answer was that if I could hit like I could talk, I wouldn't have any worries."
As he had done in his congressional testimony years before, he continued to find humor in his own foibles.
"Each year I don't play, I get better," he once observed. "The first year on the banquet trail, I was a former ballplayer, the second year I was great, the third year one of baseball's stars, and just last year I was introduced as one of baseball's immortals. The older I get, the more I realize that the worst break I had was playing."
Born
February, 12, 1926
St. Louis, Missouri
Died
March, 23, 2016
Scottsdale, Arizona
Cemetery
Resurrection Cemetery
Affton, Missouri
2059 profile views