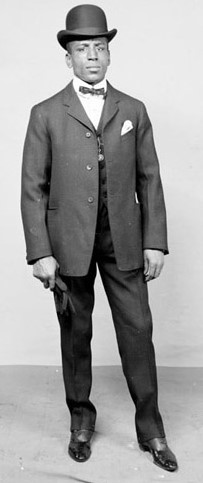 Joe Gans
Gans started boxing professionally about 1891 in Baltimore. He shocked the boxing world with his "scientific" approach to fighting. Finding an opponents strengths and weaknesses, then competing with a game-plan was Gan's specialty. Known as a true student of the sport. In 1900, Gans quit with an eye cut in the twelfth round of the world lightweight title bout against champion Frank Erne. In their rematch two years later, Gans knocked Erne out in one round to recapture the lightweight title.
Gans reigned as champion from 1902 to 1908. A slender man, never weighing over 137 pounds. Gans almost always fought heavier men, eventually recognized for his brains over brawn.[1]In an important title defense he defeated the "Durable Dane," Oscar "Battling" Nelson, on a foul in 42 rounds on September 3, 1906 in Goldfield, Nevada by promoter Tex Rickard. When they fought again two years later Gans lost by a knockout. He died in August 1910, of tuberculosis and is buried in Mount Auburn Cemetery in Baltimore. His monument is maintained by the International Boxing Commission and sits just to the left of the main entrance of the cemetery. Gans is generally considered to be one of the greatest boxers of all time, pound-for-pound.
"I was born in the city of Baltimore in the year 1874, and it might be well to state at this time that my right name is Joseph Gant, not Gans. However, when I became an object of newspaper publicity, some reporter made a mistake and my name appeared as Joe Gans, and as Joe Gans it remained ever since."
Gans had a final professional record of 145 wins with 100 knockouts, 10 losses, 16 draws, 6 no contests and 19 no decisions (Newspaper Decisions: 13-2-4). He was inducted into the International Boxing Hall of Fame in 1990. A bronze statue of Joe Gans is in the lobby of Madison Square Garden, where Boxers would rub the statue's outstretched left fist for luck before matches. His legendary fight on September 3, 1906 with Battling Nelson was commemorated with a memorial located in Goldfield, NV at the site of the fight Gans is the first African American to win a World Championship in Boxing. His achievements not only set new records, but gave African Americans hope in the early twentieth century. In a time of racial segregation, champion Joe Gans emerged victorious.
Born
November, 25, 1874
Baltimore, Maryland
Died
Cause of Death
Cemetery
Mount Auburn Cemetery
Baltimore, Maryland
13262 profile views