Joan Fontaine
(Joan Fontaine)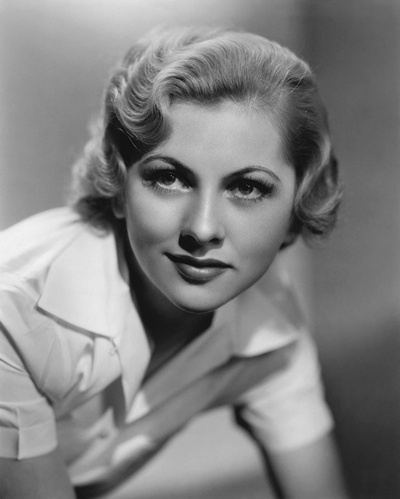 Joan de Havilland was born in Tokyo, Japan, to English parents. Her father, Walter Augustus de Havilland (August 31, 1872 – May 23, 1968), was educated at the University of Cambridge and served as an English professor at the Imperial University in Tokyo before becoming a patent attorney with a practice in Japan. Her mother, Lilian Augusta (née Ruse; June 11, 1886 – February 20, 1975), was educated at the Royal Academy of Dramatic Art in London, and became a stage actress who left her career after going to Tokyo with her husband. Her mother would return to work with the stage name "Lillian Fontaine" after her daughters achieved prominence in the 1940s. Joan's paternal cousin was Sir Geoffrey de Havilland (1882–1965), an aircraft designer known for the De Havilland Mosquito, and founder of the aircraft company which bore his name. Her paternal grandfather, the Reverend Charles Richard de Havilland, was from a family from Guernsey, in the Channel Islands.
De Havilland's parents married in 1914 and separated in 1919, when Lilian decided to end the marriage after discovering that her husband used the sexual services of geisha girls; the divorce was not finalized, however, until February 1925.  Taking a physician's advice, Lilian de Havilland moved Joan—reportedly a sickly child who had developed anaemia following a combined attack of the measles and a streptococcal infection—and her elder sister, Olivia, to the United States. The family settled in Saratoga, California, and Fontaine's health improved dramatically. She was educated at Los Gatos High School, and was soon taking diction lessons alongside her elder sister. When she was 16 years old, Fontaine returned to Japan to live with her father. There she attended the American School in Japan, graduating in 1935.
Fontaine made her stage debut in the West Coast production of Call It a Day (1935) and was soon signed to an RKO contract. Her film debut was a small role in No More Ladies (also 1935) in which she was credited as Joan Burfield.  Although Fontaine, on contract with RKO, had already made her screen appearance in No More Ladies, a series of other minor roles followed, in A Million to One and Quality Street (both 1937), opposite Katharine Hepburn. The studio considered her a rising star, and touted The Man Who Found Himself (also 1937) as her first starring role, placing a special screen introduction, billed as the "new RKO screen personality" after the end credit. She next appeared in a major role alongside Fred Astaire in his first RKO film without Ginger Rogers: A Damsel in Distress (1937) but audiences were disappointed and the film flopped. She continued appearing in small parts in about a dozen films, including The Women (1939), but failed to make a strong impression and her contract was not renewed when it expired in 1939.
Fontaine's luck changed one night at a dinner party when she found herself seated next to producer David O. Selznick. She and Selznick began discussing the Daphne du Maurier novel Rebecca, and Selznick asked her to audition for the part of the unnamed heroine. She endured a grueling six-month series of film tests, along with hundreds of other actresses, before securing the part sometime before her 22nd birthday.  Rebecca, starring Laurence Olivier alongside Fontaine, marked the American debut of British director Alfred Hitchcock. In 1940, the film was released to glowing reviews, and Fontaine was nominated for an Academy Award for Best Actress. Fontaine did not win that year (Ginger Rogers took home the award for Kitty Foyle), but she did win the following year for Best Actress in Suspicion, which co-starred Cary Grant and was also directed by Hitchcock. This was to be the only Academy Award-winning acting performance to have been directed by Hitchcock.
During the 1940s, Fontaine excelled in romantic melodramas. Among her memorable films during this time were The Constant Nymph (1943) (for which she received her third Academy Award nomination), Jane Eyre (1943), Ivy (1947) and Letter from an Unknown Woman (1948).  Her film successes slowed a little during the 1950s, and she also began appearing in television and on the stage. She won good reviews for her role on Broadway in 1954 as Laura in Tea and Sympathy, opposite Anthony Perkins. She also appeared in numerous radio shows during the 1940s for the Lux Radio Theater.
During the 1960s, Fontaine appeared in several stage productions, including Private Lives, Cactus Flower and an Austrian production of The Lion in Winter. Her last theatrical film was The Witches (1966), which she also co-produced. She continued appearing in film and television roles throughout the 1970s and 1980s, and was nominated for an Emmy Award for the soap opera Ryan's Hope in 1980.
Fontaine's autobiography, No Bed of Roses, was published in 1978.  Fontaine's last role for television was in the 1994 TV film Good King Wenceslas, after which she retired to her estate, Villa Fontana, in Carmel-by-the-Sea, California where she would spend time in her gardens and with her dogs.  For her contribution to the motion picture industry, Fontaine has a star on the Hollywood Walk of Fame at 1645 Vine Street. She left her hand and foot prints in front of the Grauman's Chinese Theatre on May 26, 1942.  On December 15, 2013, Fontaine died in her sleep of natural causes at the age of 96 in her Carmel home.  After Fontaine's death, Olivia de Havilland released a statement saying she was "shocked and saddened" by the news. Fontaine was cremated.  Brought on by BBC news Nick Higham: "the young Joan fontaine had been one of Hollywood's most appealing stars, beautiful, stylish and believable"
Born
October, 22, 1917
Tokyo, Japan
Died
December, 15, 2013
Carmel-by-the-Sea, California
Other
16871 profile views