Joan Crawford
(Lucille Fay LeSueur)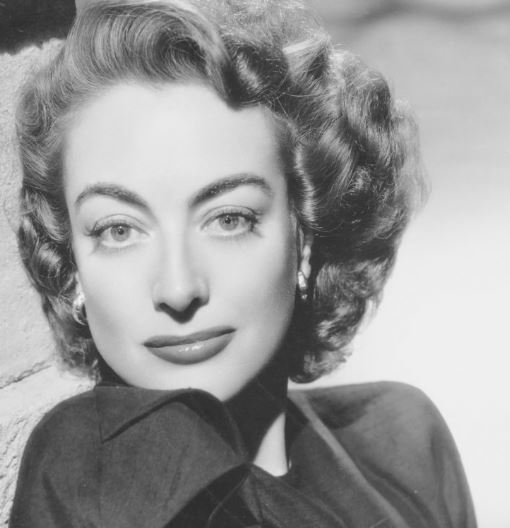 Joan Crawford
From silent star to camp queen, Joan Crawford and her astonishing 45-year film career are the stuff of a Gatsby-esque legend of survival and reinvention. Simultaneously glorious, tragic, tawdry, and hype-filled, her story is the very embodiment of the real version of the American Dream.
Logically, Joan Crawford shouldn't have made it to begin with. She was ignored and abused at home and at school. She began her "entertainment" career with cheap midwest dance-hall shows for traveling salesmen. Once she graduated to a chorus-girl position in a show in New York City, she still had to work after-hours in clubs to earn money. Her first film test was a flop.
When she finally got to Hollywood with a standard 6-month contract not guaranteed for renewal, she was still ignored, until she took matters into her own hands and began a campaign to force the powers-that-be to notice her. And when she finally achieved "official" stardom 3 years after her arrival, based on the irrefutable proof of box-office receipts and fan-mail, her battle with studio executives to be cast in quality pictures for which she was often not the first choice remained constant. The struggle for good parts would last throughout her lifetime, regardless of the stage of her career or the studio she worked for.
Despite the hardships, a perpetually self-reinventing Joan Crawford managed to create an astoundingly strong and varied body of work over 45 years, in a career that often mirrored both her times and the trends of the industry: In the '20s she was theepitome (according to an expert on the matter, F. Scott Fitzgerald) of the lively-yet-soulful flapper; in the '30s, she embodied a Depression-era nation's hopes with her portrayals of both spunky working girls and glamorous society girls; in the post-war '40s, her work was darker, as she ventured into both noir and domestic drama; in the '50s, amid a handful of serious dramas, her work often took a campy turn, a trend that accelerated with her Grand Guignol period of the '60s (and has perhaps reached its post-modern absurdist pinnacle with the continuing cult/camp-favorite status of Mommie Dearest).
Joan Crawford is the movies. And how she achieved and maintained her position in a notoriously tough and fickle business (and how she has managed to posthumously remain at the forefront of pop culture today) is as unlikely and compelling as her diverse and memorable onscreen personae.
Born
March, 23, 1904
San Antonio, Texas
Died
May, 10, 1977
New York City, New York
Cause of Death
Cemetery
Ferncliff Cemetery
Hartsdale, New York
914 profile views