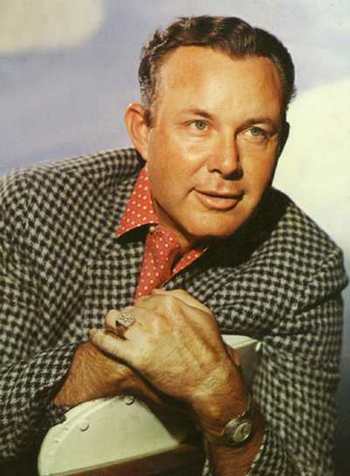 Jim Reeves
Reeves was born in Galloway, Texas, a small rural community near Carthage. Winning an athletic scholarship to the University of Texas, he enrolled to study speech and drama, but quit after only six weeks to work in the shipyards in Houston. Soon he resumed baseball, playing in the semi-professional leagues before contracting with the St. Louis Cardinals "farm" team during 1944 as a right-handed pitcher. He played for the minor leagues for three years before severing his sciatic nerve while pitching, which ended his athletic career.

Reeves began to work as a radio announcer, and sang live between songs. During the late 1940s, he was contracted with a couple of small Texas-based recording companies, but without success. Influenced by such Western swing-music artists as Jimmie Rodgers and Moon Mullican, as well as popular singers Bing Crosby, Eddy Arnold and Frank Sinatra, it was not long before he was a member of Moon Mullican's band, and made some early Mullican-style recordings like "Each Beat of my Heart" and "My Heart's Like a Welcome Mat" from the late 1940s to the early 1950s.  He eventually obtained a job as an announcer for KWKH-AM in Shreveport, Louisiana, home of the popular former radio program, the Louisiana Hayride. According to former Hayride master of ceremonies Frank Page, who had introduced Elvis Presley on the program in 1954, singer Sleepy LaBeef was late for a performance, and Reeves was asked to substitute. (Other accounts—-including Reeves himself, in an interview on the RCA album Yours Sincerely—-name Hank Williams as the absentee.)
Reeves' first successful country music songs included "I Love You" (a duet with Ginny Wright), "Mexican Joe", and "Bimbo" which reached Number 1 in 1954 on the U.S. Country Charts, and other songs with both Fabor Records and Abbott Records. Abbott released his first album in November 1955, Jim Reeves Sings (Abbott 5001), which was the label's only album release. Earlier in 1955, he was signed to a 10-year recording contract with RCA Victor by Steve Sholes, who produced some of Reeves' first recordings at RCA and signed Elvis Presley for the company that same year. Also in 1955, he joined the Grand Ole Opry and made his first appearance on ABC-TV's Ozark Jubilee, where he was a fill-in host from May–July 1958.
For his earliest RCA recordings, Reeves was still singing with the loud style of his first recordings, considered standard for country and western performers at that time. He decreased his volume, using a lower pitch and singing with lips nearly touching the microphone, although there were protests at RCA. During 1957, with the endorsement of his producer Chet Atkins, he used this style for his version of a demonstration song of lost love intended for a female singer. "Four Walls" not only scored No. 1 on the country music charts, but scored No. 11 on the popular music charts. Reeves had helped begin a new style of country music, using violins and lusher background arrangements soon known as the Nashville sound.  Reeves became known as a crooner because of his rich light baritone voice. Songs such as "Adios Amigo", "Welcome to My World", and "Am I Losing You?" demonstrated this. His Christmas songs have been perennial favorites, including "C-H-R-I-S-T-M-A-S", "Blue Christmas" and "An Old Christmas Card". He is also responsible for popularizing many gospel songs, including "We Thank Thee", "Take My Hand, Precious Lord", "Across The Bridge", "Where We'll Never Grow Old" and many others.
Reeves scored his greatest success with the Joe Allison composition "He'll Have to Go", a great success on both the popular and country music charts, which earned him a platinum record. Released during late 1959, it scored number one on Billboard magazine's Hot Country Songs chart on February 8, 1960, which it scored for 14 weeks consecutive. Country music historian Bill Malone noted that while it was in many ways a conventional country song, its arrangement and the vocal chorus "put this recording in the country pop vein". In addition, Malone lauded Reeves' vocal styling—lowered to "its natural resonant level" to project the "caressing style that became famous"—as why "many people refer to him as the singer with the velvet voice." In 1963, he released his well proclaimed "Twelve Songs of Christmas" album, which had the well known songs "C.H.R.I.S.T.M.A.S" and "An Old Christmas Card". During 1975, RCA producer Chet Atkins told an interviewer, "Jim wanted to be a tenor but I wanted him to be a baritone… After he changed his voice to that smooth deeper sound, he was immensely popular."  Reeves' international popularity during the 1960s, however, at times surpassed his popularity in the United States, helping to give country music a worldwide market for the first time.
During the early 1960s, Reeves was more popular in South Africa than Elvis Presley and recorded several albums in the Afrikaans language. In 1963, he toured and was featured in a South African film, Kimberley Jim. The film was released with a special prologue and epilogue in South African cinemas after Reeves' death, praising him as a true friend of the country. The film was produced, directed, and written by Emil Nofal.  Reeves was one of an exclusive trio of performers to have released an album there that played at the little-used 16⅔ rpm speed. This unusual format was more suited to the spoken word and was quickly discontinued for music. The only other artists known to have released such albums in South Africa were Elvis Presley and Slim Whitman.
Reeves toured Britain and Ireland during 1963 between his tours of South Africa and Europe. Reeves and the Blue Boys were in Ireland from May 30 to June 19, 1963, with a tour of US military bases from June 10 to June 15, when they returned to Ireland. They performed in most counties in Ireland, though Reeves occasionally abbreviated performances because he was unhappy with the piano. In a June 6, 1963 interview with Spotlight magazine, Reeves expressed his concerns about the tour schedule and the condition of the pianos, but said he was pleased with the audiences.
There was a press reception for him at the Shannon Shamrock Inn organised by Tom Monaghan of Bunratty Castle, County Clare. Show band singers Maisie McDaniel and Dermot O' Brien welcomed him on May 29, 1963. A photograph appeared in the Limerick Leader on 1 June 1963. Press coverage continued from May until Reeves's arrival with a photograph of the press reception in The Irish Press. Billboard magazine in the US also reported the tour before and after. The single "Welcome to My World" with the B/W side "Juanita" was released by RCA Victor during June 1963 and bought by the distributors Irish Records Factors Ltd. This scored the record number one while Reeves was there during June.  There were a number of accounts of his dances in the local newspapers and a good account was given in The Kilkenny People of his dance in the Mayfair Ballroom where 1,700 persons were present. There was a photograph inThe Donegal Democrat of Reeves's singing in the Pavesi Ball Room on June 7, 1963, and an account of his non-appearance on stage in The Diamond, Kiltimagh, County Mayo in The Western People representing how the tour went in different areas.
He planned to record an album of popular Irish songs, and had three number one songs in Ireland during 1963 and 1964: "Welcome to My World", "I Love You Because", and "I Won't Forget You". (The last two are estimated to have sold 860,000 and 750,000 respectively in Britain alone, excluding Ireland.) Reeves had 11 songs in the Irish charts from 1962 to 1967. He recorded two Irish ballads, "Danny Boy" and "Maureen". "He'll Have to Go" was his most popular song there and was at number one and on the charts for months during 1960. He was one of the most popular recording artists in Ireland, in the first ten after the Beatles, Elvis and Cliff Richard.  He was permitted to perform in Ireland by the Irish Federation of Musicians on the condition that he share the bill with Irish show bands, becoming popular by 1963. The British Federation of Musicians would not permit him to perform there because no agreement existed for British show bands to travel to America in exchange for the Blue Boys playing in Britain. Reeves, however, performed for British radio and TV programmes.
Reeves played at the sports arena Njårdhallen, Oslo on April 16, 1964 with Bobby Bare, Chet Atkins, the Blue Boys and the Anita Kerr Singers. They performed two concerts; the second was televised and recorded by the Norwegian network NRK (Norsk Rikskringkasting, the only one in Norway at the time). The complete concert, however, was not recorded, including some of Reeves' last songs. There are reports he performed "You're the Only Good Thing (That's Happened to Me)" in this section. The program has been repeated on NRK several times over the years.  His first success in Norway, "He'll Have to Go", scored No. 1 in the Top Ten and scored the chart for 29 weeks. "I Love You Because" was his greatest success in Norway, scoring No. 1 during 1964 and scoring on the list for 39 weeks. His albums spent 696 weeks in the Norwegian Top 20 chart, making him one of the most popular music artists in the history of Norway.
Reeves' last recording session for RCA Victor had produced "Make the World Go Away", "Missing You", and "Is It Really Over?" When the session ended with some time remaining on the schedule, Reeves suggested he record one more song. He taped "I Can't Stop Loving You", in what was to be his last RCA recording. He made one later recording, however, at the little studio in his home. In late July 1964, just a couple of days before his death, Reeves recorded "I'm a Hit Again", using just an acoustic guitar as accompaniment. That recording was never released by RCA (because it was a home recording not owned by the label), but appeared during 2003 as part of a collection of previously unissued Reeves songs released on the VoiceMasters label.
On July 31, 1964, Reeves and his business partner and manager Dean Manuel (also the pianist of Reeves' backing group, the Blue Boys) left Batesville, Arkansas, en route to Nashville in a single-engine Beechcraft Debonair aircraft, with Reeves at the controls. The two had secured a deal on some real estate (Reeves had also unsuccessfully tried to buy property from the LaGrone family in Deadwood, Texas, north of his birthplace of Galloway).
While flying over Brentwood, Tennessee, they encountered a violent thunderstorm. A subsequent investigation showed that the small airplane had become caught in the storm and Reeves suffered spatial disorientation. The singer's widow, Mary Reeves (1929-1999), probably unwittingly started the rumor that he was flying the airplane upside down and assumed he was increasing altitude to clear the storm. However, according to Larry Jordan, author of the 2011 biography, Jim Reeves: His Untold Story, this scenario is refuted by eyewitnesses known to crash investigators who saw the plane overhead immediately before the mishap, and confirmed that Reeves was not upside down. Jordan writes extensively about forensic evidence (including from the long-elusive tower tape and accident report), which suggests that instead of making a right turn to avoid the storm (as he had been advised by the Approach Controller to do), Reeves turned left in an attempt to follow Franklin Road to the airport. In so doing, he flew further into the rain. While preoccupied with trying to re-establish his ground references, Reeves let his airspeed get too low and stalled the aircraft. Relying on his instincts more than his training, evidence suggests he applied full power and pulled back on the yoke before leveling his wings—a fatal, but not uncommon, mistake that induced a stall/spin from which he was too low to recover. Jordan writes that according to the tower tape, Reeves ran into the heavy rain at 4:51 p.m. and crashed only a minute later, at 4:52 p.m.
When the wreckage was found some 42 hours later, it was discovered the airplane's engine and nose were buried in the ground due to the impact of the crash. The crash site was in a wooded area north-northeast of Brentwood approximately at the junction of Baxter Lane and Franklin Pike Circle, just east of Interstate 65, and southwest of Nashville International Airport where Reeves planned to land. Coincidentally, both Reeves and Randy Hughes, the pilot of Patsy Cline's ill-fated airplane, were trained by the same instructor.  On the morning of August 2, 1964, after an intense search by several parties (which included several personal friends of Reeves including Ernest Tubb and Marty Robbins) the bodies of the singer and Dean Manuel were found in the wreckage of the aircraft and, at 1:00 p.m. local time, radio stations across the United States began to announce Reeves' death formally. Thousands of people traveled to pay their last respects at his funeral two days later. The coffin, draped in flowers from fans, was driven through the streets of Nashville and then to Reeves' final resting place near Carthage, Texas.
Born
August, 20, 1923
Galloway, Texas
Died
July, 31, 1964
Nashville, Tennessee
Cause of Death
Cemetery
Jim Reeves Memorial Park
Carthage, Texas
18301 profile views