Jim Croce
(James Joseph Croce)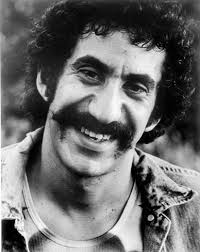 Jim Croce 
James Joseph "Jim" Croce (/ˈkroʊtʃi/; January 10, 1943 – September 20, 1973) was an American singer-songwriter. Between 1966 and 1973, Croce released five studio albums and 11 singles. His singles "Bad, Bad Leroy Brown" and "Time in a Bottle" were both number one hits on the US Billboard Hot 100 chart.
Early life
Croce was born in South Philadelphia, Pennsylvania, on January 10, 1943, to James Albert Croce and his wife Flora Mary (née Babucci), both Italian Americans. Croce took a strong interest in music at a young age. At five, he learned to play his first song on the accordion, "Lady of Spain."
Croce attended Upper Darby High School in Drexel Hill, Pennsylvania. After graduating in 1960, he studied at Malvern Preparatory School for a year before enrolling at Villanova University, where he majored in psychology and minored in German. He graduated with a Bachelor degree in 1965. Croce was a member of the Villanova Singers and the Villanova Spires. When the Spires performed off-campus or made recordings, they were known as The Coventry Lads. Croce was also a student disc jockey at WKVU (which has since become WXVU).
Career
Early career
Croce did not take music seriously until he studied at Villanova, where he formed bands and performed at fraternity parties, coffee houses, and universities around Philadelphia, playing "anything that the people wanted to hear: blues, rock, a cappella, railroad music… anything." Croce's band was chosen for a foreign exchange tour of Africa, Middle East, and Yugoslavia. He later said, "We just ate what the people ate, lived in the woods, and played our songs. Of course they didn't speak English over there but if you mean what you're singing, people understand." On November 29, 1963 Croce met his future wife Ingrid Jacobson at a hootenanny at Philadelphia Convention Hall, where he was judging a contest.
Croce released his first album, Facets, in 1966, with 500 copies pressed. The album had been financed with a $500 wedding gift from Croce's parents, who set a condition that the money must be spent to make an album. They hoped that he would give up music after the album failed, and use his college education to pursue a "respectable" profession. However, the album proved a success, with every copy sold.
1960s
From the mid-1960s to early 1970s, Croce performed with his wife as a duo. At first, their performances included songs by artists such as Ian and Sylvia, Gordon Lightfoot, Joan Baez, and Woody Guthrie, but in time they began writing their own music. During this time, Croce got his first long-term gig at a suburban bar and steak house in Lima, Pennsylvania, called The Riddle Paddock. His set list covered several genres, including blues, country, rock and roll, and folk.
Croce married his wife Ingrid in 1966, and converted to Judaism, as his wife was Jewish, though he became non-practicing and was generally against organized religion. He and Ingrid were married in a traditional Jewish ceremony. He enlisted in the Army National Guard that same year to avoid being drafted and deployed to Vietnam, and served on active duty for four months, leaving for duty a week after his honeymoon. Croce, who was not good with authority, had to go through basic training twice. He said he would be prepared if "there's ever a war where we have to defend ourselves with mops".
In 1968, the Croces were encouraged by record producer Tommy West to move to New York City. The couple spent time in the Kingsbridge section of the Bronx and recorded their first album with Capitol Records. During the next two years, they drove more than 300,000 miles, playing small clubs and concerts on the college concert circuit promoting their album Jim & Ingrid Croce.
Becoming disillusioned by the music business and New York City, they sold all but one guitar to pay the rent and returned to the Pennsylvania countryside, settling in an old farm in Lyndell, where Croce got a job driving trucks and doing construction work to pay the bills while continuing to write songs, often about the characters he would meet at the local bars and truck stops and his experiences at work; these provided the material for such songs as "Big Wheels" and "Workin' at the Car Wash Blues".
1970s
The couple returned to Philadelphia and Croce decided to be "serious" about becoming a productive member of society. "I'd worked construction crews, and I'd been a welder while I was in college. But I'd rather do other things than get burned," he later said. His determination to be "serious" led to a job at a Philadelphia R&B AM radio station, WHAT, where he translated commercials into "soul". "I'd sell airtime to Bronco's Poolroom and then write the spot: "You wanna be cool, and you wanna shoot pool… dig it."
In 1970, Croce met the classically trained pianist-guitarist and singer-songwriter Maury Muehleisen from Trenton, New Jersey through producer Joe Salviuolo. Salviuolo had been friends with Croce when they attended Villanova University together, and Salviuolo later discovered Muehleisen when he was teaching at Glassboro State College in New Jersey. Salviuolo brought the Croce and Muehleisen duo together at the production office of Tommy West and Terry Cashman in New York City. Initially, Croce backed Muehleisen on guitar at his gigs but in time their roles reversed, with Muehleisen adding lead guitar to Croce's music.
In 1972, Croce signed to a three-record deal with ABC Records and released two albums, You Don't Mess Around with Jim and Life and Times. The singles "You Don't Mess Around with Jim", "Operator (That's Not the Way It Feels)", and "Time in a Bottle" (written for his then-unborn son, A. J. Croce) all received airplay. Croce's biggest single, "Bad, Bad Leroy Brown", hit No. 1 on the American charts in July 1973. That year, the Croces relocated to San Diego, California.
As his career picked up, Croce began touring the United States with Muehleisen, performing live, including in large coffee houses, on college campuses, and at folk festivals. However, Croce's financial situation was still dire. The record company had fronted him the money to record the album, and much of the money the album earned went to pay back the advance. In February of 1973, Croce and Muehleisen traveled to Europe to promote the album, visiting London, Paris, and Amsterdam, and getting positive reviews. Croce also began appearing on television, including his 1st national debut on American Bandstand August 12th 1972, The Tonight Show August 14th 1972, The Dick Cavett Show Sept. 20/21 1972 and in 73 the newly launched The Midnight Special, which he co-hosted airing June 15th. From July 16 through August 4 1973, Croce and Muehleisen again visited London and performed on The Old Grey Whistle Test. Croce finished recording the album I Got a Name one week before his death. During his tours, Croce grew increasingly homesick, and decided to take a break from music and settle down with his wife and infant son after his Life and Times tour was completed. In a letter to his wife which arrived after his death, Croce stated his intention to quit music and stick to writing short stories and movie scripts as a career, and withdraw from public life.
Death
On Thursday, September 20, 1973, during Croce's Life and Times tour and the day before his ABC single "I Got a Name" was released, Croce, Muehleisen, and four others were killed when their chartered Beechcraft E18S crashed while taking off from the Natchitoches Regional Airport in Natchitoches, Louisiana. Others who died in the crash were charter pilot Robert N. Elliott, comedian George Stevens, manager and booking agent Kenneth D. Cortose, and road manager Dennis Rast. Croce had just completed a concert at Northwestern State University's Prather Coliseum in Natchitoches and was flying to Sherman, Texas, for a concert at Austin College. The plane crashed an hour after the end of the concert.
An investigation showed that the plane crashed on takeoff after clipping a pecan tree at the end of the runway. The plane failed to gain enough altitude to clear the tree and did not maneuver to avoid it, even though it was the only tree for hundreds of yards. It was reported as dark, but with clear sky, calm winds, and over five miles of visibility with haze. The report from the NTSB listed the probable cause as the pilot's failure to see and avoid obstructions due to pilot physical impairment and fog obstructing vision. The 57-year-old charter pilot suffered from severe coronary artery disease and had run three miles to the airport from a motel. He had an ATP Certificate, 14,290 hours total flight time and 2,190 hours in the Beech 18 type. A later investigation placed sole blame for the accident on pilot error due to his downwind takeoff into a "black hole".
Jim Croce was buried at Haym Salomon Memorial Park in Frazer, Pennsylvania.
Born
January, 10, 1943
United States
Pennsylvania
Died
September, 20, 1973
United States
Louisiana
Cemetery
Haym Salomon Memorial Park
Frazer
United States
17149 profile views