Jersey Joe Walcott
(Arnold Raymond Cream)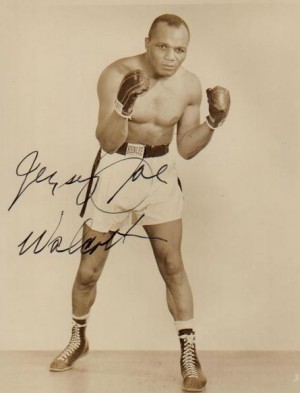 Jersey Joe Walcott
Jersey Joe Walcott, the son of poor immigrants from Barbados who was to slug his way out of poverty and into the record books as the oldest fighter to win the heavyweight championship of the world, died Friday at Our Lady of Lourdes Medical Center in Camden, N.J., where he lived. He was 80.
The cause of death was complications from diabetes, said a nephew, Richard Cream.
Walcott, whose real name was Arnold Raymond Cream, was known as an athlete of grit and dignity, a man who turned professional at the age of 16 and who would not quit until he had won the heavyweight title after trying and failing four times.
"I always felt in my heart that God would give it to me," Walcott recalled years later.
And on July 18, 1951, at age 37, he knocked out Ezzard Charles — an opponent who had already beaten Walcott twice — in the seventh round of a title match in Forbes Field in Pittsburgh to attain his goal. Knocked Down Joe Louis
Walcott was also known as the fighter who knocked down Joe Louis three times. Indeed, many fight fans thought Walcott beat Louis in a match on Dec. 5, 1947, at Madison Square Garden when he knocked down Louis twice, but Louis got up to hold on for a 15-round split decision.
Even Louis seemed surprised by the verdict, at first starting to leave the ring apparently thinking he had lost.
Then, after the decision was announced, Louis went over to Walcott's corner and said, "Joe, I'm sorry." Walcott and his supporters sought to have the decision reversed a week later in an appeal to the New York State Athletic Commission, but it stood.
In the rematch at Yankee Stadium the next year, Walcott knocked Louis to the canvas again, but Louis knocked Walcott out in the 11th round.
In 1949, Charles outpointed Walcott for the title that Louis had vacated, and Charles outpointed him again in 1951. Four months later, Walcott took the title away with a left hook to Charles's chin. Walcott was to beat Charles again a year later. Lost Title at Age 38
Walcott's title was to last only 13 more rounds. At the age of 38, ahead on points, and dominating the bout, Walcott was knocked out by Rocky Marciano on Sept. 23, 1952, in what Marciano regarded as the toughest bout of his career.
Marciano won the rematch in 1953 in the first round, in what was to be Walcott's last fight. The bout also put Walcott in the record books again: as having lost more heavyweight title bouts — six — than any other fighter.
Walcott fought 67 times, winning 18 bouts by decisions, 30 by knockouts and 1 by a foul. He lost 11 decisions, was knocked out 6 times and fought 1 draw.
He was one of 12 children born to Joseph Cream, who came to the United States from Barbados at the age of 11. The fight career of Walcott, who was born and raised in Merchantsville, N.J., started in 1930 when he named himself Joe Walcott for a welterweight from Barbados who was a friend of the family. Meager Purses in Early Days
In 1936, Jack Dempsey staged a heavyweight show at Coney Island, and Walcott drew the attention of New York fight fans for the first time. Weighing 180 pounds, Walcott knocked out an up-and-coming fighter named Larry LaPage in the third round.
"I had been fighting 17 years before I made more than $300," Walcott was to say years later in recalling his boyhood poverty and the meager purses in his early ring career, which he supplemented by working as a laborer in a Camden shipyard. For a time, he even had to resort to public welfare payments to support his growing family.
After retiring, Walcott was a fight referee for a time, became Sheriff of Camden County and then chairman of the New Jersey State Athletic Commission until he reached the mandatory retirement age of 70.
He devoted most of his retirement days to directing special projects for the New Jersey State Department of Community Affairs, aiding handicapped and retarded children.
Born
January, 31, 1914
Merchantville, New Jersey
Died
February, 25, 1994
Camden, New Jersey
Cause of Death
complications from diabetes
Cemetery
Sunset Memorial Park
Pennsauken, New Jersey
12608 profile views