Jerry Wald
(Jerome Irving Wald)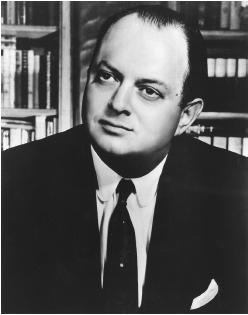 Born Jerome Irving Wald to a Jewish family in Brooklyn, New York, he had a brother and sons who were active in show business. He began writing a radio column for the New York Evening Graphic, while studying at New York University. This led to him producing several Rambling 'Round Radio Row featurettes for Vitaphone, Warner Brothers' short subject division (1932–33). Jerry Wald wrote and produced numerous films between the 1930s and 1960s, including Stars Over Broadway (1935), The Roaring Twenties (1939), On Your Toes (1939, in collaboration with playwright Lawrence Riley), They Drive by Night (1940), Across the Pacific (1942), The Man Who Came to Dinner (1942), Destination Tokyo (1943), Mildred Pierce (1945), Johnny Belinda (1948), Key Largo (1948), Always Leave Them Laughing (1949), The Glass Menagerie (1950), and Perfect Strangers (1950).1947 : La Possédée (Possessed) Jerry Wald and Norman Krasna formed Wald/Krasna Productions to release films through RKO Radio Pictures, including Two Tickets to Broadway (1951), The Blue Veil (1951), Behave Yourself! (1952), The Lusty Men (1952), and Clash by Night (1953). Krasna and Wald dissolved their partnership because of interference from Howard Hughes, then head of RKO, in their productions. Wald went on to produce Peyton Place (1957), An Affair to Remember (1957), In Love and War (1958), The Sound and the Fury (1959), Sons and Lovers (1960), Return to Peyton Place (1961), and Wild in the Country (1961).
Jerry Wald also produced the Academy Awards telecast twice, the ceremonies for 1957 and 1958. He received four Academy Award nominations as producer of the following nominees for Best Picture: Mildred Pierce, Johnny Belinda, Peyton Place and Sons and Lovers. Although he never won a competitive Academy Award, he was awarded the Irving G. Thalberg Memorial Award in 1949. Wald is often cited as the real-life inspiration for the character Sammy Glick in the novel What Makes Sammy Run by Budd Schulberg. Jerry Wald, was a very close friend to Joan Crawford in the forties, offering her many parts often considered to be the of career including Mildred Pierce, that he produced. He convinced director Michael Curtis that she could do the picture and that she would succeed in the role, which brought her the Oscar for Best Actress in 1946. Jerry Wald not only produced Mildred Pierce, but also Humoresque (1946), considered one of the best performances of Crawford's career, Across the Pacific (1942), The Man Who Came to Dinner (1942), Possessed(1947), Flamingo road (1949), The damned don't cry (1950)'." After her career at Warner's fizzled out slowly even though she wished to remain with Warner's, after years of reinventing herself, she bought out her contract. Afterwards, she bought the rights to a screenplay called Sudden Fear which brought her a third Academy Award nomination for Best Actress in 1953.
Jerry Wald remains as a great producer and after the movies he made with Joan Crawford, he kept going made very popular films such as the Eddy Duchin story. Wald died, aged 50, at his home in Beverly Hills, California from a heart attack. His widow, Connie Wald (born August 13, 1916 – died November 10, 2012), was a California socialite and hostess; she was survived by her two sons and two grandchildren.
Born
September, 16, 1911
USA
Brooklyn, New York
Died
July, 13, 1962
USA
Beverly Hills, California
Cemetery
Forest Lawn Memorial Park (Glendale)
Glendale, California
USA
680 profile views