Jerry Falwell
(Jerry Lamon Falwell)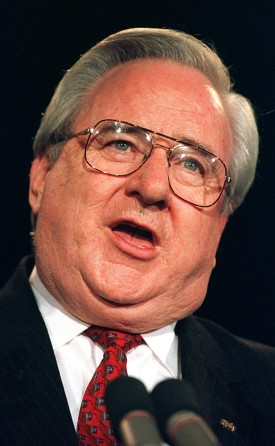 Jerry Falwell
Religious leader, political activist and television evangelist Jerry Falwell was born on August 11, 1933, in Lynchburg, Virginia. Reverend Jerry Falwell was a leading force behind in the political rise of the religious right in the 1980s and the founder of the Moral Majority, a fundamentalist Christian political organization. Raised listening to the Old-Fashioned Revival Hour on the radio, he graduated from Baptist Bible College in 1956.
Shortly after graduation, Jerry Falwell established the Thomas Road Baptist Church in Lynchburg. Also around this time, he began the Old Time Gospel Hour, a religious radio and television program. Besides preaching the gospel, Falwell wanted to build a Christian educational system. He founded the Lynchburg Christian Academy in 1967 and Liberty Baptist College, which now known as Liberty University, in 1971.
Over the years, outspoken Jerry Falwell has offended numerous groups and individuals and has been in the middle of many media storms for sharing his particular religious and political point of views. In 1999, he caused a stir when he questioned the sexuality of a character on Teletubbies, a children's television program and warned parents against letting their children watch the show. In 2001, Falwell said several groups, including gays and feminists, were partially to blame for September 11th terrorist attacks. He later apologized. The next year Falwell angered many Muslims when he reportedly described the prophet as a "terrorist" during an interview for 60 Minutes.
Jerry Falwell restarted his political organization as The Moral Majority Coalition in 2004, working to keep the evangelical movement as a strong force in politics. In his later years, he also devoted much of his time to Liberty University. Falwell faced health problems in 2005 and was hospitalized twice that year. He died on May 15, 2007, a short time after being discovered unconscious in his office at the school.
Born
August, 11, 1933
Lynchburg, Virginia
Died
May, 15, 2007
Lynchburg, Virginia
Cause of Death
Cemetery
Liberty University Campus
Lynchburg, Virginia
15932 profile views