Jerry Buss
(Gerald Hatten Buss)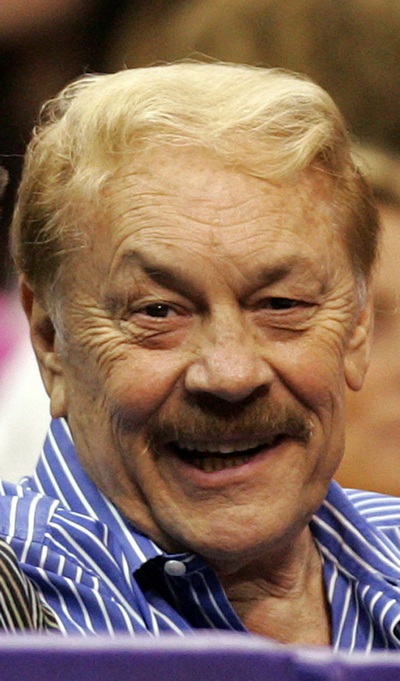 Born in Salt Lake City, Buss was raised by his divorced mother, Jessie. When he was nine years old, he moved with his mother to Los Angeles; they moved to Kemmerer, Wyoming, three years later when she remarried. Buss earned a scholarship to the University of Wyoming, graduating with a B.S. degree in two and a half years in 1953. He then returned to Los Angeles and attended the University of Southern California (USC), where he earned an M.S. and Ph.D. in physical chemistry in 1957 at the age of 24. Buss started as a chemist for the Bureau of Mines (now the Mine Safety and Health Administration); he then briefly worked in the aerospace industry and was on the faculty of USC's chemistry department. He originally went into real estate investing in order to provide an income so he could continue teaching. His first investment in the 1960s was $1,000 in a West Los Angeles apartment building. Finding great success in the real estate business, he pursued real estate investing full-time. In 1974 Jerry produced a movie named Black Eye starring former gridiron star Fred "the Hammer" Williamson. In 1979 Jerry purchased Pickfair Mansion in Beverly Hills from the estate of Mary Pickford. He was also the co-owner of a real estate investment company called Mariani-Buss Associates with his long-time business partner Frank Mariani.
Buss became an owner in World Team Tennis, the Los Angeles Strings. He purchased the Los Angeles Lakers of the NBA along with the Los Angeles Kings hockey team of the NHL, The Forum, and a large ranch from Jack Kent Cooke in 1979.[4] Buss later sold the Kings, retaining ownership of the Lakers and The Forum. He then reached a major advertising agreement with Great Western Bank for the naming rights to The Forum, resulting in the official name of the building being changed to the Great Western Forum.  Later, when the WNBA was formed in 1996, Buss took charge of operating that league's Los Angeles franchise, the Los Angeles Sparks. Eventually, all three teams moved into a more modern arena in downtown Los Angeles, the Staples Center, which opened in 1999. As part of the deal to move the Lakers into Staples Center, Buss sold the Great Western Forum (which was later reverted to its original name).
The Lakers were very successful under Buss' ownership, winning ten NBA championships with such players as Kareem Abdul-Jabbar, Magic Johnson, James Worthy, Shaquille O'Neal, Kobe Bryant and Pau Gasol, and with coaches Pat Riley and Phil Jackson. He inspired the Lakers' Showtime era with his vision that basketball games must be entertaining. The Sparks also experienced their share of success, winning two WNBA championships with such players as Lisa Leslie, Tamecka Dixon and DeLisha Milton-Jones.  In 2002, when the WNBA was restructured to give its teams individual owners, Buss took ownership of the Sparks. He sold the team in 2006. Buss also owned the Los Angeles Lazers of the Major Indoor Soccer League. The Lazers also played in The Forum. The team folded in 1989 and the league folded three years later.  His contributions to basketball were recognized by his induction into the Basketball Hall of Fame in 2010.
In January 2008, Buss donated $7.5 million to USC's Department of Chemistry to fund two endowed chairs and an endowed scholarship fund for chemistry graduate students; the two chairs were to be named after his mentors at USC, professors Sidney Benson and David Dows. Buss was an inaugural member of the USC College Board of Councilors.  His philanthropy also extended to people associated with the Lakers. When former Lakers player Walt Hazzard, then an adviser to the team, suffered a catastrophic stroke in 1996, Buss kept Hazzard on the payroll, and told Hazzard's son that his father would remain a Lakers employee for as long as Buss owned the team. When Hazzard died in 2011, he was still a Lakers' employee.
Buss' marriage to the former JoAnn Mueller ended in divorce in 1972 after having four children: Johnny (b. 1957), Jim (b. 1959), Jeanie (b. 1961) and Janie (b. 1964). Buss later had two more children with a girlfriend, Karen Demel: Joey (b. 1985) and Jesse (b. 1988). At his death, all six of his children worked in the Lakers organization. During his time as Lakers owner, Buss was widely known as a playboy and had a string of young girlfriends. In 1990, he reached a settlement out of court in a palimony suit filed by Puppi Buss, who said that she had an on-and-off relationship with Buss for 15 years, and also alleged that he fathered her son; details of the settlement were not revealed.
On May 29, 2007, Buss was issued a citation for driving under the influence after two California Highway Patrol officers saw him driving his gold Mercedes-Benz on the wrong side of the road in the coastal community of Carlsbad in northern San Diego County, with a 23-year-old woman passenger. After failing a field sobriety test, Buss was taken into custody, given a blood test and booked on suspicion of driving while intoxicated with a blood-alcohol level over 0.08.
In 2012, Buss was in a hospital for months with an undisclosed intestinal problem. Through his 80th birthday on January 27, 2013, he had not attended a Lakers game during the 2012–13 season due to health concerns. On February 14, 2013, it was revealed that Buss had been battling cancer since 2012.  After being hospitalized at Cedars-Sinai Medical Center with an undisclosed form of cancer, he died of kidney failure at 5:55 a.m. on February 18, 2013, aged 80. On February 21, hundreds of friends, colleagues, and family members gathered to pay tribute to Buss in a televised memorial service at the Nokia Theatre L.A. Live, across from the Lakers' home court, Staples Center. Buss was buried on February 22 at Forest Lawn Memorial Park (Hollywood Hills) in a private ceremony with family and close friends.
NBA commissioner David Stern said of Buss "The NBA has lost a visionary owner whose influence on our league is incalculable and will be felt for decades to come". Lakers guard Kobe Bryant said "His impact is felt worldwide".  Buss' 66% controlling ownership of the Lakers passed to his six children via a trust, with each child receiving an equal vote. His succession plan had daughter Jeanie assume his previous title as the Lakers' governor as well as its team representative at NBA Board of Governors meetings.  The 2013 World Series of Poker held The $2,500 Seven Card Stud tournament in his memory and drew 246 entrants.
Born
January, 27, 1933
Salt Lake City, Utah
Died
February, 18, 2013
Los Angeles, California
Cause of Death
Cemetery
Forest Lawn Memorial Park (Hollywood Hills)
Los Angeles, California
17293 profile views