Jerry Brudos
(Jerome Henry Brudos)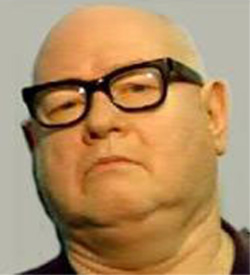 Jerry Brudos was born in Webster, South Dakota, and was the younger of two sons. His mother had wanted a girl and was very displeased that she had another son instead. She would also constantly belittle him and treat him with disdain, as well as abuse him. As a child, Brudos and his family would move into different homes in the Pacific Northwest, before settling in Salem, Oregon. He had a fetish for women's shoes from the age of five, after playing with spike-heeled shoes at a local junkyard. He reportedly attempted to steal the shoes of his first grade teacher. Brudos had a fetish for women's underwear, and claimed that he would steal underwear from female neighbors as a child. He spent his teen years in and out of psychotherapy and mental hospitals. He began to stalk local women as a teenager, knocking down or choking them unconscious, and fleeing with their shoes. At age 17, he abducted and beat a young woman, threatening to stab her if she did not follow his sexual demands. Shortly after being arrested, he was taken to a psychiatric ward of Oregon State Hospital for nine months. There it was found his sexual fantasies revolved around his hatred and revenge against his mother and women in general. He also underwent a psychiatric evaluation, and was diagnosed with schizophrenia. Despite being institutionalized, he still graduated from high school with his class in 1957. Shortly after graduation, Brudos became an electronics technician.
In 1961, Jerry Brudos married a 17-year-old girl, with whom he would father two children, and settled in a Salem, Oregon suburb. He asked his new bride to do housework naked except for a pair of high heels while he took pictures. It was at about this time, however, that he began complaining of migraine headaches and "blackouts", relieving his symptoms with night-prowling raids to steal shoes and lace undergarments. He kept the shoes, underwear, and (for a time) the bodies of his victims in a garage that he would not allow his wife to enter without first announcing her arrival on an intercom that Brudos had set up. Between 1968 and 1969, Jerry Brudos bludgeoned and strangled four young women. The only initial evidence were witness sightings of a large man dressed in women's clothing. In the garage of his Salem, Oregon home, Brudos kept trophies from his victims, expressly two pairs of amputated breasts that were used as paperweights and the left foot of a 19-year-old woman named Linda Slawson (his first murder victim) which he used to model the shoes he collected. After committing a murder, he would dress up in high heels and masturbate. Police investigation and interviews of local university students led them to Brudos, who described the murders in detail. He had confessed to murdering Linda Slawson, Jan Whitney, Karen Sprinker and Linda Salee, and was sentenced to life in prison.
While incarcerated, Jerry Brudos had piles of women's shoe catalogues in his cell — he wrote to major companies asking for them — and claimed they were his substitute for pornography. He lodged countless appeals, including one in which he alleged that a photograph taken of him with one of his victim's corpses cannot prove his guilt, because it is not the body of a person he was convicted of killing. Brudos died in prison on March 28, 2006 from liver cancer. At the time of his death, Brudos was the longest incarcerated inmate in the Oregon Department of Corrections (a total of 37 years, from 1969 to 2006).
Born
January, 31, 1939
USA
Webster, South Dakota
Died
March, 28, 2006
USA
Salem, Oregon
Cause of Death
1997 profile views