Jeanette Nolan
(Jeanette Nolan)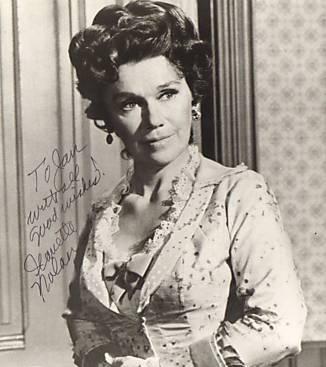 Jeanette Nolan
Was an American radio, film, and television actress who was nominated for four Emmy Awards.
Nolan graduated from Abraham Lincoln High School in her native Los Angeles, California.
In 1935, Nolan married actor John McIntire; the couple remained together until his death in 1991. The couple had two children, one of whom was the actor Tim McIntire, who was best known for his turn as the legendary DJ Alan Freed in the 1978 film American Hot Wax.
Nolan and McIntire worked together several times from the late 1960s on, sometimes as voice actors. They appeared in a 1969 KCET television reading of Norman Corwin's 1938 radio play The Plot to Overthrow Christmas, with McIntire as the Devil and Nolan as Lucrezia Borgia. In 1977 they appeared in the Disney animated film The Rescuers, in which McIntire voiced the cat Rufus and Nolan the muskrat Ellie Mae. Four years later, the couple worked on another Disney film, The Fox and the Hound, with McIntire as the voice of Mr. Digger, a badger, and Nolan as the voice of Widow Tweed.
They guest starred on screen together in an episode of Charlie's Angels in 1979, The Incredible Hulk in 1980, Quincy, M.E. in 1983, and Night Court in 1985, playing Dan Fielding's hick parents.
Nolan died of a stroke on June 5, 1998, and was buried in Eureka, Montana's Tobacco Valley Cemetery
Born
December, 30, 1911
Los Angeles, California
Died
June, 05, 1998
Los Angeles, California
Cause of Death
Cemetery
Tobacco Valley Cemetery
Eureka,Montana
18424 profile views