Jean Shepard
(Ollie Imogene Shepard)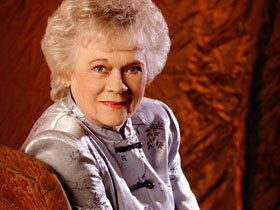 Jean Shepard
Jean Shepard was born Ollie Imogene Shepard on Nov. 21, 1933 in Oklahoma, but was raised in California, where she was influenced greatly by the West Coast country sound. She started her musical career playing in an all-female group called The Melody Ranch Girls, who caught the eyes and ears of Capitol Records superstar Hank Thompson, who helped her sign with the label.
Her first single, "Crying Steel Guitar Waltz," failed to dent the Billboard charts, but she would soon pair with Ferlin Husky for the million-selling "A Dear John Letter." The record was a hit, topping the charts. But there was one problem — Shepard was still technically a minor, which made touring to promote the record impossible.
"When 'A Dear John Letter' hit, I couldn't leave the state because I was a minor," sherecalled to Billboard in 2014. "You had to be 21 in those days. So my daddy signed a release for Ferlin to be my guardian. He was very good to me, but my daddy would have killed him if he hadn't been," she said.
Jean Shepard set out on the road, working with musicians such as Buck Owens, whom she confesses helped her to realize just how big her hit with Husky was.
"He was in the car with us, and we were going from Bakersfield to L.A. to cut another session. The guys in the car were betting where the record was going to be on the charts. I didn't know there was such a thing as Billboard. We stopped and picked up a Billboard, and Buck looked at it and threw it in the back seat, looked at me, and said, 'How does it feel to have a No. 1 record?" I said, 'Are you kidding me?' It was a thrill — totally unexpected."
The success led to a spot on ABC's Ozark Jubilee with Red Foley, and eventually to the Opry in 1955. She continued to make the Billboard Country Singles charts in the late 1950s with "Beautiful Lies" and "I Want To Go Where No One Wants Me," keeping her profile alive. Her marriage to fellow Opry star Hawkshaw Hawkinsmade news in 1960. Sadly, the union ended just three years later with his death in a plane crash while coming back from a benefit concert in Kansas City for "Cactus" Jack Call, a popular radio personality who had been killed in an automobile accident.
With two young children to raise, including Hawkshaw, Jr., born just a month after his father's death, she turned her attention back to recording and touring, turning out some of the biggest hits of her career, such as "Second Fiddle (To An Old Guitar)," "If Teardrops Were Silver," and "A Tear Dropped By." She made a classic ofBill Anderson's "Slippin' Away" in 1973, and hit the Country Top 40 for the last time with her cover of Anderson's "The Tip of My Fingers" in 1975, peaking at No. 16.
The past five years saw Jean Shepard achieve some notable milestones in her career. In 2011, she was announced as an inductee into the Country Music Hall of Fame. 2014 saw her release a long-awaited autobiography, Down Through The Years, and she marked an amazing six decades as an Opry member in November 2015.
In declining health for some time, Shepard entered hospice care last week, and Sunday morning, her son issued a statement concerning his mother's passing.
"Today is one of the hardest days of my life. Mom has been called home this morning and is now at peace. Please keep our family in your prayers during this tough time. Thank you everyone for your support," the singer's son, Hawkshaw Hawkins, Jr. said.
Born
November, 21, 1933
Pauls Valley, Oklahoma
Died
September, 25, 2016
Nashville, Tennessee
Cause of Death
Cemetery
2188 profile views