Jean Parker
(Lois Mae Green)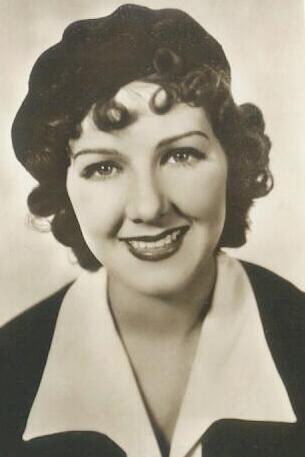 Jean Parker
In the days of the Hollywood studio system, when stars were under contract and had little say in what roles they played, some actors suffered from being misused by their bosses. MGM, for example, undervalued the lovely and talented Jean Parker, who has died aged 90. Although she made 16 films for the studio between 1932 and 1935, she was given leads in B-pictures only. Yet, after her contract ended, while usually remaining in second league features, she proved she could move from the wide-eyed ingénues with which her career began to playing tragic heroines and wisecracking, tough cookies.
When Parker first went to Hollywood, she was dubbed the Cinderella Girl by the publicists. Unlike some manufactured rags-to-riches stories, hers was a true one. Of Polish-French descent, she was born Luise Stephanie Zelinska, in Butte, Montana. Both her father, who was variously a gunsmith, a hunter and a chef, and her mother, one of 18 children of a pioneer family, were unemployed during the depression of the 1930s. She was adopted by a family in Pasadena, California, and was able to attend high school, where she demonstrated an interest in music, dance and drawing. In 1932, aged 17, and by now known as Lois Mae Green, she won a poster competition, which led to her photograph appearing in a Los Angeles newspaper. This was seen by Ida Koverman, Louis B Mayer's personal assistant, who persuaded her boss to give the teenager a screen test.
Almost immediately, Zelinska/Green was signed up and had her name changed to Jean Parker. Her first film was a minor domestic drama, A Divorce in the Family (1932), with child star Jackie Cooper. She then had negligible parts in a few of MGM's more prestigious productions, such as Rasputin and the Empress (1932), the only film to feature the three Barrymores (John, Lionel and Ethel), Gabriel Over the White House (1933), a rightwing political fantasy with Walter Huston as a US president, and the weepie The Secret of Madame Blanche (1933), starring Irene Dunne.
On loan to other studios, however, Parker had more chance to shine. At Columbia, in Lady for a Day (1933), Frank Capra's superb Damon Runyon adaptation, she played a society girl who is led to believe that her mother (the wonderful May Robson), in reality a poor street vendor, is, in fact, a wealthy woman. At RKO, in the same year, Parker was the angelic Beth in George Cukor's Little Women, beside Katharine Hepburn, Joan Bennett and Frances Dee as her siblings.
Back at MGM, Parker, playing a southern belle, supported Marion Davies (in black face much of the time) in Operator 13 (1934), but had leads in Have a Heart (1934), in which she was a dancing teacher trying to hide her disability after being crippled in a fall, and Sequoia (1934). In the latter, Parker played a naturalist setting out to prove that a deer and a puma, if reared together, can be taught to be friends. The film – with the misleading publicity line "A girl goddess of nature leads the animals against man" – received glowing notices, as did Parker and the two animals. Despite the film's success, MGM let 20-year-old Parker go after Murder in the Fleet (1935), an inconsequential whodunit, in which she co-starred with 24-year-old Robert Taylor.
After that, Parker's best film was René Clair's The Ghost Goes West, also made in 1935. She was delightfully capricious as the spoiled daughter of an American chainstore millionaire who persuades her nouveau riche father to transport a Scottish castle – lock, stock and ghost (Robert Donat) – to Florida. The last A-film she starred in was King Vidor's Texas Rangers (1936), playing a spirited woman who convinces outlaw Fred MacMurray to mend his ways.
Through the 1940s, Parker was active in numerous lost and/or forgotten B-movies for minor studios, such as Republic and Monogram. Among the less forgettable films she made was The Flying Deuces (1939), in which she was a perfect stooge for Stan Laurel and Oliver Hardy, as an innkeeper's daughter with whom Ollie falls in love.
She added zest to Detective Kitty O'Day (1944) as an amateur sleuth, followed by The Adventures of Kitty O'Day (1945), two films that Monogram (and Parker) had hoped would become a series. She also had a fine role in Edgar G Ulmer's Bluebeard (1944), as a smart girl with whom artist John Carradine falls in love, thus forcing him to resist the urge to murder his models.
In 1944, in The Navy Way, Parker was again an influence for good, as a reservist reforming a prizefighter bitter about being called up. The boxer was played by Robert Lowery, whom Parker married in 1951, and with whom she had a son. (She had already been married and divorced three times.) Lowery briefly filled in for Bert Lahr on Broadway in Garson Kanin's Born Yesterday, playing opposite Parker after she had taken over from Judy Holliday as Billie Dawn, the dumb blonde who becomes smart. In fact, when Columbia was casting the film version, studio boss Harry Cohn expressed his preference for Parker over Holliday, whom he thought too plump. Unfortunately for Parker, he changed his mind after seeing Holliday in Adam's Rib (1949).
Parker's last few film roles were as a saloon bar singer who fancies Gregory Peck in The Gunfighter (1950); gangster Edward G Robinson's girlfriend in Black Tuesday (1954); and a faded society belle in A Lawless Street (1955) with Randolph Scott. Her final film was Apache Uprising (1966), in which she had only one scene. In the 1980s, she became a recluse, accepting few visitors besides her son, who survives her.
Born
August, 11, 1915
Deer Lodge, Montana
Died
November, 30, 2005
Woodland Hills, California
Cause of Death
Cemetery
Forest Lawn Memorial Park (Hollywood Hills)
California
16624 profile views