Jayne Mansfield
(Vera Jayne Palmer)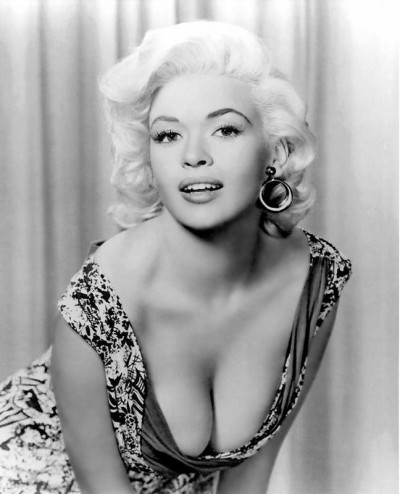 Jayne Mansfield
In Biloxi, Mississippi, for an engagement at the Gus Stevens Supper Club, Mansfield stayed at the Cabana Courtyard Apartments near the club. After an evening appearance on June 28, 1967, Mansfield, her lover Sam Brody, their driver, Ronnie Harrison, with three of her children – Miklós, Zoltán and Mariska – set out in Stevens' 1966 Buick Electra 225. They were headed for New Orleans, where Mansfield was scheduled to appear for an early-morning television interview. On June 29 at approximately 2:25am, on U.S. Highway 90, east of the Rigolets Bridge, the car crashed into the rear of a tractor-trailer that had slowed behind another truck that was spraying mosquito fogger. The car struck the rear of the trailer and went under it. The three adults in the front seat were killed instantly; the children, in the rear, survived with minor injuries.
Reports that Mansfield was decapitated are untrue, although she suffered severe head trauma. The urban legend was spawned by the appearance in police photographs of a crashed car with its top virtually sheared off, and what resembled a blonde-haired head tangled in the car's smashed windshield. However, this was probably either a wig Mansfield was wearing or her actual hair and scalp. The death certificate stated that the immediate cause of Mansfield's death was a "crushed skull with avulsion of cranium and brain". After her death, the NHTSA recommended requiring an underride guard (a strong bar made of steel tubing) on all tractor-trailers, although the trucking industry was slow to adopt this change. This bar is known as a "Mansfield bar", or an "ICC bar".
Mansfield's funeral took place on July 3 in Pen Argyl, Pennsylvania. It was conducted by Rev. Charles Montgomery, a pastor of the Zion Methodist Church (which was later destroyed by fire in February 1970 and rebuilt as Grace United Methodist Church). The funeral was private, a service held at the chapel of the Pullis Funeral Home. Of her three husbands, only Mickey Hargitay was present at the funeral. She is interred in Fairview Cemetery, southeast of Pen Argyl, beside her father Herbert William Palmer. Her heart-shaped gravestone reads, "We Live to Love You More Each Day". A cenotaph was placed in the Hollywood Forever Cemetery in Hollywood by the Jayne Mansfield Fan Club, but incorrectly cites her year of birth as 1938 (Mansfield tended to provide incorrect information about her age). In 1968, two wrongful-death lawsuits were filed on behalf of Jayne Marie Mansfield and Matt Cimber, the former for $4.8 million ($40.3 million in 2015 dollars) and the latter for $2.7 million ($22.7 million in 2015 dollars).
Born
April, 19, 1933
Bryn Mawr, Pennsylvania
Died
June, 29, 1967
Slidell, Louisiana
Cause of Death
Cemetery
Fairview Cemetery
Pen Argyl, Pennsylvania
17197 profile views