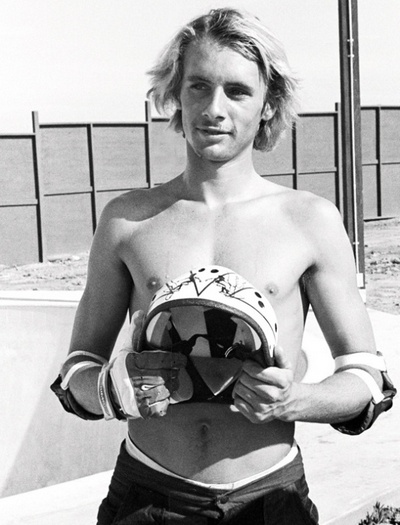 Jay Adams was born in a part of Santa Monica, California known to locals as "Dogtown". He grew up with his mother and his stepfather, Kent Sherwood. He began skating and surfing at the age of four. Sherwood worked at Dave Sweet's Surf Shop under Pacific Ocean Park, where Adams was introduced to skateboarding by all the surfers who visited. Adams' skateboarding was greatly influenced by Larry Bertlemann, a professional surfer who was known for dragging his hands along the waves as he rode them. In 1974, Adams became the youngest member to join the Zephyr surf team that represented the Santa Monica shop Jeff Ho Surfboards and Zephyr Productions. When asked about Adams, fellow Z-Boy Tony Alva said, "Some kids are born and raised on graham crackers and milk, he was born and raised on surfing and skateboarding."
The Z-Boys became a skate team when they heard about the Bahne-Cadillac Del Mar Nationals in 1975. Jay Adams was the first member to enter the competition, held in Del Mar, California, taking 3rd place in the Junior Men's Freestyle. His explosive energy and low, bold, surf-like moves characterized the style of the Z-Boys and contrasted with the traditional style of the era, which was still based around tricks formulated in the 1960s. According to Bones Brigade founder Stacy Peralta, Adams "is probably not the greatest skater of all time, but I can say without fear of being wrong that he is clearly the archetype of modern-day skateboarding." Much of Adams and the rest of the Zephyr team's fame is due to Craig Stecyk's "Dogtown articles" in the relaunch of Skateboarder magazine in 1975. The Dogtown articles were a series of magazine articles that chronicled the adventures of the Z-Boys.  The Zephyr team broke up shortly after the Del Mar Nationals and half the team followed Kent Sherwood, who made the Zephyr boards, to a new team. Sherwood and Adams created the brand and team EZ RYDER, which changed its name to Z-Flex six months later. Adams was the face of the brand.  Adams was sponsored by Hurley, Nixon, Osiris Shoes, Z-Flex, Tracker Trucks, Vercelli Surfboards, Carver Racks, Abec 11 wheels and Black Flys.  Adams was inducted into the Skateboarding Hall of Fame in 2012.
Adams is featured prominently in the 2001 award-winning documentary Dogtown and Z-Boys and in the 2005 dramatized film account of the Z-Boys origins, Lords of Dogtown. In the movie, he was played by Emile Hirsch, who was praised by critics for his performance. Adams had recently revived EZ Ryder as EZ Ryder Originalz with Jef Hartsel, and had custom designed, tested, and handcrafted their own equipment. Jay Adams had also collaborated with Z-Flex and designed skateboards in the Z-Flex range, most notably the Z-Flex Jay Adams Cruiser Skateboard.
Adams spent time in prisons as he struggled with drug addiction. In 1982, he was charged with murder but convicted of assault following a fight he instigated in Los Angeles which led to the death of Dan Bradbury. Adams served 6 months in prison for the assault. In the late 1990s, after the murder of his brother, and the death of his mother, father, and grandmother all in the same year, he began taking heroin. He was serving two and a half years on drug charges in Hawaii during the production of Dogtown and Z-Boys and was released in 2002. The movie brought Adams back into the limelight and won him endorsement deals. However at this time Adams failed to pay taxes for three years and then relapsed into his drug addiction. In November 2006, he was arrested and sentenced to four years in the Federal Correctional Institution in Sheridan, Oregon, after being caught on a wiretap acting as a go-between for a buyer and seller of crystal methamphetamine. He was released to a halfway house on July 8, 2008 for the remainder of his sentence.
Adams' first wife was Alisha Adams, with whom he has a daughter, Venice. He also has a son, Seven, with ex-girlfriend Samantha Baglioni. Adams spent his 50th birthday at the Etnies skatepark in California and married Tracy Adams at the park on April 16, 2011. He remarried Tracy in Honolulu. He most recently resided, with his wife Tracy, in San Clemente, California, where he was an active member at a local church.  As of 2005, Adams was drug-free and spoke to children at local schools about his past struggles which came about due to the poor choices he made.  Adams died of a heart attack on August 14, 2014. The information was first made public through fellow Z-Boy Stacy Peralta's Instagram account.
Born
February, 03, 1961
USA
Santa Monica, California
Died
August, 14, 2014
Puerto Escondido, Oaxaca, Mexico
17565 profile views