Janos Starker
(Janos Starker)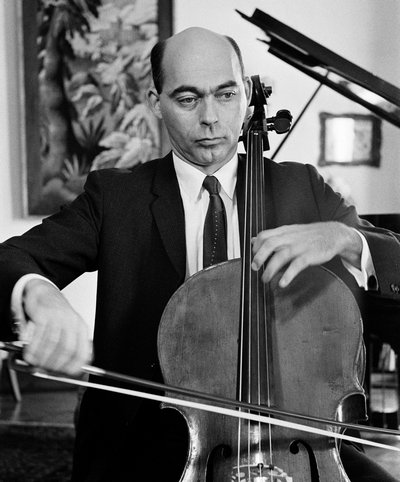 Starker was born in Budapest to a father of Polish descent and a mother who had immigrated from Ukraine, both Jewish. His two older brothers were violinists, and the young János (named for the hospital in which he was born) was given a cello before his sixth birthday. A child prodigy, Starker made his first public performances at ages six and seven. He entered the Franz Liszt Academy of Music in Budapest to study with Adolf Schiffer and made his debut there at age 11. Starker began teaching other children at age eight, and by the time he was 12, he had five pupils. Starker counted among his strongest influences Leo Weiner, a composer who taught chamber music. Zoltán Kodály, Béla Bartók and Ernő Dohnányi were also members of the Liszt Academy faculty.
Starker made his professional debut at age 14, playing the Dvořák concerto with three hours' notice when the originally scheduled soloist was unable to play. He left the Liszt Academy in 1939 and spent most of the war in Budapest. Because of his youth, Starker escaped the tragic fate of his older brothers, who were pressed into forced labor and eventually murdered by the Nazis. Starker nevertheless spent three months in a Nazi internment camp.  After the war, Starker became principal cellist of the Budapest Opera and the Budapest Philharmonic Orchestras. Starker, who had never been granted Hungarian citizenship, left the Soviet-occupied country in 1946.  He gave a successful concert in Vienna, then remained there to prepare for the Geneva Cello Competition, held in October 1946. He lost to his student, Eva Janzer.
After observing a horrific concert by the former child prodigy Yehudi Menuhin, Starker had an epiphany. He describes himself as becoming physically ill from the realization that he had little idea how he really played the cello from a technical standpoint. "I played like a blind man," he has said. "What happens to the bird who flies and doesn't know how it flies? That's what happens to child prodigies." Starker spent a year analyzing all aspects of his technique. By October of the following year, he had regained his confidence. His studies and exercises he wrote for his friend George Bekefi ultimately resulted in his famous essay and published cello method, "An Organized Method of String Playing".
Starker, still in visa limbo, went from Geneva to Paris, where he spent a year. There he made his first recording of Kodaly's monumental Solo Cello Sonata, Op. 8, a work which some people considered technically unplayable before that time. The recording earned him the Grand Prix du Disque and cemented his fame. He went on to make three more recordings of the work.
Starker emigrated to the United States in 1948 to become principal cellist of the Dallas Symphony Orchestra under Antal Doráti. In 1949, he moved to New York City to become principal cellist of the Metropolitan Opera under Fritz Reiner. It was in New York that Starker made the first of his acclaimed recordings of the Bach Cello Suites. Starker's technical mastery led some to suspect, incorrectly, that the recordings were electronically altered; his experiments with microphone placement and recording techniques drew the attention of engineers at MIT.
In 1952, Starker became principal cellist of the Chicago Symphony Orchestra when Fritz Reiner became the music director. In 1958, Starker moved to Bloomington, Indiana, where he settled for the rest of his life. At the Indiana University Jacobs School of Music he became a professor and resumed his solo career, giving hundreds of concerts on every continent.
Born
July, 05, 1924
Budapest, Hungary
Died
15628 profile views