Janette Carter
(Janette Carter)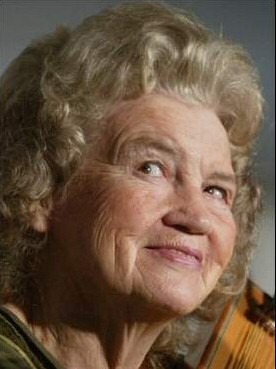 Janette Carter (2 July 1923, Maces Spring, Virginia – 22 January 2006, Kingsport, Tennessee) was the last surviving child of A.P. and Sara Carter, of Carter Family musical fame. In 1976, she and community members built an 880-seat amphitheater, the Carter Family Fold, beside the store her father operated in Southwestern Virginia. Today, the Carter Family Fold attracts more than 50,000 visitors a year. She had three children from her first husband: Donald William (deceased), Rita Janette, and James Delaney (Dale). The surviving two reside in her hometown of Maces Spring, (Scott County) Virginia, which is nestled in Poor Valley at the foot of Clinch Mountain. She was awarded the Bess Lomax Hawes NEA National Heritage Award in 2005 for her lifelong advocacy for the performance and preservation of Appalachian music.
Janette Carter Obituary
KINGSPORT, Tenn. (AP) – Janette Carter, the last surviving child of country music's founding Carter Family, who in recent years preserved her parents' oldtime style with weekly performances, has died. She was 82.
Family members said Carter, who had battled Parkinson's disease and other illnesses, was taken to the Holston Valley Medical Center on Tuesday. Her family said she appeared to be improving for a time, but died on Sunday.
Carter was the daughter of A.P. and Sara Carter. Her parents and her father's sister-in-law Maybelle Carter formed a singing trio discovered in 1927 when talent scout Ralph Peer came through the Tennessee-Virginia border town of Bristol to record mountain music.
When her brother Joe died last March, Janette Carter became the last surviving child of the original group's members. (The best known of her generation to present-day listeners was country star June Carter Cash, a daughter of Maybelle and wife of Johnny Cash. Carter Cash died in May 2003 at age 73. Her husband died later that year.)
Following the death of her father in 1960, Janette Carter dedicated her life to preserving not only the Carter Family music, but the folk and country music of Appalachia.
One result of that effort was establishment of the Carter Family Fold in Hiltons, Va.
"It's good for younger people to know this kind of music," Janette Carter said in a 2002 Associated Press story. "There was a time when music told a story; it wasn't just some beat."
On his deathbed, she said, her father "called me over and said 'Janette, I want you to continue the music the way we'd done it."'
At the time of the 2002 interview, she was still giving concerts every Saturday at the Carter Family Fold, an auditorium built from railroad ties and school bus seats near the family farm in Hiltons. She played autoharp.
"It's really remarkable how well Janette carried on her family's legacy by helping create the Carter Fold and what that has grown into from such humble beginnings," said Bill Hartley, executive director of the Birthplace of Country Music Alliance in Bristol. "Thanks to the foundation she built with the Carter Fold, her family legacy lives on."
In September, Carter was given the Bess Lomax Hawes award by the National Endowment for the Arts, which recognized her lifelong effort to preserve and perform Appalachian music.
A.P., Maybelle and Sara Carter recorded "Bury Me Under the Weeping Willow," "Little Log Cabin By the Sea," and "Poor Orphan Child" with a sound and harmony that was unheard of at the time and immensely influential on country music ever since. In 2003, the Library of Congress celebrated the 75th anniversary of their first recordings with a concert on the National Mall in Washington.
Born
July, 02, 1923
USA
Maces Spring, Virginia
Died
January, 22, 2006
USA
Hiltons, Virginia
Cemetery
Mount Vernon Methodist Church Cemetery
Hiltons, Virginia
USA
16874 profile views