Jane Russell
(Ernestine Jane Geraldine Russell)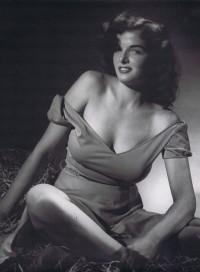 Jane Russell
Russell had three husbands: Bob Waterfield, (a UCLA All American, Cleveland Rams quarterback, Los Angeles Rams quarterback, Los Angeles Rams head coach, and Pro Football Hall of Fame member (married on April 24, 1943, then divorced in July 1968)); actor Roger Barrett, (married on August 25, 1968, until his death of a heart attack on November 18, 1968); and the real-estate broker John Calvin Peoples (married January 31, 1974 until his death from heart failure on April 9, 1999). Russell and Peoples lived in Sedona, Arizona for a few years, but spent the majority of their married life residing in Montecito, California.
At age 18, she became pregnant while dating her high school sweetheart, Bob Waterfield, who in 1943 became her first husband. Russell went to a back-street abortionist. "I had a botched abortion and it was terrible. Afterwards my own doctor said: 'What butcher did this to you?' I had to be taken to hospital. I was so ill I nearly died." The abortion left her infertile and for the remainder of her life she believed that abortion was wrong under any circumstances, even rape or incest. She described herself as "vigorously pro-life".
In February 1952, she and Waterfield adopted a baby girl, Tracy. In December 1952, they adopted a fifteen-month-old boy, Thomas, whose birth mother, Hannah McDermott had moved to London to escape poverty in County Londonderry, Northern Ireland, and, in 1956, she and Waterfield adopted a nine-month-old boy, Robert John. In 1955 she founded World Adoption International Fund (WAIF), an organization to place children with adoptive families and which pioneered adoptions from foreign countries by Americans. At the height of her career, Russell started the "Hollywood Christian Group", a weekly Bible study at her home which was attended by many of the leading names in the film industry.
In the 2013 film Philomena, Russell's photograph appears on a wall; a character states that Russell bought a child for £1000 from the tainted Sean Ross Abbey in Ireland featured in this true-life movie. But this claim is refuted in at least one recent British report, which states that in the mid-1950s, Russell and her husband "rather informally adopted a son from a woman living in London, but originating in Londonderry, Northern Ireland. There was a major scandal and a court case, after which Russell was allowed to formalise the adoption."
In 1953 she tried to convert Marilyn Monroe during the filming of Gentlemen Prefer Blondes; Monroe later said "Jane tried to convert me (to religion) and I tried to introduce her to Freud". Russell appeared occasionally on the Praise The Lord program on the Trinity Broadcasting Network, a Christian television channel based in Costa Mesa, California. In 1995, she starred with Charlton Heston, Mickey Rooney and Deborah Winters in America: A Call to Greatness.
Russell was a prominent supporter of the Republican Party and attended Dwight Eisenhower's inauguration along with such other notables from Hollywood as Lou Costello, Dick Powell, June Allyson, Hugh O'Brian, Anita Louise and Louella Parsons. She was a recovering alcoholic who had gone into rehab at the age of 79 and described herself in a 2003 interview as "These days I am a teetotal, mean-spirited, right-wing, narrow-minded, conservative Christian bigot, but not a racist."
Russell resided in the Santa Maria Valley along the Central Coast of California. She died at her home in Santa Maria of a respiratory-related illness on February 28, 2011. She is survived by three children: Thomas Waterfield, Tracy Foundas and Robert Waterfield. Her funeral was held on March 12, 2011 at Pacific Christian Church, Santa Maria.
Born
June, 21, 1921
Bemidji, Minnesota
Died
February, 28, 2011
Santa Maria, California
Cause of Death
respiratory-related illness
Other
Cremated, Ashes scattered at sea
17331 profile views