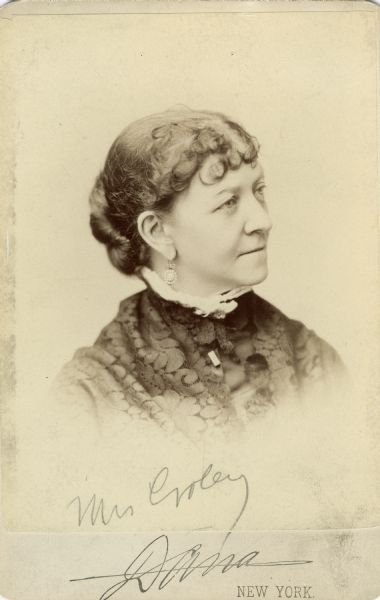 Jane Cunningham was born in England, the daughter of a Unitarian minister, Reverend Joseph Cunningham, and his wife Jane Scott. The family emigrated to the United States when young Jane was twelve. The family first lived in Poughkeepsie, New York and later in Southbridge Massachusetts.  Jane first became interested in journalism while a student; she started by editing the school newspaper. Later, she edited and published the newspaper for her brother's church. By 1855, she had moved to New York in search of full-time journalism work, and some sources say it was there she first used the pseudonym "Jennie June." But other sources say that "Jennie June" was a childhood nickname, given to her by a family friend when Jennie was twelve years old.
After applying to several newspapers and being turned down, she was eventually hired by a publication called Noah's Sunday Times (often erroneously reported as The New York Times, for whom she did not work); this was a publication edited by Mordecai Manuel Noah. At Noah's, she began writing a regular women's column, focusing on such traditional subjects as fashion, cooking, and the arts. She would later recall this time as challenging, since few newspapers wanted to hire a woman at all, and if they did so, it was only in the areas set aside for "women's interests." There was great resistance from male editors about hiring a woman to cover news or do serious reporting outside of what was considered women's sphere.
As a result of her journalism career, she also met her husband, a fellow journalist and editor for the New York Herald; his name was David G. Croly and they were married on St. Valentine's Day February 14, 1856. They had three daughters, Minnie, Viola and Alice, and one son, Herbert David. Herbert Croly went on to a career in journalism, becoming editor of The New Republic magazine. She would later tell interviewers that thanks to her husband, her career in journalism advanced; he hired her at New York World, and her career progressed from then on.  While most women were expected to give up their career after marrying, Jennie June continued to work, and did so even after having children. She was the editor of Demorest's Magazine from 1860 to 1887; this magazine devoted itself to women's fashions, and Jennie became known as an expert in the subject, widely quoted in other publications. She was later the editor of the Cycle Magazine (which she founded) and also the Home-Maker Magazine. And her columns were often syndicated on women's pages throughout the United States.
Like many women of her era, she was somewhat ambivalent about women's proper role. On the one hand, she published essays that were very traditional, often focusing on so-called "women's interests," such as food, fashion, and home-making. Some of her writing, especially in publications like "Jennie June's American Cookery Book," seemed to express a belief that a woman's prime duty was to be a good cook and a good homemaker; yet she also was a strong supporter of widening women's options. She called the first congresses of women in 1856 and 1869, organized Sorosis in 1869; it was an organization that advocated for greater acceptance and more professional opportunities for women. It did not, however concern itself with politics or women's suffrage. Jennie June told the press that she envisioned the club, whose name was a Greek botanical term that referred to a particular kind of tree that yields various kinds of fruits and flowers, as a salon where women could gather and exchange ideas, enjoy literature, and discuss the arts. She later organized its successor, the General Federation of Women's Clubs) in 1890; she also founded the New York Woman's Press Club in 1889, and became its first president. Early meetings were held in her home.
In her later years, Jennie June Croly was often referred to in the press as the "Mother of Women's Clubs," a fact that was also mentioned when newspapers reported on how she became ill in the summer of 1898. She suffered a serious fall and broke her hip; ironically, her close friend Emma Demorest, for whose fashion magazine she once worked, also became ill around that same time, suffering a stroke.[9] It seems that she never entirely recovered, and in 1900, it was announced that she was retiring from newspaper and club work.[10] She made a trip back to England, to see the country of her birth after so many years away, and after returning to New York, she died of heart failure, on December 23, 1901, at the age of 72.  In 1994, she was inducted into the National Women's Hall of Fame.
Born
December, 19, 1829
Market Harborough, United Kingdom
Died
December, 23, 1901
USA
New York, New York
Cemetery
Evergreen Cemetery
Lakewood, New Jersey
USA
16600 profile views