James Polk
(James Knox Polk)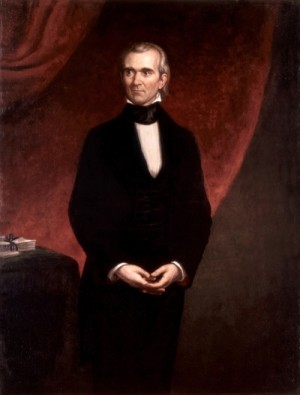 James Polk
11th President of the United States (1845–1849). Polk was born in Mecklenburg County, North Carolina. He later lived in and represented Tennessee. A Democrat, Polk served as the 17th Speaker of the House of Representatives (1835–1839) and Governor of Tennessee (1839–1841). Polk was the surprise (dark horse) candidate for president in 1844, defeating Henry Clay of the rival Whig Party by promising to annex Texas. Polk was a leader of Jacksonian Democracy during the Second Party System.
Polk was the last strong pre–Civil War president, and he is the earliest of whom there are surviving photographs taken during a term in office. He is noted for his foreign policy successes. He threatened war with Britain over the issue of which nation owned the Oregon Country, then backed away and split the ownership of the region with Britain. When Mexico rejected American annexation of Texas, Polk led the nation to a sweeping victory in the Mexican–American War, which gave the United States most of its present Southwest. He secured passage of the Walker tariff of 1846, which had low rates that pleased his native South, and he established a treasury system that lasted until 1913.
Polk oversaw the opening of the U.S. Naval Academy and the Smithsonian Institution, the groundbreaking for the Washington Monument, and the issuance of the first postage stamps in the United States. He promised to serve only one term and did not run for reelection. He died of cholera three months after his term ended.
Scholars have ranked him favorably on the list of greatest presidents for his ability to set an agenda and achieve all of it. Polk has been called the "least known consequential president" of the United States.
Born
November, 02, 1795
Pineville, North Carolina
Died
June, 15, 1849
Nashville, Tennessee
Cause of Death
Cemetery
Tennessee State Capitol Building and Grounds
Nashville, Tennessee
16266 profile views