James Irwin
(James Benson Irwin)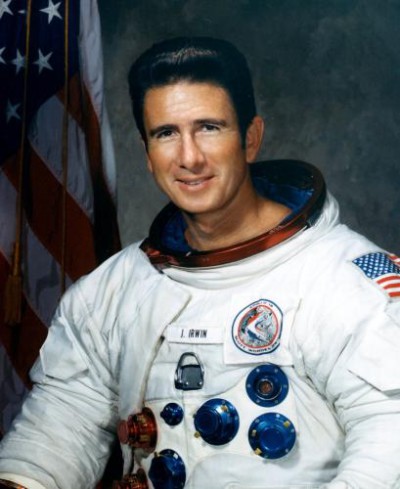 James Irwin was one of the 19 astronauts selected by NASA in April 1966. He served as a member of the astronaut support crew for Apollo 10, the first mission to carry the full Apollo stack to the Moon and the dry run for the first manned Moon landing. He then served as backup Lunar Module Pilot for the second Moon landing mission, Apollo 12. Between July 26 and August 7, 1971 – as the Apollo 15 Lunar Module Pilot (LMP) – Irwin logged 295 hours and 11 minutes in space. His extravehicular activity (EVA) on the Moon's surface amounted to 18 hours and 35 minutes of the mission time (an additional 33 minutes was used to do a stand-up EVA by opening the LM's docking hatch to survey the surroundings and take photographs). James Irwin and David Scott's mission was more science-based than previous missions, which meant that they received intensive geological training to meet the demanding nature of the J-Mission profile. This extra training is credited with allowing them to make one of the most important discoveries of the Apollo era, the Genesis Rock. Apollo 15 landed in the Moon's Hadley-Apennine region, noted for its mountains and rilles. As a J-Mission, they would spend more time on the moon than previous missions, to allow for three EVAs. As well, Irwin was the first automobile passenger on the Moon as Scott drove the Lunar Roving Vehicle (LRV) carried along for this mission in the Lunar Module (LM) Falcon's Descent Stage. Scott and Irwin's stay on the Moon was just under three days at 66 hours and 54 minutes. A patch cut by Irwin from a backpack abandoned on the Moon during the Apollo 15 mission was auctioned at Christie's in 2001 for US$310,500 in a consignment of material from Irwin's estate that garnered "a combined $500,000".
Once the rendezvous procedure was completed between Falcon and the Endeavour CSM, James Irwin and Scott were busy moving items like rock samples into the CSM and preparing the Lunar Module for final separation. During this intense period of work the earliest symptoms of a heart condition appeared. Both Scott and Irwin had been working with no sleep for 23 hours, during which they conducted a final moonwalk, performed the ascent from the lunar surface, rendezvoused with Endeavour, and encountered the problems that delayed the Lunar Module jettison maneuver. The astronauts' physiological vital signs were being monitored back on Earth, and the flight surgeons noticed some irregularities in Irwin's heart rhythms. Irwin's heart had developed bigeminy. Dr. Charles Berry stated to Chris Kraft, deputy director of the Manned Spacecraft Center (MSC) at the time: "It's serious, [i]f he were on Earth. I'd have him in ICU being treated for a heart attack." But Berry concluded that since Endeavour's cabin atmosphere was 100% oxygen when in space, Irwin was in the best of circumstances. Specifically, "In truth,…he's in an ICU. He's getting one hundred percent oxygen, he's being continuously monitored, and best of all, he's in zero g. Whatever strain his heart is under, well, we can't do better than zero g."
During the post-Trans-Earth injection (TEI) phase of the mission there wasn't much more for Irwin to do other than provide help with Al Worden's EVA to retrieve film magazines from the CSM's SIM bay, by donning a pressure suit and monitoring him. He was able to rest and apparently recover during the rest of the mission. The flight surgeons continued to monitor his EKG until splashdown, but his heart rhythm was normal. This incident apparently was not discussed during the mission debriefing sessions, and the condition did not appear when he returned to Earth. A few months later he had a heart attack. James Irwin suffered at least two serious heart attacks, one near his home in Colorado Springs, Colorado from his heart problem on Apollo 15. Paramedics restarted his heart on at least two occasions before transporting him to the hospital. On August 8, 1991 while visiting his friend Alan Nelson, MD in Redstone, CO, Col. Irwin suffered another heart attack after a bike ride with his German friend Siegfried Fietz earlier that day. All attempts at resuscitation, including CPR by Dr. Nelson with Melody Durham RN and the ER staff of Valley View Hospital in Glenwood Springs, were unsuccessful. He died in hospital later that day and was buried at Arlington National Cemetery. He was survived by his widow, Mary Ellen, and their five children. Of the 12 men who have walked on the moon, Irwin was the first to die. The James Irwin Charter Schools were founded in Colorado in his honor.
Born
March, 17, 1930
USA
Pittsburgh, Pennsylvania
Died
August, 08, 1991
USA
Glenwood Springs, Colorado
Cause of Death
Cemetery
Arlington National Cemetery
Arlington, Virginia
USA
3770 profile views