James Farentino
(James Farentino)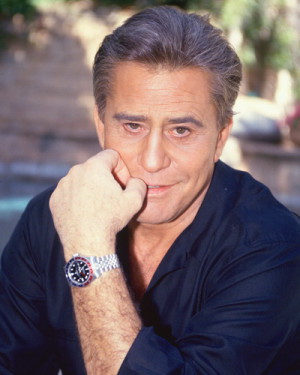 James Farentino
Born in Brooklyn, New York, Farentino attended local schools followed later by studying drama and acting in Catholic school.  In the 1950s/60s, he went on to stage and a few TV roles. Among his many television appearances, he guest-starred in 1964 with Efrem Zimbalist, Jr., in the episode "Super-Star" of the CBS drama series, The Reporter, with Harry Guardino in the starring role of journalist Danny Taylor of the fictitious New York Globe newspaper. Early in 1967, he appeared in Barry Sullivan's NBC western series The Road West in the episode "Reap the Whirlwind". In 1969, he starred opposite Patty Duke in the film Me, Natalie. Farentino was one of the lawyers in NBC TV series The Bold Ones (1969–1972), which also starred Burl Ives and Joseph Campanella. He made two appearances in the 1970s anthology television series Night Gallery, once with then-wife Michele Lee ("Since Aunt Ada Came to Stay"), and secondly with actress Joanna Pettet ("The Girl With The Hungry Eyes"). In 1973, he appeared in the episode "The Soft, Kind Brush" of the romantic anthology series Love Story. During the 1970s, he appeared on NBC's Cool Million.
In 1978, he was nominated for an Emmy Award for Outstanding Performance by a Supporting Actor in a Drama Special for his portrayal of Saint Peter in the mini-series, Jesus of Nazareth. In 1980, Farentino starred in The Final Countdown with Kirk Douglas and Martin Sheen. Farentino appeared as "Frank Chaney" in the short-lived 1984 ABC series Blue Thunder, based on the 1983 film of the same name, starring Roy Scheider. In the late 1990s, he appeared as the estranged father of lead character Doug Ross on ER.  Farentino was charged with stalking his former girlfriend, Tina Sinatra (youngest child of Frank Sinatra) in 1993. A restraining order was issued against him after he entered a plea of nolo contendere.  Farentino was arrested in Vancouver, British Columbia, on July 23, 1991, after the Royal Canadian Mounted Police intercepted a package containing 3.2 grams of cocaine being sent to his hotel room. Farentino was in town filming the TV movie Miles From Nowhere. He was charged with cocaine possession and released on bail.
In 2010, Farentino was booked on suspicion of misdemeanor battery after a citizen's arrest was made against the actor. Police were called to Farentino's Hollywood home. He was taken into custody and booked at the Los Angeles Police Department's Hollywood-area station. Farentino was released two days later after posting $20,000 bond. Police said the actor was trying to physically remove a man from his house. The man, who police said suffered visible bruising, made a citizen's arrest on Farentino for battery.  On January 24, 2012, Farentino died of heart failure at Cedars-Sinai Medical Center in Los Angeles, California following a long illness. He was 73 years old.
Born
February, 24, 1938
Brooklyn, New York
Died
January, 24, 2012
Los Angeles, California
Cause of Death
Cemetery
Other
16575 profile views