James Best
(Jewel Franklin Guy)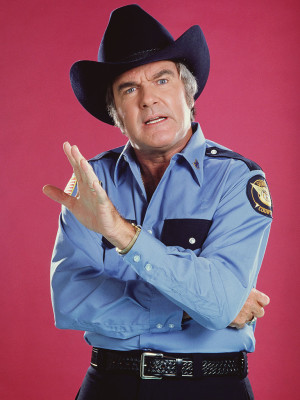 James Best
Actor James Best, who played the often confused Sheriff Rosco P. Coltrane on "The Dukes of Hazzard," died on Monday evening after a brief illness and battle with pneumonia, according to his rep. He was 88.
Best got his start as an actor during World War II when he joined the military theatrical company while he was stationed in Germany. After the war ended, Best moved to New York City with the hopes of becoming a Broadway star.
During his early career, he appeared in films like "One Way Street" and on TV's "Annie Oakley" before landing his breakout role in "Dukes."
Tom Wopat, who starred as Luke Duke on "The Dukes of Hazzard" remembered Best as a dedicated costar.
"The work he did with Sorrell Booke (Boss Hogg) probably defined our show as much as the car chases," Wopat told JamesBest.com. "He was a fine actor, director and mentor, and an even better friend. He will be greatly missed."
John Schneider, who played Bo Duke, added, "Jimmie Best—of course, I laughed. But I learned more about acting in front of a camera from Jimmie Best in an afternoon than from anyone else in a year. When asked to cry on camera, he would say, 'Sure thing…which eye?' I'm forever thankful to have cut my teeth in the company of such a fine man."
Best also appeared in the movie "Shenandoah" and on "The Andy Griffith Show."
 Later in life, after he had mostly retired from acting, Best went on to teach at the University of Central Florida in Orlando. In 2009, Best published an autobiography titled "Best In Hollywood: The Good, The Bad and The Beautiful."
Born
July, 26, 1926
Powderly, Kentucky
Died
April, 06, 2015
Hickory, North Carolina
Cause of Death
Cemetery
13009 profile views