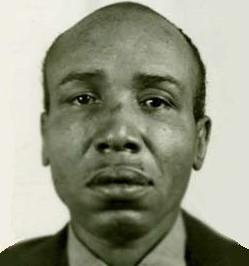 Jake Bird (December 14, 1901 – July 15, 1949) was a convicted murderer and self-confessed serial killer who was tried and executed for the axe murders of Bertha Kludt (age 53) and her daughter Beverly June Kludt (17) in Tacoma, Washington on October 30, 1947. Bird may have killed as many as 46 people.
The bodies of the Kludts were found by police after they apprehended Bird, whom they saw flee the Kludt residence at 1007 South 21st Street when they arrived in response to calls that there were screams coming from the house. As they had approached, they saw a barefoot African American run out and crash through a picket fence. They gave pursuit and had to scale fences before cornering the suspect in an alley. Bird attacked the police with a switchblade knife when cornered. He was subdued by one of the officers.  Bird's clothes were covered with blood and brain matter and his shoes were back at the house. There was an axe on the kitchen floor where the body of Beverly June lay lifeless. Her mother was found dead in her bedroom.  Bird was dubbed the "Tacoma Ax-Killer".
The 45-year-old Bird was an African American transient who had been born in Louisiana in a location he could not remember. He supported himself as a manual laborer and railroad gandy dancer, who laid and maintained tracks. The work on the railroad kept him moving from place to place.  Bird had an extensive criminal record, including burglary and attempted murder, and been incarcerated for a total of 31 years in Michigan, Iowa and Utah. In his jailhouse confession, Bird said he had entered the Kludt house to commit burglary and hit Bertha Kludt in the head with an axe while trying to flee the house after she discovered him and attempted to stop him. When Beverly June came to her mother's aid, he killed her.
Homicide detectives were convinced that Bird had entered the house to commit rape and slew Bertha Kludt in her bedroom while trying to sexually assault her. They believed he then killed Beverly June when fleeing the house. He was charged with the first-degree murder of Bertha as premeditation on his part qualified him for the death penalty. Bird was not charged with murdering Beverly June. He pleaded not guilty and was held without bail.
Bird's trial began on November 24, 1947, and lasted two and a half days. Bird's request to represent himself was denied, and a court-appointed attorney represented him. Bird recanted his confession at the trial. His defense attorney claimed that Bird's confession was inadmissible, as it had been obtained under duress as Bird claimed the police had beat him. The judge permitted the confession to be admitted into evidence.  Evidence implicating Bird was the brain tissue and blood of both victims that was found on his clothing. Bird's fingerprints were left on the axe in blood. The case went to the jury on November 26 and they delivered a guilty verdict after deliberating 35 minutes. The jury recommended a death sentence and Bird's lawyer concurred. The judge sentenced him to death by hanging.
After his conviction was announced, Bird was allowed to make a final statement. He spoke for 20 minutes, noting that his request to represent himself had been denied and that his own lawyers were against him.  Bird then said, "I'm putting the Jake Bird hex on all of you who had anything to do with my being punished. Mark my words you will die before I do." Allegedly, six people connected with the trial died: Judge Edward D. Hodge of a heart attack within a month of sentencing him to death, as did one of the officers who took his first confession. A police officer who took a second confession died, as did the court's chief clerk, and one of Bird's prison guards. J.W. Selden, one of Bird's lawyers, died on the first anniversary of his sentencing.  This may have been the second hex cast by Bird. According to a contemporary account in Negro Digest, when Bird was arrested, "he told a detective, 'You wait and see. You policemen and judges will be settin' and waitin' at the pearly gates a long time before I roll up.'"
The execution at the Washington State Penitentiary was scheduled for January 16, 1948, but Bird claimed he had committed 44 other murders which he was willing to help the police solve. Washington governor Monrad C. Wallgren granted him a 60-day reprieve. Police from other states interviewed Bird, and eleven murders were substantiated. He was knowledgeable enough about the 33 other murders to be considered a prime suspect. The interviews with Bird enabled the police departments of many states to declare many unsolved murders as solved. In addition to his Washington state murders, the transient Bird apparently had killed people in Florida, Illinois, Iowa, Kansas, Kentucky, Michigan, Nebraska, Ohio, Oklahoma, South Dakota and Wisconsin. He mostly preyed on Caucasian women. Bird had dispatched his victims with an axe or hatchet.
During his reprieve, Bird lodged an appeal but a retrial was denied by the Washington State Supreme Court. His appeals to the federal courts, including three petitions to the United States Supreme Court, also were denied. He was hanged on the morning of July 15, 1949, at 12:20 a.m., before 125 witnesses. He was buried in an unmarked grave in the prison cemetery.
Born
December, 14, 1901
USA
Louisiana
Died
June, 14, 1949
USA
Washington State Penitentiary, Walla Walla, Washington
Cause of Death
Cemetery
Washington State Penitentiary
Walla Walla, Washington
USA
16375 profile views