Jacqueline "Jackie" Kennedy
(Jacqueline Kennedy)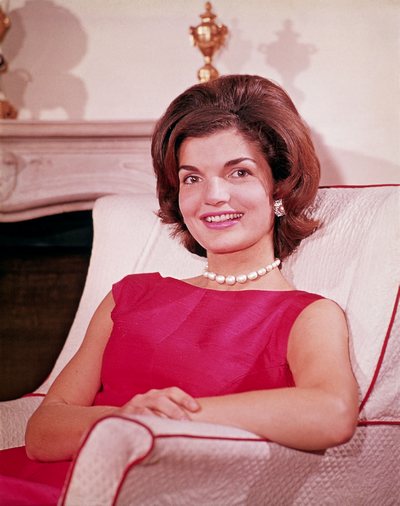 Jacqueline Lee Bouvier was born in Southampton, New York in 1929, to Wall Street stockbroker John Vernou "Black Jack" Bouvier III (1891–1957) and Janet Norton Lee (1907–1989). Jackie's younger sister Caroline Lee Bouvier was born in 1933. The Bouviers divorced in 1940. Janet later married Standard Oil heir Hugh Dudley Auchincloss, Jr. in 1942 and had two more children: Janet Jennings Auchincloss (1945–1985) and James Lee Auchincloss (born 1947).
Her mother had Irish ancestry and her father's ancestry included French, Scottish, and English. Her maternal great-grandfather emigrated from Cork, Ireland, and later became the Superintendent of the New York City Public Schools. Michel Bouvier, Jacqueline's patrilineal great-great-grandfather, was born in France and was a contemporary of Joseph Bonaparte and Stephen Girard. He was a Philadelphia-based cabinetmaker, carpenter, merchant, and real estate speculator. Michel's wife, Louise Vernou, was the daughter of French émigré tobacconist John Vernou and English-born Elizabeth Clifford Lindsay. Michel and Louise's sons included John Vernou Bouvier, Sr. (Jackie's patrilineal great-grandfather) and Michel Charles Bouvier. Jackie's paternal grandfather John Vernou Bouvier Jr. fabricated a more noble ancestry for his family in his vanity family history book, Our Forebears. Recent scholarship and the research done by Jackie's cousin John Hagy Davis in his book, The Bouviers: Portrait of an American Family, have disproved most of these fantasy lineages.
Bouvier spent her early years in New York City and East Hampton, New York, at the Bouvier family estate, "Lasata." Following their parents' divorce, the Bouvier sisters divided their time between their mother's homes in McLean, Virginia and Newport, Rhode Island, and their father's homes in New York City at 125 East 74th Street and Long Island. Bouvier attended the Chapin School in New York City for first through sixth grade. Bouvier's paternal grandfather covered the expenses of the school, which were substantial, especially in light of the annual income earned by many Americans during the Great Depression.  At a very early age, she became an enthusiastic equestrienne, and horse-riding remained a lifelong passion. By age 2, Bouvier was able to control her pony with confidence. Whenever she fell off, she would instantly climb back on after getting up.
Bouvier's mother married Hugh D. Auchincloss on June 21, 1942. She and her sister did not attend the ceremony because the wedding was arranged quickly and "because of wartime travel restrictions." Two days after the wedding, Auchincloss shipped out to work with British intelligence in Jamaica. Bouvier's mother stayed with her and her sister while he was away. After he returned, Bouvier and her sister, along with Auchincloss's son Hugh Dudley "Yusha" Auchincloss III and the couple's two children together, were all brought to Auchincloss's Merrywood estate in McLean, Virginia. Merrywood would go on to be Bouvier's primary residence for the remainder of her teen years and Auchincloss's son, Yusha, became Bouvier's closest step-sibling and one of her most trusted confidants.
Bouvier attended the Holton-Arms School in Bethesda, Maryland, from 1942 to 1944, and Miss Porter's School in Farmington, Connecticut, from 1944 to 1947.  When she made her society debut in 1947, Hearst columnist Igor Cassini dubbed her "debutante of the year."
Beginning in 1947, Bouvier spent her first two years of college at Vassar College in Poughkeepsie, New York, and then spent her junior year (1949–1950) in France – at the University of Grenoble in Grenoble, and at the Sorbonne in Paris – in a study-abroad program through Smith College in Northampton, Massachusetts. Upon returning home to the U.S., she transferred to The George Washington University in Washington, D.C.; she graduated in 1951 with a Bachelor of Arts degree in French literature. Bouvier's college graduation coincided with her sister's high school graduation, and the two spent the summer of 1951 on a trip through Europe.[citation needed] This trip was the subject of Jacqueline's only autobiographical book, One Special Summer, – co-authored with her sister; it is also the only one of Jacqueline's publications to feature her drawings.
Following her graduation, Bouvier was hired as "Inquiring Photographer" for The Washington Times-Herald. The position required her to pose witty questions to individuals chosen at random on the street and take their pictures to be published in the newspaper alongside selected quotations from their responses. During this time, she was engaged to a young stockbroker, John G. W. Husted, Jr., for three months. Bouvier later took continuing education classes in American History at Georgetown University in Washington, D.C.
Jacqueline Bouvier and then-U.S. Representative John Fitzgerald "Jack" Kennedy belonged to the same social circle and often attended the same functions. They were formally introduced by a mutual friend, journalist Charles L. Bartlett, at a dinner party in May 1952. Kennedy was then busy running for the US Senate but after his election in November, the relationship grew more serious and led to their engagement, officially announced on June 25, 1953.
They were married on September 12, 1953, at St. Mary's Church in Newport, Rhode Island, in a Mass celebrated by Boston's Archbishop Richard Cushing. The wedding was considered the social event of the season with an estimated 700 guests at the ceremony and 1,200 at the reception that followed at Hammersmith Farm.  The wedding cake was created by Plourde's Bakery in Fall River, Massachusetts. The wedding dress, now housed in the Kennedy Library in Boston, Massachusetts, and the dresses of her attendants were created by designer Ann Lowe of New York City.
The newlyweds honeymooned at the San Ysidro Ranch in California, before settling in their new home, Hickory Hill in McLean, Virginia. Behind the glamour, however, the couple faced several personal setbacks. Jack had some serious health issues then unknown to the public: he suffered from Addison's Disease and from chronic and at times debilitating back pain due to a war injury. During the fall and winter of 1954, he underwent two delicate spinal operations which almost proved fatal. Additionally, Jackie suffered a miscarriage in 1955 and in August 1956 gave birth to a stillborn daughter whom they planned to name Arabella.
The couple sold their Hickory Hill estate to Jack's brother Robert Francis "Bobby" Kennedy, his wife Ethel Skakel, and their growing family, and bought a townhouse on N Street in Georgetown. Jackie subsequently gave birth to a second daughter, Caroline Bouvier, in 1957, and a son, John F. Kennedy Jr., in 1960, both via Caesarean section. A second son, Patrick, was born prematurely in an emergency caesarean section on August 7, 1963, and died two days later.
On January 3, 1960, John announced his candidacy for the Presidency and launched his nationwide campaign. Though she had initially intended to take an active role in the campaign, Kennedy learned that she was pregnant shortly after the campaign began. Due to her previous difficult pregnancies, Kennedy's doctor instructed her to stay at home.  From Georgetown, Kennedy participated in her husband's campaign by answering letters, taping television commercials, giving televised and printed interviews, and writing a weekly syndicated newspaper column, Campaign Wife. She also made rare personal appearances.  Kennedy was fluent in Spanish and French, and during her husband's presidential campaign, she spoke in Italian and Polish in public.
In the general election on November 8, 1960, John F. Kennedy narrowly beat Republican Richard Milhous Nixon in the U.S. presidential election.[37] A little over two weeks later, Jackie gave birth to the couple's first son, John F. Kennedy, Jr. When her husband was sworn in as president on January 20, 1961, Kennedy became, at age 31, the third youngest First Lady in history, behind Frances Folsom Cleveland (21) and Julia Gardiner Tyler (24).
Jackie is remembered for reorganizing entertainment for White House social events, restoring the interior of the presidential home, her taste in clothing worn during her husband's presidency, her popularity among foreign dignitaries, and leading the country in mourning after JFK's 1963 assassination.  Like any First Lady, she was thrust into the spotlight and while she did not mind giving interviews or being photographed, she preferred to maintain as much privacy as possible for herself and her children. She ranks among the most popular of First Ladies.
As First Lady, Kennedy devoted much of her time to planning social events at the White House and other state properties. She often invited artists, writers, scientists, poets, and musicians to mingle with politicians, diplomats, and statesmen. She also began to let guests at The White House drink cocktails, to give the mansion a more relaxed feeling.  Perhaps due to her skill at entertaining, Kennedy proved quite popular among international dignitaries. When Soviet Premier Nikita Khrushchev was asked to shake President Kennedy's hand for a photo, Khrushchev said, "I'd like to shake her hand first." Kennedy was well received in Paris, France, when she visited with her husband, and when she traveled with Lee to Pakistan and India in 1962.
The restoration of the White House was Kennedy's first major project as First Lady. She was dismayed during her pre-inauguration tour of the White House to find little of historic significance in the house. The rooms were furnished with undistinguished pieces that she felt lacked a sense of history. Her first efforts, begun her first day in residence (with the help of society decorator Sister Parish), were to make the family quarters attractive and suitable for family life. Among these changes was the addition of a kitchen on the family floor and rooms for her children. Upon almost immediately exhausting the funds appropriated for this effort, Kennedy established a fine arts committee to oversee and fund the restoration process and asked early American furniture expert Henry du Pont to consult.
While her initial management of the project was hardly noted at the time, later accounts have determined that she managed the conflicting agendas of Parish, du Pont, and Boudin with seamless success; she initiated publication of the first White House guidebook, whose sales further funded the restoration; she initiated a Congressional bill establishing that White House furnishings would be the property of the Smithsonian Institution, rather than available to departing ex-presidents to claim as their own; and she wrote personal requests to those who owned pieces of historical interest that might be, and later were, donated to the White House.
On February 14, 1962, Kennedy took American television viewers on a tour of the White House with Charles Collingwood of CBS News. In the tour she said, "I feel so strongly that the White House should have as fine a collection of American pictures as possible. It's so important… the setting in which the presidency is presented to the world, to foreign visitors. The American people should be proud of it. We have such a great civilization. So many foreigners don't realize it. I think this house should be the place we see them best." Working with Rachel Lambert Mellon, she oversaw redesign and replanting of the White House Rose Garden and the East Garden, which was renamed the Jacqueline Kennedy Garden after her husband's assassination. Her efforts on behalf of restoration and preservation at the White House left a lasting legacy in the form of the White House Historical Association, the Committee for the Preservation of the White House which was based upon her White House Furnishings Committee, a permanent Curator of the White House, the White House Endowment Trust, and the White House Acquisition Trust.
Broadcasting of the White House restoration greatly helped the Kennedy administration. The U.S. government sought international support during the Cold War, which it achieved by affecting public opinion. The First Lady's celebrity and high profile status made viewing the tour of the White House very desirable. The tour was filmed and distributed to 106 countries since there was a great demand to see the film. In 1962 at the 14th Annual Emmy Awards (NBC, May 22), Bob Newhart emceed from the Hollywood Palladium; Johnny Carson from the New York Astor Hotel; and NBC newsman David Brinkley hosted at the Sheraton Park Hotel in Washington D.C., and took the spotlight as a special Academy of Television Arts and Sciences Trustees Award was given to Jacqueline Kennedy for her CBS-TV tour of the White House. Lady Bird Johnson accepted for the camera-shy First Lady. The Emmy statuette is on display in the Kennedy Library located in Boston, Massachusetts. Focus and admiration for Jacqueline Kennedy took negative attention away from her husband. By attracting worldwide public attention, the First Lady gained allies for the White House and international support for the Kennedy administration and its Cold War policies.
Before the Kennedys visited France, a television special was shot in French with the First Lady on the White House lawn. After arriving in the country, she impressed the public with her ability to speak French, as well as her extensive knowledge of French history. Kennedy had been aided in her learning of the French language by the prominent Puerto Rican educator María Teresa Babín Cortés. At the conclusion of the visit, Time magazine seemed delighted with the First Lady and noted, "There was also that fellow who came with her." Even President Kennedy joked, "I am the man who accompanied Jacqueline Kennedy to Paris — and I have enjoyed it!"
At the urging of John Kenneth Galbraith, U.S. Ambassador to India, she undertook a tour of India and Pakistan, taking her sister Lee Radziwill along with her, which was amply documented in photojournalism of the time as well as in Galbraith's journals and memoirs. At the time, Ambassador Galbraith noted a considerable disjunction between Kennedy's widely-noted concern with clothes and other frivolity and, on personal acquaintance, her considerable intellect.
While in Karachi, Pakistan, she found some time to take a ride on a camel with her sister. In Lahore, Pakistan, Pakistani President Ayub Khan presented the First Lady with a much-photographed horse, Sardar (the Urdu term meaning "leader"). Subsequently this gift was widely misattributed to the king of Saudi Arabia, including in the various recollections of the Kennedy White House years by President Kennedy's friend, journalist and editor Benjamin Bradlee. While at a reception in her honor at the Shalimar Gardens, Kennedy told guests "all my life I've dreamed of coming to the Shalimar Gardens. It's even lovelier than I'd dreamed. I only wish my husband could be with me."
In early 1963, Jackie was pregnant again and curtailed her official duties. She spent most of the summer at the Kennedys' rented home on Squaw Island, near the Kennedy family's Cape Cod compound at Hyannis Port, where she went into preterm labor on August 7, 1963. She gave birth to a boy, Patrick Bouvier Kennedy, via emergency Caesarian section at Otis Air Force Base, five and a half weeks prematurely. His lungs were not fully developed, and he died at Boston Children's Hospital of hyaline membrane disease (now known as respiratory distress syndrome) two days after birth on August 9, 1963.
On November 21, 1963, the First Couple left the White House for a political trip to Texas, stopping in San Antonio, Houston, and Fort Worth that day. After a breakfast on November 22, the Kennedys flew from Fort Worth's Carswell Air Force Base to Dallas' Love Field on Air Force One, accompanied by Texas Governor John Connally and his wife Nellie. The First Lady was wearing a bright pink Chanel suit. A 9.5-mile (15.3 km) motorcade was to take them to the Trade Mart, where the President was scheduled to speak at a lunch. The First Lady was seated next to her husband in the limousine, with the Governor and his wife seated in front of them. Vice President Lyndon B. Johnson and his wife followed in another car in the motorcade.
After the motorcade turned the corner onto Elm Street in Dealey Plaza, the First Lady heard what she thought to be a motorcycle backfiring and did not realize that it was a gunshot until she heard Governor Connally scream. Within 8.4 seconds, two more shots had rung out, and she leaned toward her husband. Another shot struck the President in the head. Almost immediately, she reached out across the trunk of the car for something. Her Secret Service agent, Clint Hill, later told the Warren Commission that he thought she had been reaching across the trunk for a piece of the President's skull that had been blown off. Hill ran to the car and leapt onto it, directing her back to her seat. The car rushed to Dallas' Parkland Hospital, and on arrival there, the president was rushed into a trauma room. The First Lady, for the moment, remained in a room for relatives and friends of patients just outside.
A few minutes into her husband's treatment, accompanied by the President's doctor, Dr. Malcolm Perry, she left her folding chair outside Trauma Room One and attempted to enter the operating room. Nurse Doris Nelson stopped her and attempted to bar the door to prevent her from entering. She persisted, and the President's doctor suggested she take a sedative, which she refused. "I want to be there when he dies," she told Burkley. He eventually persuaded Nelson to grant her access to Trauma Room One, saying: "It's her right, it's her prerogative."  Later, when the casket arrived, the widow removed her wedding ring and slipped it onto the President's finger. She told aide Ken O'Donnell, "Now I have nothing left."
After the president's death, she refused to remove her blood-stained clothing and regretted having washed the blood off her face and hands. She continued to wear the blood-stained pink suit as she went on board Air Force One and stood next to Johnson when he took the oath of office as President. She told Lady Bird Johnson, "I want them to see what they have done to Jack."
Kennedy took an active role in planning the details of her husband's state funeral, which was based on Abraham Lincoln's. The funeral service was held at Cathedral of St. Matthew the Apostle, Washington D.C., and the burial at Arlington National Cemetery; the widow led the procession there on foot and lit the eternal flame at the gravesite, a flame that had been created at her request. Lady Jeanne Campbell reported back to The London Evening Standard: "Jacqueline Kennedy has given the American people… one thing they have always lacked: Majesty."
Following the assassination and the media coverage which had focused intensely on her during and after the burial, Kennedy stepped back from official public view. She did, however, make a brief appearance in Washington to honor the Secret Service agent, Clint Hill, who had climbed aboard the limousine in Dallas to try to shield her and the President.
In September 2011, audio tapes of Jackie Kennedy were released that had been recorded in 1964 after her husband's assassination. They were not supposed to be released until 50 years after her death (she died in 1994). Approximately 8.5 hours in length, the tapes contain an interview with Arthur M. Schlesinger, Jr., in which Jackie reveals her thoughts on a wide range of topics, including the vice-president, Lyndon B. Johnson, and civil rights leader, Martin Luther King, Jr. She also discusses how she refused to leave her husband's side during the 1962 Cuban Missile Crisis when other officials had sent their wives away for their safety.
More recently, personal correspondence of Jackie Kennedy from the years 1950 to 1964 have surfaced. The letters were written by her to Irish priest Joseph Leonard, whom she had twice met while in Ireland. The tone of the letters are said to be correspondence such as one would find between friends.
A week after her husband's assassination, Kennedy was interviewed in Hyannis Port, Massachusetts, on November 29 by Theodore H. White of Life magazine. In that session, she compared the Kennedy years in the White House to King Arthur's mythical Camelot, commenting that the President often played the title song of Lerner and Loewe's musical recording before retiring to bed. She also quoted Queen Guinevere from the musical, trying to express how the loss felt. Upon leaving the White House for the last time, Kennedy asked her Secret Service drivers to arrange her trips so that she would never accidentally glimpse the old mansion.
Her steadiness and courage after her husband's assassination and funeral won her admiration around the world. Following his death, Kennedy and her children remained in their quarters in the White House for two weeks, preparing to vacate. They spent the winter of 1964 in Averell Harriman's home in the Georgetown section of Washington, D.C., before purchasing their own home on the same street. Later in 1964, in the hope of having more privacy for her children, Kennedy decided to buy an apartment located at 1040 Fifth Avenue on the Upper East Side in Manhattan and sold her new Georgetown house and the country home in Atoka, Virginia, where she and her husband had intended to retire. She spent a year in mourning, making few public appearances; during this time, Caroline told one of her teachers that her mother cried frequently.  In 1965, Kennedy and Queen Elizabeth II dedicated the United Kingdom's official memorial to President Kennedy at Runnymede, England. The memorial included several acres of meadowland given in perpetuity from the UK to the U.S., near where King John had signed the Magna Carta in 1215.
Jackie perpetuated her husband's memory by attending selected, additional memorial dedications. These included the 1967 christening of the U.S. Navy aircraft carrier USS John F. Kennedy (CV-67) (decommissioned in 2007), in Newport News, Virginia, and a memorial in Hyannisport. They also included the dedication of a park near New Ross, Ireland. She also oversaw plans for the establishment of the John F. Kennedy Library, which is the repository for official papers of the Kennedy Administration. Original plans were to have the library situated in Cambridge, Massachusetts, near Harvard University, but it was instead situated in Boston, in Dorchester, next to the University of Massachusetts, Boston Campus. The finished library, designed by I.M. Pei, includes a museum and was dedicated in Boston in 1979 by President Jimmy Carter.
In November 1967, during the midst of the Vietnam War, Life magazine recognized Kennedy as "America's unofficial roving ambassador" during her visit to Cambodia, when she met with Chief of State Norodom Sihanouk. During the visit, Kennedy joined Sihanouk on a visit to Angkor Wat. At that point, diplomatic relations between the U.S. and Cambodia had been broken since May 1965.  In June 1968, when her brother-in-law Robert F. Kennedy was assassinated, she came to fear for her life and those of her children, saying: "If they're killing Kennedys, then my children are targets … I want to get out of this country." On October 20, 1968, she married Aristotle Onassis, a wealthy Greek shipping magnate, who was able to provide the privacy and security she sought for herself and her children.
The wedding took place on Skorpios, Onassis's private island in the Ionian Sea, in Greece. Following her marriage, Mrs. Onassis lost her right to Secret Service protection and her franking privilege, both of which are entitlements to a widow of a U.S. president. The marriage brought her considerable adverse publicity, including talk of excommunication by the Roman Catholic church (deemed as "nonsense" by Cardinal Cushing) and condemnation as a "public sinner," and she became the target of paparazzi who followed her everywhere and nicknamed her "Jackie O."
Tragedy struck again when Aristotle Onassis' son Alexander died in a plane crash on January 1973. Aristotle Onassis' health began deteriorating rapidly and he died of respiratory failure at age 69 in Paris, on March 15, 1975. Mrs. Onassis' financial legacy was severely limited under Greek law, which dictated how much a non-Greek surviving spouse could inherit. After two years of legal battle, she eventually accepted a settlement of $26 million from Christina Onassis, Onassis' daughter and sole heir, waiving all other claims to the Onassis estate.  During their marriage the couple inhabited six different residences: her 15-room Fifth Ave. apartment in New York City, her horse farm in New Jersey, his Avenue Foch apartment in Paris, his private island in Greece named Skorpios, his house in Athens, and his 325 ft (99 m) yacht The Christina.
Aristotle Onassis' death in 1975 made Onassis a widow for the second time. Now that her children were older, she decided to find work that would be fulfilling to her. Since she had always enjoyed writing and literature, in 1975 she accepted a job offer as an editor at Viking Press. But, in 1978, the President of Viking Press, Thomas H. Guinzburg, authorized the purchase of the Jeffrey Archer novel Shall We Tell the President?, which was set in a fictional future presidency of Ted Kennedy and described an assassination plot against him. Although Guinzburg cleared the book purchase and publication with Onassis, upon the publication of a negative New York Times review which asserted that Onassis held some responsibility for its publication, she abruptly resigned from Viking Press the next day. She then moved to Doubleday as an associate editor under an old friend, John Sargent, and lived in New York City, Martha's Vineyard, and the Kennedy Compound in Hyannis, Massachusetts. From the mid-1970s until her death, her companion was Maurice Tempelsman, a Belgian-born industrialist and diamond merchant who was long separated from his wife.
Among the many books Onassis edited was Larry Gonick's The Cartoon History of the Universe. He expressed his gratitude in the acknowledgments in Volume 2. At Doubleday she also oversaw, with Martha Levin, the English translation of the three volumes of Naghib Mahfuz's Cairo Trilogy.  Onassis also appreciated the contributions of African-American writers to the American literary canon. She encouraged Dorothy West, her neighbor on Martha's Vineyard and the last surviving member of the Harlem Renaissance, to complete the novel The Wedding (1995), a multi-generational story about race, class, wealth, and power in the U.S.; West acknowledged Onassis' encouragement in the foreword. The novel, which received literary acclaim when it was published by Doubleday, was later adapted into a television miniseries of the same name (1998) starring Halle Berry.
Onassis also worked to preserve and protect America's cultural heritage. The notable results of her hard work include Lafayette Square in Washington, D.C. and Grand Central Terminal, New York City's historic railroad station. While First Lady, she helped to stop the destruction of historic homes in Lafayette Square, because she felt these buildings were an important part of the nation's capital and played an essential role in its history. Later, in New York City, she led an historic preservation campaign to save from demolition and renovate Grand Central Terminal. A plaque inside the terminal acknowledges her prominent role in its preservation. In the 1980s, she was a major figure in protests against a planned skyscraper at Columbus Circle which would have cast large shadows on Central Park; the project was cancelled, but a large twin-towered skyscraper would later fill in that spot in 2003, the Time Warner Center.
She remained the subject of considerable press attention, most notoriously involving the photographer Ron Galella. He followed her around and photographed her as she went about her day-to-day activities, obtaining candid photos of her. She ultimately obtained a restraining order against him, and the situation brought attention to paparazzi-style photography. In 1995, John F. Kennedy, Jr. allowed Galella to photograph him at public events.  From her apartment windows in New York City she had a splendid view of a glass-enclosed wing of the Metropolitan Museum of Art, which displays the Temple of Dendur. This was a gift from Egypt to the U.S. in gratitude  for the generosity of the Kennedy administration, which had been instrumental in saving several temples and objects of Egyptian antiquity that would otherwise have been flooded after the construction of the Aswan Dam.
In January 1994, Onassis was diagnosed with non-Hodgkin's lymphoma, a form of cancer. Her diagnosis was announced to the public the following month. The family and doctors were initially optimistic, and she stopped smoking at the insistence of her daughter, having previously been a three-pack-a-day smoker. She continued her work with Doubleday, but curtailed her schedule. The cancer proved to be aggressive, and by April had spread. She made her last trip home from New York Hospital-Cornell Medical Center on Wednesday, May 18, 1994. A large crowd of well-wishers and reporters gathered on the sidewalk outside her apartment. The following night at 10:15 p.m. Onassis died in her sleep. It was Thursday, May 19, 1994, two and a half months before her 65th birthday. Her son, John F. Kennedy, Jr., announced her death with the following: "My mother died surrounded by her friends and her family and her books, and the people and the things that she loved. She did it in her own way, and on her own terms, and we all feel lucky for that."
Onassis' funeral was held on May 23, 1994 at Saint Ignatius Loyola Church in Manhattan — the church where she was baptized in 1929 and confirmed as a teenager. At her funeral, her son John described three of her attributes as the love of words, the bonds of home and family, and the spirit of adventure. She was buried alongside President Kennedy, their son Patrick, and their stillborn daughter Arabella at Arlington National Cemetery in Arlington, Virginia.
Mrs. Onassis was survived by her two children, her sister Lee Radziwill, and her mother-in-law, Rose Fitzgerald Kennedy, who at the age of 103, was unable to travel to New York from Massachusetts to attend the funeral services of the late First Lady. Rose would die 8 months later in January, 1995.  In her will, Onassis left her children Caroline and John an estate valued at $43.7 million by its executors.
Born
July, 28, 1929
USA
Southampton, New York
Died
May, 19, 1994
USA
Manhattan, New York City, New York
Cemetery
Arlington National Cemetery
Arlington, Virginia
USA
18152 profile views