Jack Twyman
(Jack Twyman)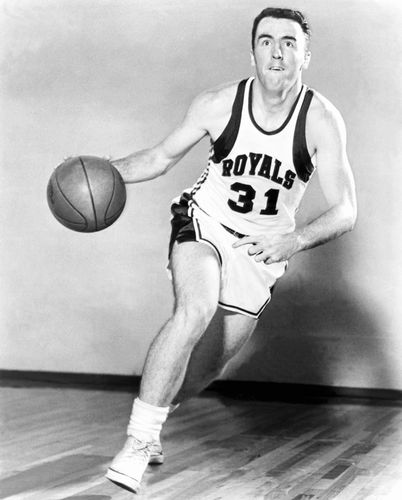 Twyman, a 6'6″ forward from the University of Cincinnati, spent eleven seasons in the NBA as a member of the Rochester/Cincinnati Royals. Twyman and Wilt Chamberlain became the first players in NBA history to average more than 30 points per game in a single season when they both accomplished that feat during the 1959–60 season. He scored his career-high 59 points in a game that same season. Twyman was named to the All-NBA Second Team in both 1960 and 1962, and appeared in six NBA All-Star Games. He scored 15,840 points in his career which ranked 20th on the NBA's all-time scoring list at the time of his retirement.  Twyman was inducted into the Naismith Memorial Basketball Hall of Fame in 1983.
In the late 1960s and early 1970s, Twyman worked alongside Chris Schenkel as an analyst/color commentator for The NBA on ABC.  Twyman had an iconic call during game 7 of the 1970 NBA Finals between the New York Knicks and the Los Angeles Lakers. During the pre-game segment with Schenkel, Twyman noticed Knicks' injured center Willis Reed (whose status for the clincher had been doubtful) advancing from the tunnel toward the court. Twyman then exclaimed: "I think we see Willis coming out!" The sight of Reed marching toward the basketball floor helped inspire the Knicks to a 113–99 victory – one that gave New York its first NBA league title.
Twyman became the legal guardian of his teammate Maurice Stokes, a talented player who became paralyzed due to a head injury he suffered after a fall during a game, to help with medical finances. He would organize the Maurice Stokes Memorial Basketball Game to raise funds for Stokes and other former players from the NBA's early years who were in need. The game became an annual event and was later replaced by a pro-am golf tournament. He also helped Stokes to obtain workers compensation and taught him to communicate by blinking his eyes to denote individual letters. Twyman would remain Stokes' guardian and advocate until Stokes died in 1970.
Twyman later became a food company executive, and made more than $3 million when he sold the company in 1996.  In 2004, when the Basketball Hall of Fame inducted Maurice Stokes, Twyman accepted the honor on his behalf.  Twyman died on May 31, 2012 in Cincinnati from complications of blood cancer.
Born
May, 21, 1934
USA
Pittsburgh, Pennsylvania
Died
May, 30, 2012
USA
Cincinnati, Ohio
Cemetery
Gate of Heaven Cemetery
Montgomery, Ohio
USA
16757 profile views