Jack Mitchell
(Jack Mitchell)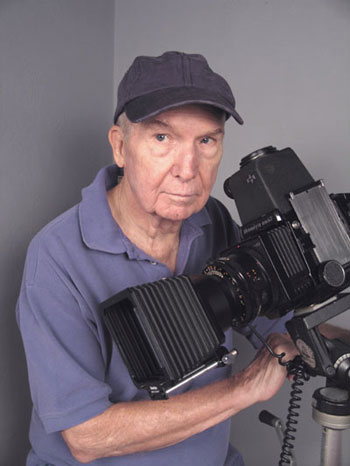 Mitchell was born in Key West, Florida in 1925; his family moved to New Smyrna Beach, Florida, in 1932. He started photography at eleven, as the darkroom assistant to his sister. He then moved on to taking his own photographs, and was soon contributing photographs to the Daytona News Journal and New Smyrna Beach News. He earned his living from photography since he was fifteen, when his first nationally published photograph, a portrait of his oil painting instructor, appeared in The Complete Photographer.  In 1950, four years after completion of duty as a public relations photographer for the U.S. Army in Florence and Venice, Mitchell moved from Florida to New York City. The dancer and choreographer Ted Shawn suggested that he concentrate on photographing dance and dancers. The recommendation proved fortuitous as that work provided an avenue to his later success photographing creative and performing artists of all disciplines.
From 1960 to 1970, Jack Mitchell was the official photographer for the American Ballet Theatre, taking all the photographs for their souvenir program books. He also photographed the Boston Ballet, Les Grands Ballets Canadiens, Pennsylvania Ballet, Houston Ballet, the Martha Graham Dance Company, New York City Ballet and the Paul Taylor Dance Company. He has photographed most of the world's leading dance companies for The New York Times and for Dance Magazine.  Mitchell is possibly best known for his numerous special assignment photographs for the Arts and Leisure section of The New York Times from 1970 to 1995. When he closed his New York studio on December 17, 1995, The Times published a full-page illustrated article about his work and career.
In the 1960s, Mitchell published the photobooks American Dance Portfolio and, for younger readers, Dance Scene U.S.A.: America's Greatest Ballet and Modern Dance Companies in Photographs.  Mitchell is the author of Icons and Idols: A Photographer's Chronicle of the Arts, 1960–1995, which has been called "a stunning exhibition of 137 black and white photographs featuring icons of American culture".  Mitchell's book on the Alvin Ailey American Dance Theater is published as Alvin Ailey American Dance Theater: Jack Mitchell Photographs.
In 2008, the Smithsonian Institution announced that Mitchell had donated to it "54 large-format photographs of painters and sculptors taken in New York City between 1966 and 1977"; John W. Smith, director of the Archives of American Art, commented that "Jack's images greatly enhance our already important holdings of artist's portraits and we look forward to sharing these images with scholars and researchers."  The Baltimore Museum of Art owns a number of Mitchell's portraits.  After a forty-five-year career in New York City, Mitchell retired to New Smyrna Beach, Florida, still producing black and white exhibition prints from his negative files and working on another book of his fifty-five years of dance photography. He died in New Smyrna Beach, aged 88.
Born
September, 13, 1925
USA
Key West, Florida
Died
November, 07, 2013
USA
New Smyrna Beach, Florida
15914 profile views