Jack Haley
(John Joseph Haley)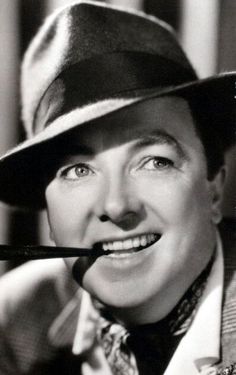 Jack Haley
Full name: John Joseph Haley, was the actor who played the part of the Tin Woodman and Hickory in MGM's 1939 film, The Wizard of Oz.
An established song-and-dance man, Haley was loaned to the MGM studio by his contract-holder, 20th Century Fox, on 4 November 1938. Haley replaced Buddy Ebsen, the actor who originally filled the Tin Man role, when Ebsen was incapacitated. Haley was not informed about Ebsen's work-related health problem or its cause. Yet Haley, in turn, suffered an eye infection from the makeup, and missed several days of shooting to lie in a dark room recovering. His 40-pound costume prevented him from sitting down when he wore it; he had a leaning board that provided some minimal relief from fatigue.
In the Kansas sequence that opens the film, Haley's character Hickory is mentioned as "tinkering" with a "contraption." Then Hickory says that people will "erect a statue to me in this town." In an early draft of the script, Hickory was shown trying to invent an anti-cyclone machine. This business was later cut, though traces of the idea survive in the surrounding material.
Haley had previously played with Oz castmate Judy Garland in Pigskin Parade (1936), and with Bert Lahr in Mr. Broadway (1933). He would appear with Margaret Hamilton in George White's Scandals (1945) and with Clara Blandick in People are Funny (1946).
In 1974, Haley's son, Jack Haley Jr., married Garland's daughter, Liza Minelli. They divorced five years later.
Haley's final television apearance was alongside Ray Bolger at the 1979 Oscars
Haley died of a heart attack on June 6th 1979.
In tears, Ray Bolger said in his eulogy  "Jack, it's going to be very lonely on that Yellow Brick Road now."
Born
August, 10, 1897
Boston, Massachusetts
Died
June, 06, 1979
Los Angeles, California
Cause of Death
Cemetery
Holy Cross Cemetery
Culver City, California
17129 profile views