J B Hunt
(Johnnie Bryan Hunt)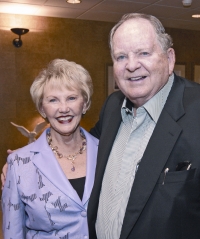 J B Hunt
Johnnie B. Hunt, who built a nationwide freight-hauling empire after calculating that driving a single transport truck was rather less profitable than owning and managing thousands of them, died Thursday. He was 79.
His company announced his death. A family spokesman said Mr. Hunt had been in critical condition at a hospital since Saturday, when he slipped on ice at his home in Goshen, Ark., and fell, striking his head.
The son of a sharecropper, Mr. Hunt had little formal education, having dropped out of school in the sixth grade to help support his family. But he had a keen entrepreneurial sense. In 1961, after nine years behind the wheel of his own truck, he founded the cargo hauling enterprise that grew to become J. B. Hunt Transport Services.
Today, it is the nation's largest publicly traded trucking company. The fleet of five trucks and seven trailers he purchased to start the company has grown to 11,000 and 47,000, respectively, all of them electronically tracked from the company's sprawling headquarters in Lowell, near Fayetteville, in northwest Arkansas.
In 1989, in partnership with Burlington Northern Sante Fe Railway, the company created an intermodal division in which freight containers could be hauled interchangeably by truck or rail. The venture proved enormously profitable — "the envy of the industry," Thom S. Albrecht, a transportation analyst for Stephens Inc., said Thursday.
In the quarter that ended Sept. 30, J. B. Hunt reported earnings of $58 million on revenues of $858 million. It employs more than 16,000 people.
"The uniqueness of his vision was to standardize the company's fleet, its services and even its drivers' uniforms," Mr. Albrecht said of Mr. Hunt. "He positioned his company beautifully to take advantage of trucking deregulation in the 1980s."
Mr. Hunt retired as chairman in 1995 and as "senior chairman" in 2004.
He cut a colorful figure in Arkansas. Unfailingly polite, he stood more than six feet tall and almost always wore a Stetson hat and cowboy boots. Gold dollar signs secured his French cuffs, and from a gold money clip he dispensed $100 bills to the needy, explaining that his memories of childhood as a poor sharecropper's son were still vivid.
Johnnie Bryan Hunt was born on Feb. 28, 1927, in rural Heber Springs, in north-central Arkansas. He was not yet a teenager when he began gathering up wood shavings from his uncle's sawmill, where he worked, and selling them to chicken farmers for use in their coops.
In 1952, he married the former Johnelle DeBusk, who survives him, as do a son, Bryan, and a daughter, Jane. His wife and son are directors of the company.
Though officially retired, Mr. Hunt took up real estate development in recent years, building a million-square-foot office and retail complex near his home, among other ventures. All have been profitable.
Born
February, 28, 1927
Heber Springs, Arkansas
Died
December, 12, 2006
Fayetteville, Arkansas
Cause of Death
had been in critical condition at a hospital since Saturday, when he slipped on ice at his home in Goshen, Ark., and fell, striking his head
Cemetery
Pinnacle Memorial Gardens
Fayetteville, Arkansas
2662 profile views