Irwin Corey
(Irwin Corey)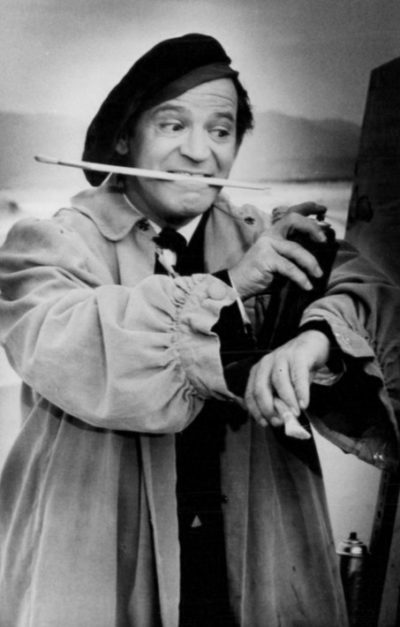 In 1938 Irwin Corey returned to New York, where he got a job writing and performing in Pins and Needles, a musical comedy revue about a union organizer in the "garment district". He claims he was fired from this job for his union organizing activities. Five years later he was working in New Faces of 1943 and appearing at the Village Vanguard, doing his stand-up comedy routine. He was drafted during World War II, but was discharged after six months, after he claimed he convinced an Army psychiatrist that he was a homosexual. From the late 1940s he cultivated his "Professor" character. Dressed in seedy formal wear and sneakers, with his bushy hair sprouting in all directions, Corey would amble on stage in a preoccupied manner, then begin his monologue with "However …" He created a new style of double-talk comedy; instead of making up nonsense words like "krelman" and "trilloweg", like double-talker Al Kelly, the Professor would season his speech with many long and florid, but authentic, words. The professor would then launch into nonsensical observations about anything under the sun, but seldom actually making sense. Changing topics suddenly, he would wander around the stage, pontificating all the while. His quick wit allowed him to hold his own against the most stubborn straight man, heckler or interviewer. One notable fan of Corey's comedy, despite their radically different politics, was Ayn Rand. Theatre critic Kenneth Tynan once wrote of the Professor in The New Yorker, "Corey is a cultural clown, a parody of literacy, a travesty of all that our civilization holds dear, and one of the funniest grotesques in America. He is Chaplin's tramp with a college education". In 1951 Irwin Corey appeared as "Abou Ben Atom", the Genie, in the cult flop Broadway musical Flahooley along with Yma Sumac, the Bil and Cora Baird Marionettes and Barbara Cook (in her Broadway debut). Corey's performance of "Springtime Cometh" can be heard on the show's original cast album.
Irwin Corey appeared occasionally in 1950s television as a character actor. He is memorable in an episode of The Phil Silvers Show titled "Bilko's Grand Hotel", in which Corey plays an unkempt Bowery bum being passed off as a hotelier by Sgt. Bilko. The Professor was a frequent guest comic on variety shows and a guest panelist on game shows during the 1960s and 1970s. Corey became so synonymous with comic erudition that, when a Rhode Island television station, WJAR TV, wanted a spokesman to explain changes in network affiliations, Corey got the job. Lecturing with pointer in hand, Corey manipulated magnetic signs to demonstrate how television schedules would be disrupted. By the end of the announcement, the visual aids were in shambles and the professor, as usual, had meandered from his original point. Corey often appeared on Steve Allen's late night show, syndicated by Westinghouse, The Steve Allen Show (1962–1964), whereupon he would end his rambling stand-up routine with Allen and stage hands literally chasing Corey with a giant butterfly net. He guest starred on the syndicated talk show version of The Donald O'Connor Show in 1968. Corey appeared in various Broadway productions, including as a gravedigger in a production of Hamlet.
In 2009, filmmaker Jordan Stone began filming what was to become an award-winning documentary film called "Irwin & Fran". Political activist and fellow stand-up comedian Dick Gregory shared some in-depth and provocative memories. Academy Award-winning actress Susan Sarandon, an old family friend to the Coreys, narrated in a very personal tone. The film won The People's Film Festival Best Film Award in 2013 and was broadcast on WNET-PBS in July 2015 to commemorate Corey's 100th birthday. Irwin Corey was married for 70 years to Fran, who died in May 2011. The couple had two children, the late Margaret Davis, née Corey, an actress, and Richard Corey, a painter. Their two grandsons are Amadeo Corey and Corey Meister. Irwin Corey turned 102 in July 2016. Corey died on February 6, 2017, according to his long-time friend, actor Larry Storch.
Born
July, 29, 1914
USA
Brooklyn, New York
Died
February, 06, 2017
USA
New York, New York
887 profile views