Irving Berlin
(Israel Isidore Baline)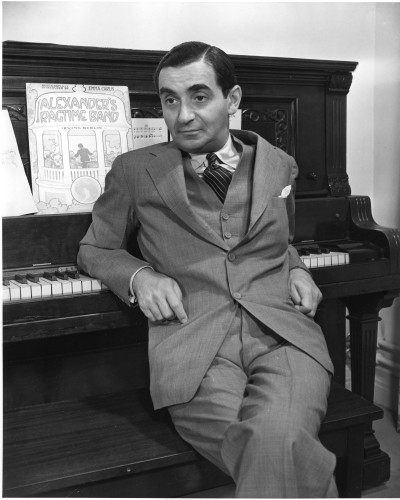 Irving Berlin (born Israel Isidore Baline, May 11, 1888 – September 22, 1989) was a Russian-born Jewish-American composer and lyricist. Widely considered one of the greatest songwriters in American history, his music forms a great part of the Great American Songbook. He published his first song, "Marie from Sunny Italy", in 1907, receiving 37 cents for the publishing rights, and had his first major international hit, "Alexander's Ragtime Band" in 1911. He also was an owner of the Music Box Theatre on Broadway.  "Alexander's Ragtime Band" sparked an international dance craze in places as far away as Berlin's native Russia, which also "flung itself into the ragtime beat with an abandon bordering on mania." Over the years he was known for writing music and lyrics in the American vernacular: uncomplicated, simple and direct, with his stated aim being to "reach the heart of the average American," whom he saw as the "real soul of the country." In doing so, said Walter Cronkite, at Berlin's 100th birthday tribute, he "helped write the story of this country, capturing the best of who we are and the dreams that shape our lives."  He wrote hundreds of songs, many becoming major hits, which made him "a legend" before he turned thirty. During his 60-year career he wrote an estimated 1,500 songs, including the scores for 19 Broadway shows and 18 Hollywood films, with his songs nominated eight times for Academy Awards. Many songs became popular themes and anthems, including "Easter Parade", "White Christmas", "Happy Holiday", "This Is the Army, Mr. Jones", and "There's No Business Like Show Business". His Broadway musical and 1942 film, This is the Army, with Ronald Reagan, had Kate Smith singing Berlin's "God Bless America" which was first performed in 1938. Smith still performed the song on her 1960 CBS television series, The Kate Smith Show. After the September 11 attacks in 2001, Celine Dion recorded it as a tribute, making it no. 1 on the charts.
Berlin's songs have reached the top of the charts 25 times and have been extensively re-recorded by numerous singers including Eddie Fisher, Al Jolson, Fred Astaire, Ethel Merman, Frank Sinatra, Dean Martin, Deana Martin, Ethel Waters, Judy Garland, Barbra Streisand, Linda Ronstadt, Rosemary Clooney, Cher, Diana Ross, Bing Crosby, Rita Reys, Frankie Laine, Johnnie Ray, Billy Eckstine, Sarah Vaughan, Nat King Cole, Billie Holiday, Doris Day, Jerry Garcia, Willie Nelson, Bob Dylan and Ella Fitzgerald. Composer Douglas Moore sets Berlin apart from all other contemporary songwriters, and includes him instead with Stephen Foster, Walt Whitman, and Carl Sandburg, as a "great American minstrel"—someone who has "caught and immortalized in his songs what we say, what we think about, and what we believe." Composer George Gershwin called him "the greatest songwriter that has ever lived", composer Cole Porter wrote, "You're the top! You're a Waldorf salad, You're the top! You're a Berlin ballad," in the great list song "You're the Top" from "Anything Goes"  and composer Jerome Kern concluded that "Irving Berlin has no place in American music—he is American music.".
Berlin died in his sleep on September 22, 1989 of natural causes, in New York City at the age of 101 and was interred in the Woodlawn Cemetery in The Bronx, New York. He was survived by three daughters: Mary Ellin Barrett and Elizabeth Irving Peters of New York, and Linda Louise Emmet, who lives in Paris. He is also survived by nine grandchildren: Edward Watson Emmet (born May 1968), Ellin Emmet, and Caroline Emmet from daughter Linda; Elizabeth Matson (born in 1954), Irving Barrett (born in 1955), Mary Ellin Barrett Lerner (born in 1956), and Katherine Swett (born in 1960), from daughter Mary Ellin; and Emily Anstice Fisher (born circa 1966) and Rachel, from daughter Elizabeth and six great-grandchildren Peter and James Matson; Benjamin Lerner; Rachel, Nicholas and William Swett, Madeleine and Isobel Fisher.
On the evening following the announcement of his death, the marquee lights of Broadway playhouses were dimmed before curtain time in his memory. President George H. W. Bush said Mr. Berlin was "a legendary man whose words and music will help define the history of our nation." Just minutes before the President's statement was released, he joined a crowd of thousands to sing Berlin's "God Bless America" at a luncheon in Boston. Former President Ronald Reagan, who costarred in Berlin's 1943 musical This Is the Army, said, "Nancy and I are deeply saddened by the death of a wonderfully talented man whose musical genius delighted and stirred millions and will live on forever."  Morton Gould, the composer and conductor who was president of the American Society of Composers, Authors and Publishers (ASCAP), of which Mr. Berlin was a founder, said, "What to me is fascinating about this unique genius is that he touched so many people in so many age groups over so many years. He sounded our deepest feelings—happiness, sadness, celebration, loneliness." Ginger Rogers, who danced to Berlin tunes with Fred Astaire, told The Associated Press upon hearing of his death that working with Mr. Berlin had been "like heaven."
Born
May, 11, 1888
Russia
Mogilev Region, Belarus
Died
September, 22, 1989
USA
New York, New York
Cause of Death
Cemetery
Woodlawn Cemetery
Bronx, New York
USA
12036 profile views