Ibu Devi Dja Assan
(Ibu Devi Dja Assan)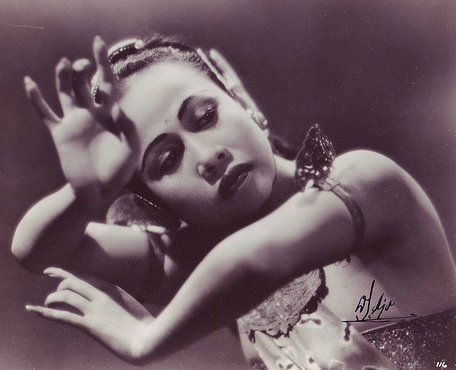 Ibu Devi Dja Assan
Devi Dja was born in 1914 on the island of Java. From the time she very small, she was taught to perform the temple dances called the "Legong." Legong dancers generally retire at puberty, but she continued to dance to the delight of her villagers and would eventually grow to elevate the dances into elaborate performances. When she was 16 she met symphony conductor Leopold Stokowski when he visited her island. He saw her perform and invited her to come to England. She did and brought the finest musicians and dancers from the Dutch East Indies with her.
Devi Dja soon began to tour the world and soon became known as the "Pavlova of the Orient," after the Russian ballet dancer Anna Pavlova, who performed around the world earlier in the century. Reviews poured in from around the globe. One news reporter saying "Devi Dja attracts the gaze of the audience like a cobra unwinding from a basket."
As World War II approached, she settled in Hollywood where she began choreographing, consulting, and appearing in films which had scenes set in Indo-China. Her most famous role was the 1945 film "The Picture of Dorian Gray," where she played a temple dancer. After the war, she fell in love with a well-known, Native-American artist named Acee Blue Eagle. After a whirlwind romance, they married. Each was an international figure and they traveled extensively, unfortunately, not together. Their careers would eventually break them apart. She then met a gentleman named Ali Assan. They would marry and produce a beautiful daughter Ratna, who would grow to become a fine film actress in her own right.
In 1954, Devi Dja became a naturalized American citizen, the first Indonesian woman to do so. Raymond D. Bowman was her manager for over a dozen years. In 1960 she teamed with him and the great dance legend Ruth St. Denis, to present the first Wayang Kulit or Balinese shadow puppet play, in the United States. It took them 2 years to produce it, but the play was finally performed at St. Denis Theater in September 1962. They decided on the short, condensed version of the Wayang, which would only last 8 hours. Her epitaph reads "May you dance in God's light forever." The short documentary film "I Remember Devi Dja" (2017) is dedicated to her memory.
Born
August, 01, 1914
East Java, Indonesia
Died
January, 01, 1989
Northridge, California
Cemetery
Forest Lawn Memorial Park (Hollywood Hills)
California
3184 profile views