Henry Watkins Allen
(Henry Watkins Allen)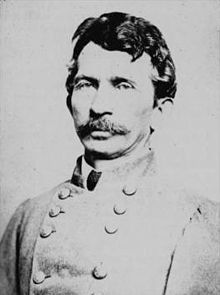 Henry Watkins Allen enlisted as a Private in the 4th Louisiana Infantry Regiment but was quickly promoted to Lieutenant Colonel on August 15, 1861. Allen became the regiment's Colonel on March 1, 1862. He was seriously wounded at Shiloh and Baton Rouge. Colonel Allen met Sarah Morgan on November 2, 1862, when he was still unable to walk due to his wounds in both legs at the Battle of Baton Rouge. She described him as a "wee little man" with a "dough face". In early 1863, while slowly recuperating, Allen served as military judge of Pemberton's Army of Mississippi, at the same time also serving as Major General of the Louisiana Militia. In June 1863, he suffered further injury while escaping a hotel fire at Jackson, Mississippi. He became a Brigadier General on August 19, 1863, and was elected Governor of Louisiana in 1864, losing office when the Confederacy collapsed in 1865.
As governor, Henry Watkins Allen secured legislative passage of a law to prevent illegal impressment by Confederate agents. Another law allowed Allen to purchase medicine and to distribute it to the needy. Disabled soldiers were provided with $11 per month. Allen procured the establishment of new hospitals both with public funds and private contributions. Recognizing the lack of manufacturing industry in Louisiana he established a system of state stores, foundries, and factories with the goal this new works would be put to civilian production after the war. Because the lack of medicine was acute in the Confederacy he devoted extensive time and resources toward establishing a large intelligence and covert action service which could secretly procure vital supplies especially medicine such as quinine from behind Union lines in New Orleans or from Mexico. Having established the state's military-industrial complex in a short twelve months, state laboratories were soon manufacturing turpentine, castor oil, medicinal alcohol, and carbonate of soda. Allen made arrangement with General Edmund Kirby-Smith to transfer to the state large amounts of cotton and sugar collected by Confederate agents as tax in-kind until the Confederate debt could be retired. He tried to make the state self-sufficient and also guarded the civil liberties of the citizens from infringement by military authorities.
As the Union army forces started flooding into the rest of free Louisiana, Governor Allen was declared an outlaw by military authorities punishable by death upon his capture. Historian John D. Winters writes on Allen's exodus from Louisiana as the war ended to take refuge in Mexico: "Before leaving he addressed a long letter to the people of Louisiana begging them to keep the peace and 'submit to the inevitable' and 'begin life anew' without whining or despair. The crippled governor then got into his ambulance while a group of friends, tears streaming from their eyes, told him good-by." In 1865, James Madison Wells, Louisiana's first reconstruction governor, succeeded Allen. After the war, Allen moved to Mexico City and edited the Mexico Times. He assisted in the opening of trade between Texas and Mexico. Henry Watkins Allen died in Mexico City, of a stomach disorder. His body was buried at Lafayette Cemetery in New Orleans, and later (1885) moved to the grounds in front of the Old Louisiana State Capitol in Baton Rouge.
Born
April, 29, 1820
USA
Prince Edward County, Virginia
Died
April, 22, 1866
Mexico City, Mexico
Cemetery
Old Capitol Grounds
Baton Rogue, Louisiana
USA
1703 profile views