Helmut Newton
(Helmut Newton)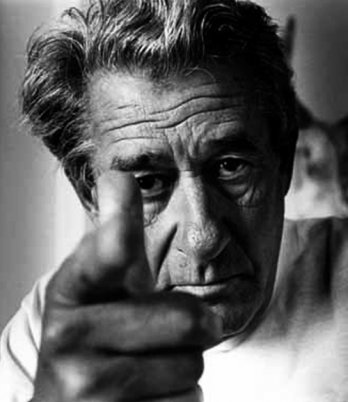 Newton was born in Berlin, the son of Klara "Claire" (née Marquis) and Max Neustädter, a button factory owner. His family was Jewish. Newton attended the Heinrich-von-Treitschke-Realgymnasium and the American School in Berlin. Interested in photography from the age of 12 when he purchased his first camera, he worked for the German photographer Yva (de) (Elsie Neulander Simon) from 1936.  The increasingly oppressive restrictions placed on Jews by the Nuremberg laws meant that his father lost control of the factory in which he manufactured buttons and buckles; he was briefly interned in a concentration camp on Kristallnacht, 9 November 1938, which finally compelled the family to leave Germany. Newton's parents fled to South America. He was issued with a passport just after turning 18 and left Germany on 5 December 1938. At Trieste he boarded the Conte Rosso (along with about 200 others escaping the Nazis), intending to journey to China. After arriving in Singapore he found he was able to remain there, first briefly as a photographer for the Straits Times and then as a portrait photographer.
Newton was interned by British authorities while in Singapore, and was sent to Australia on board the Queen Mary, arriving in Sydney on 27 September 1940. Internees travelled to the camp at Tatura, Victoria by train under armed guard. He was released from internment in 1942, and briefly worked as a fruit picker in Northern Victoria. In April 1942, he enlisted with the Australian Army and worked as a truck driver. After the war in 1945, he became a British subject and changed his name to Newton in 1946. In 1948, he married actress June Browne, who performed under the stage name June Brunell. She later became a successful photographer under the ironic pseudonym Alice Springs (after Alice Springs, the central Australian town).  In 1946, Newton set up a studio in fashionable Flinders Lane in Melbourne and worked on fashion and theatre photography in the affluent post-war years. He shared his first joint exhibition in May 1953 with Wolfgang Sievers, a German refugee like himself who had also served in the same company. The exhibition of 'New Visions in Photography' was displayed at the Federal Hotel in Collins Street and was probably the first glimpse of New Objectivity photography in Australia. Newton went into partnership with Henry Talbot, a fellow German Jew who had also been interned at Tatura, and his association with the studio continued even after 1957, when he left Australia for London. The studio was renamed 'Helmut Newton and Henry Talbot'.
Newton's growing reputation as a fashion photographer was rewarded when he secured a commission to illustrate fashions in a special Australian supplement for Vogue magazine, published in January 1956. He won a 12-month contract with British Vogue and left for London in February 1957, leaving Talbot to manage the business. Newton left the magazine before the end of his contract and went to Paris, where he worked for French and German magazines. He returned to Melbourne in March 1959 to a contract for Australian Vogue.
Newton settled in Paris in 1961 and continued work as a fashion photographer. His works appeared in magazines including, most significantly, French Vogue and Harper's Bazaar. He established a particular style marked by erotic, stylised scenes, often with sado-masochistic and fetishistic subtexts. A heart attack in 1970 slowed Newton's output, but his notoriety continued to increase, most notably with his 1980 "Big Nudes" series, which marked the pinnacle of his erotic-urban style, underpinned with excellent technical skills. Newton also worked in portraiture and more fantastical studies.  Newton shot a number of pictorials for Playboy, including pictorials of Nastassja Kinski and Kristine DeBell. Original prints of the photographs from his August 1976 pictorial of DeBell, "200 Motels, or How I Spent My Summer Vacation" were sold at auctions of Playboy archives by Bonhams in 2002 for $21,075, and by Christies in December 2003 for $26,290.
In 2009, June Browne Newton conceptualised a tribute exhibition to Helmut based around three photographers who had trained extensively under Helmut: Mark Arbeit, Just Loomis, and George Holz. All three had been photography students at The Art Center College of Design in Pasadena, California in 1979 when they became Newton's longtime assistants, and all three went on to independent careers. The exhibit premiered at the Helmut Newton Foundation in Berlin and combined the work of all three with personal snapshots, contact sheets, and letters from their time with Helmut.
In his later life, Newton lived in both Monte Carlo and Los Angeles, California. He was in an accident on 23 January 2004, when his car sped out of control and hit a wall in the driveway of the Chateau Marmont Hotel, which had for several years served as his residence in Southern California. He died at Cedars-Sinai Medical Center. His ashes are buried next to Marlene Dietrich at the Städtischer Friedhof III in Berlin.
Born
October, 31, 1920
Berlin, Germany
Died
January, 23, 2004
USA
West Hollywood, California
Cause of Death
Cemetery
Friedhof Schöneberg III
Berlin, Germany
15786 profile views