Helen Mack
(Helen McDougall)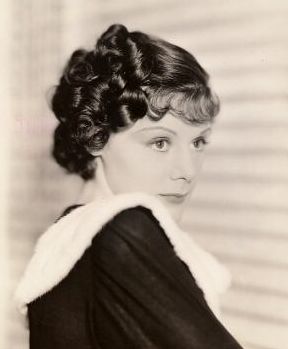 Helen Mack, born Helen McDougall was the daughter of William George McDougall, a barber, and Regina (née Lenzer) McDougall, who had a repressed desire to become an actress. She obtained her education (1921–29) as a youth at the Professional Children's School of New York City. Vera Gordon was a friend who helped her along as a child actress. She appeared on Broadway, in vaudeville (1926–28) and in stock, as well as in silent films. Mack debuted on stage in The Idle Inn with Jacob Benami. She performed with Roland Young in The Idle Inn and toured America (1928–29) with William Hodge in Straight Through The Door.  Her Fox Film screen test came in March 1931 and within three weeks she was on the studio lot. Mack began her film career, first billed as Helen Macks, in Success. The motion picture featured Brandon Tynan, Naomi Childers, and Mary Astor. In Zaza, Mack worked with Gloria Swanson. She also had a small role in D. W. Griffith's last film The Struggle (1931).  She made her debut as a leading lady opposite Victor McLaglen in While Paris Sleeps (1932) and was cast with John Boles in his initial Fox Film venture, Scotch Valley. Mack played in several westerns in the early 1930s. Among these are Fargo Express (1933) with Ken Maynard and The California Trail with Buck Jones.
Reviewer Norbert Lusk commented favorably regarding Mack's performance in the 1933 motion picture, Sweepings (1933). He said "she has a lively personality, appreciated all the more in a heavy, loomy picture, and she plays her shopgirl role with understanding and finesse." Prior to this film Mack's career had declined for three years. Three of her productions failed. One reason for this career downturn is that she was usually a character star. Her employers had used Mack as an ingenue. RKO Radio Pictures Inc. offered her a second chance as Mamie Donahue in Sweepings.  She may be best remembered for the 1933 movie sequel The Son of Kong, as Harold Lloyd's sister in The Milky Way (1936) and as the suicidal Molly Malloy in His Girl Friday (1940). She also played an important role as Tanya in Merian C. Cooper's production of H. Rider Haggard's She (1935) opposite Randolph Scott, Nigel Bruce, and Helen Gahagan (who did the title role as She, who must be obeyed). Other roles for Mack included the bank-robbing ingenue opposite Richard Cromwell and Lionel Atwill in 1937's The Wrong Road for RKO.
In 1931, thirteen members of the Fox Film Company publicity department resigned in protest after WAMPAS (Western Association of Motion Picture Advertisers) did not include a Fox starlet on their annual list of baby stars. Linda Watkins missed by one vote and Mack was a bit farther down the list of those omitted. In response Fox named Mack, Watkins, and Conchita Montenegro as rival debutantes or budding stars. Fox proposed to name baby stars for each year after, by a vote of its executives.  In the 1940s and 1950s, Mack worked as a producer and director of radio programs including such series as Richard Diamond, Private Detective and The Saint. As TV succeeded radio as the prevalent entertainment medium, she continued to write plays and TV episodes until her death.  In 1949, she collaborated with Roger Price in writing the children's record Gossamer Wump, narrated by Frank Morgan and released by Capitol Records.
Mack married lawyer Charles Irwin in San Francisco, California, in February 1935 at age 21. Irwin was a bankruptcy trustee for Fox Film West Coast Theaters. By this time Mack was under contract to Paramount Pictures. They had a son in 1936 and divorced in 1938.  In 1940 she married Thomas McAvity in Santa Barbara, California. McAvity later became Vice President in Charge of Television Network for NBC. They had one son. McAvity died in 1974.  In 1986, Mack died after a battle with cancer.
Born
November, 12, 1913
USA
Rock Island, Illinois
Died
August, 13, 1986
USA
Beverly Hills, California
Cause of Death
Cemetery
Westwood Memorial Park
Los Angeles, California
USA
16687 profile views