Helen Gurley Brown
(Helen Gurley Brown)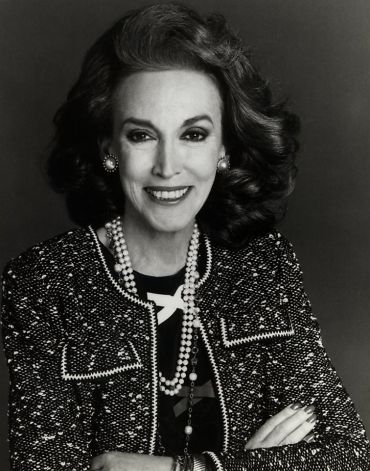 Brown was born Helen Marie Gurley in Green Forest, Arkansas, the daughter of Cleo Fred (Sisco) and Ira Marvin Gurley. Her mother was born in Alpena, Arkansas, and died in 1980. Her father was once appointed Commissioner of the Arkansas Game and Fish Commission. The family moved to Little Rock, Arkansas after Ira won election to the Arkansas state legislature. He died in an elevator accident on June 18, 1932. In 1937, Brown, her sister Mary, and their mother moved to Los Angeles, California. A few months after moving, Mary contracted polio. While in California, Brown attended John H. Francis Polytechnic High School.  After Brown's graduation, the family moved to Warm Springs, Georgia. She attended one semester at Texas State College for Women and then moved back to California to attend Woodbury Business College. from which she graduated in 1941. In 1947, Cleo and Mary moved to Osage, Arkansas, while Brown stayed in Los Angeles.
After working at the William Morris Agency, Music Corporation of America, and Jaffe talent agencies she worked for Foote, Cone & Belding advertising agency as a secretary. Her employer recognized her writing skills and moved her to the copywriting department where she advanced rapidly to become one of the nation's highest-paid ad copywriters in the early 1960s. In 1959 she married David Brown, who would go on to become a noted film producer.
In 1962, when Brown was 40, her book – Sex and the Single Girl was published in 28 countries, and stayed on the bestseller lists for over a year. In 1964 the book inspired a film of the same name starring Natalie Wood. In 1965, she became editor-in-chief of Cosmopolitan and reversed the high-toned content expected of the magazine.[citation needed] In the 1960s, Brown was an outspoken advocate of women's sexual freedom and sought to provide them with role models in her magazine. She claimed that women could have it all – "love, sex, and money". As a result of her advocacy, glamorous, fashion-focused women were sometimes called "Cosmo Girls". Her work played a part in what is often called the sexual revolution.
In 1997, Brown was ousted from her role as the U.S. editor of Cosmopolitan and was replaced by Bonnie Fuller. When she left, Cosmopolitan ranked sixth at the newsstand, and for the 16th straight year, ranked first in bookstores on college campuses. However, she stayed on at Hearst publishing and remained the international editor for all 59 international editions of Cosmo until her death on August 13, 2012.
In September, 2008, Brown was named the 13th-most-powerful American over the age of 80 by Slate magazine.  After more than 50 years of marriage, her husband, David Brown, died at the age of 93 on February 1, 2010.  Together with her husband David, Brown established the Brown Institute for Media Innovation. This institution is housed at both the Columbia University Graduate School of Journalism and Stanford's Engineering School. Their $30-million donation to the two schools develops journalism in the context of new technologies.
At the age of 90, Brown died at the McKeen Pavilion at New York–Presbyterian Hospital/Columbia after a brief hospitalization. In its statement announcing the news, Hearst Publications did not disclose a cause. The company said, "Helen was one of the world's most recognized magazine editors and book authors, and a true pioneer for women in journalism – and beyond." Entertainment Weekly said that "Gurley Brown will be remembered for her impact on the publishing industry, her contributions to the culture at large, and sly quips like her famous line: 'Good girls go to heaven. Bad girls go everywhere.'" New York City Mayor Michael Bloomberg in a statement said, "Today New York City lost a pioneer who reshaped not only the entire media industry, but the nation's culture. She was a role model for the millions of women whose private thoughts, wonders and dreams she addressed so brilliantly in print."
Born
February, 18, 1922
USA
Green Forest, Arkansas
Died
August, 13, 2012
UA
New York, New York
Cemetery
Sisco Cemetery
Oasge, Arkansas
USA
16811 profile views