Hawkshaw Hawkins
(Harold Franklin Hawkins)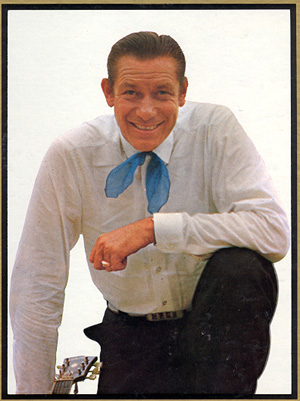 Hawkshaw Hawkins
On March 3, 1963, Hawkins, Patsy Cline and Cowboy Copas performed at a benefit concert at the Soldiers and Sailors Memorial Hall in Kansas City, Kansas for the family of disc jockey "Cactus" Jack Call, who had died in January after an automobile accident. Among the performers was Billy Walker, who received an urgent phone call and needed to return to Nashville immediately. Hawkins gave Walker his commercial airline ticket and instead flew back in a private plane in Walker's place.
On March 5, Hawkins, Cline and Copas left for Nashville in a Piper Comanche piloted by Cline's manager (and Copas' son-in-law), Randy Hughes. After stopping to refuel in Dyersburg, Tennessee, the craft took off at 6:07 p.m. CT. The plane flew into severe weather and crashed at 6:20 p.m. in a forest near Camden, Tennessee, 90 miles from Nashville. There were no survivors. Fans around the world mourned the loss; Hawkshaw was survived by his young son Donni, and his wife Jean Shepard was pregnant at the time with their second son,Harold Franklin Hawkins II. Hawk Jr was born just one month after his father's death.
Hawkins was buried at Forest Lawn Memorial Gardens in Goodlettsville, Tennessee in "Music Row" with Copas and other country music stars.
Born
December, 22, 1921
Huntington, West Virginia
Died
March, 05, 1963
Camden, Tennessee
Cause of Death
17761 profile views