Harry Reems
(Harry Reems)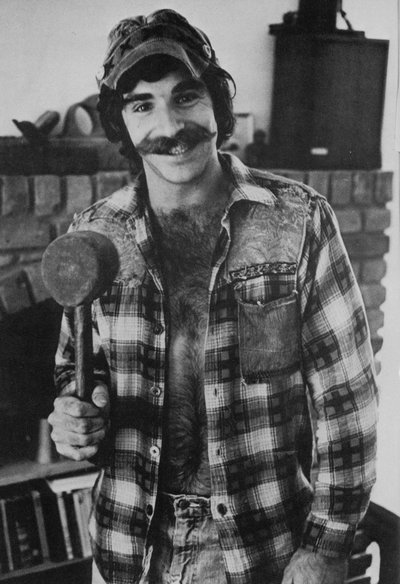 Reems was born Herbert Streicher. He attended the University of Pittsburgh for a year before briefly serving in the United States Marine Corps, from which he received an honorable discharge following hardship leave. He then elected to pursue an acting career, principally in off-Broadway theater.  Prior to appearing in Deep Throat, Herb Streicher was chosen by filmmaker Eduardo Cemano to do a hardcore scene in a film called The Deviates, which had been released previously as a softcore film. It was a body-painting sex scene that Herb later described as his most painful sex experience because the Tempera paint used began to dry and crack. Cemano then starred him in his first 16mm feature film, called The Weirdos and the Oddballs, which was later upgraded to 35mm and released as Zora Knows Best. It was for this film that he changed his name to Peter Long.
Looking for ways to support himself, Streicher appeared in dozens of short silent stag films, often referred to as "loops," during the early 1970s. He eventually went on to appear in approximately 140 feature-length sexploitation and hardcore films between 1971 and 1989, with Deep Throat (1972) and The Devil in Miss Jones (1973) being the best known, as well as grindhouse roughies like Forced Entry (1973) and Sex Wish (1976); in the former he plays a sadistic Vietnam veteran hellbent on rape and murder, while in the latter he plays a husband turned vigilante seeking revenge over the rape and murder of his wife. In 1975 he published a memoir, Here Comes Harry Reems, in which he details the early years of his adult film career.  For the production of Deep Throat in Miami, Florida, in January 1972, Streicher was hired to be part of the lighting crew, but the director was unable to cast one of the roles and asked him to play the part. He was paid $250 for one day of acting work. Streicher was unaware that the director had given him the name "Harry Reems" until he saw the movie.
Reems's appearance in Deep Throat led to his arrest by FBI agents in New York City in July 1974[5] and his indictment in Memphis, Tennessee, in June 1975 on federal charges of conspiracy to distribute obscenity across state lines.[6] Reems called it forum shopping. He was convicted in April 1976 with 11 other individuals and four corporations. His conviction was overturned on appeal in April 1977 because his activities in making the film occurred before a U.S. Supreme Court ruling on obscenity in 1973 (Miller v. California), and Reems was granted a new trial. The charges against Reems were dropped in August. Reems's defense claimed that he was the first American actor to be prosecuted by the federal government merely for appearing in a film, and he received considerable support from established Hollywood and New York celebrities during his trial. His successful appeal was handled by attorney Alan Dershowitz.
Reems was cast in the 1978 musical film Grease as Coach Calhoun (he had done legitimate theater before turning to pornography), but out of fear that his notoriety would jeopardize the film's box office in the Southern United States, he was later replaced by Sid Caesar.
After years of drug abuse, Reems began his recovery in 1989. He married and converted from Judaism to Christianity. "Being the low-bottom drunk that I was, I started going around to churches," said Reems. "I called myself a church gypsy." Reems credited his conversion to Reverend Mark Heiss, a former pastor with Park City Community Church in Park City, Utah. Heiss was abruptly replaced at the church by someone else, for reasons Reems says were never explained; Reems left the congregation because he believed church attendance was "about putting money in the coffers." Outside organized religion, he continued to meditate, pray, and offer gratitude to God. "If I didn't put God in my life, I'd be dead now," he said. "I am not religious. I'm spiritual, 100 percent."  He continued to identify himself as "Harry Reems," even using the name while he worked as a real estate agent.
He was interviewed in the 2005 documentary Inside Deep Throat. Reems' entrance into the adult entertainment industry, his experience filming Deep Throat and its subsequent infamy and obscenity trials, are the subject of the 2010 play "The Deep Throat Sex Scandal." He died while a Los Angeles run of the play was underway, and his death was noted by the production.   Reems died on March 19, 2013, at the veterans hospital in Salt Lake City from pancreatic cancer. He was 65. Reems is survived by his wife, Jeanne, his sister Janet, and a brother. He had no children.
Born
August, 27, 1947
USA
Bronx, New York City, New York
Died
March, 19, 2013
USA
Salt Lake City, Utah
16100 profile views