Harry Reasoner
(Harry Truman Reasoner)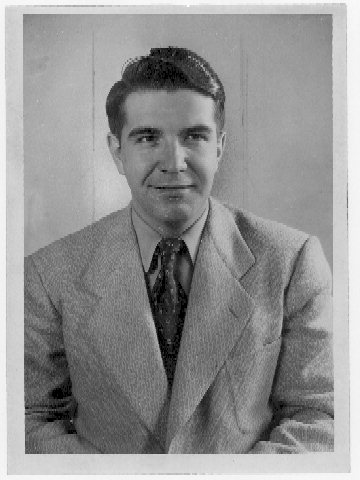 Reasoner was born at First Street North in Dakota City, Iowa on April 17, 1923; He and his older sister Esther were children of Eunice (Nicholl) and Harry Ray Reasoner, who married in 1911. Reasoner was taught to read by his parents before entering school, gaining a strong vocabulary from his mother.  Reasoner attended West High School in Minneapolis. During his time at the school, Reasoner developed his interest for journalism. One story, authored by Reasoner, entitled "The Wrench of the Week" garnered the attention of the principal who expelled Reasoner but later returned following a plea from fellow student Chet Newby. Reasoner graduated in January 1940 having missed the Class of 1939 graduation ceremony. Before graduating, Reasoner went on to study journalism at Stanford University and the University of Minnesota. He served in World War II and then resumed his journalism career with The Minneapolis Times. His novel Tell Me About Women, about a fading marriage, was written partly during his World War II service and was first published in 1946.
After going into radio with CBS in 1948, Reasoner worked for the United States Information Agency in the Philippines. When he returned stateside, he went into television and worked at station KEYD (later KMSP) in Minneapolis. He ran for Minneapolis city council as a Republican in 1949 and garnered 381 votes (4.4 percent). Reasoner later joined CBS News in New York, where he eventually hosted a morning news program called Calendar on top of doing commentator and special news narration duties.  In 1968, Reasoner teamed up with Mike Wallace to begin the 60 Minutes newsmagazine series. On 60 Minutes and elsewhere, he often worked with producer and writer Andy Rooney, who later became a well-known contributor in his own right. In a farewell interview on "60 Minutes" in 2011, Rooney said Reasoner was a great writer in his own right but was lazy, giving Rooney more opportunities to show his writing skills. Rooney and interviewer Morley Safer agreed that Reasoner enjoyed drinking and was "one of the most companionable fellows" they had ever known.
In 1970, Reasoner was hired away from CBS by ABC to become an anchor on the network's newly revamped nightly newscast. At the time of his hire, the network's New York-based broadcast, simply titled ABC News, was anchored by Howard K. Smith and Frank Reynolds, both former colleagues of Reasoner at CBS. Beginning in December of 1970 Reasoner was moved into Reynolds' position (Reynolds thus became the network's chief Washington correspondent) and the newscast became known as ABC Evening News.  Reasoner anchored the news alongside Smith until 1975, when he took the sole anchor position while Smith moved into a commentary role. The next year, however, ABC decided to pair Reasoner with a new co-anchor— this time, it was former Today Show co-host Barbara Walters, whom ABC had gone to great lengths to hire away from NBC. Walters and Reasoner did not enjoy a close relationship; Reasoner not only did not like sharing the spotlight with a co-anchor but was uncomfortable with Walters' celebrity status. It was also widely believed that Reasoner disliked the idea of a woman anchoring the network news, which he denied, saying "I am trying to keep an open mind about it". In another interview, Reasoner said on the subject "I've worked in journalism for women and with women for years. For two years I did a CBS morning news program with a woman. I feel they're no worse than men are."  After two years of co-anchoring ABC Evening News with Walters, Reasoner departed the network after nearly eight years in June 1978 and returned to CBS, where he resumed his duties on 60 Minutes. Shortly after his departure ABC elected to scrap ABC Evening News altogether and reworked the newscast into World News Tonight.  Reasoner stayed with 60 Minutes until his retirement on May 19, 1991.
Reasoner was married twice, to Kathleen Carroll Reasoner for 35 years and then to Insurance Executive Lois Harriett Weber in 1988. He had seven children by his first marriage. Reasoner underwent two operations for lung cancer in 1985 and 1987. Reasoner died three months after his retirement in 1991 from a blood clot in the brain received from a fall at his home in Westport, Connecticut. He is interred at Union Cemetery in Humboldt.
Born
April, 17, 1923
USA
Dakota City, Iowa
Died
August, 06, 1991
USA
Westport, Connecticut
Cause of Death
Cemetery
Union Cemetery
Humboldt, Iowa
USA
15809 profile views