Harry Randall Truman
(Harry Randall Truman)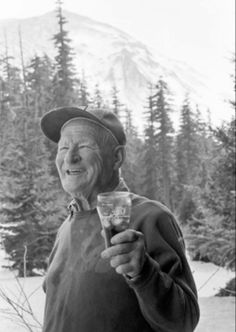 Harry Randall Truman was born in Ivydale, Clay County, West Virginia, to Rosa Belle (née Hardman; 1873– 1957) and Newberry Truman (1874– 1923). His family settled in Chehalis, Washington several years later, where his father died in a logging camp accident in 1923, aged 49. He had one sister, Geraldine (1905–1987).Truman enlisted in the 100th Aero Squadron – 7th Squad of United States Army as a private on August 4, 1917. Several months later, he survived the torpedoing of the Tuscania on February 5, 1918, off the coast of Ireland. After the incident, Truman was honorably discharged from military service on June 12, 1919. He lived in Riffe, Washington, until 1926, when he became caretaker of the Mount St. Helens Lodge at the foot of Mount St. Helens beside Spirit Lake. In 1928 Truman bought a half interest in the lodge, later that same year he bought the other half. At the time of his death, Truman had operated the lodge for 52 years. He was also a member of the Tuscania Survivors Association from 1938 until his death. Truman was married three times: to Helen Irene (née Hughes), Marjorie (née Bennett), and Edna O. (née Henrickson). It is not clear when he married or separated from Hughes, but he married Bennett in 1935 and Henrickson in 1947.
Harry Truman became a minor celebrity during the two months of volcanic activity preceding the eruption, giving interviews to reporters and expressing his opinion that the danger from the volcano was exaggerated, saying, "I don't have any idea whether it will blow[…] But I don't believe it to the point that I'm going to pack up." Truman discarded all of his concerns about the volcano and his situation, stating "If the mountain goes, I'm going with it. This area is heavily timbered, Spirit Lake is in between me and the mountain, and the mountain is a mile away, the mountain ain't gonna hurt me… boy."  According to The Bulletin, he responded to being knocked from his bed by precursor earthquakes by moving his mattress to his basement. At one point, Truman "scoffed" at the public's concern for his safety. He became something of a "folk hero" and from March until May, was the subject of many songs and poems by children. One group of children from Salem, Oregon, sent him banners inscribed "Harry – We Love You", while Truman received fan letters including several marriage proposals.
Harry Randall Truman was alone at his lodge when he is presumed to have died in the eruption on May 18. A pyroclastic flow engulfed the Spirit Lake area, destroying the lake and burying the site of his lodge under 150 feet (46 m) of volcanic landslide debris. A new lake eventually formed on a much higher elevation. His sister Geraldine expressed that she found it hard to accept the reality of his death, commenting, "I don't think he made it. But I thought if they would let me fly over and see for myself that Harry's lodge is gone, then maybe I'd believe it for sure." The 1980 event was the deadliest and most destructive volcanic eruption in the recorded history of the continental United States of America. A total of 57 people are known to have died, and more were left homeless when the ash falls and pyroclastic flows destroyed or buried 200 houses. In addition to Truman, photojournalist Reid Blackburn, volcanologist David A. Johnston and photographer Robert Landsburg were killed.
Born
October, 30, 1896
USA
Ivydale, Clay County, West Virginia
Died
May, 18, 1980
USA
Mt. St. Helens, Washington
Cause of Death
killed by volcano eruption
Other
3014 profile views